Optimised power delivery ensures smooth, comfortable and luxurious ride
Advanced automatic transmission system with manual shift delivers impeccable gear changes
Noise and vibration intrusion suppressed for a quiet and serene driving experience for all occupants 
All-New Genesis has been engineered and developed to provide drivers with a potent level of performance to ensure unruffled progress.
A powerful 3,8-litre V6 GDI engine delivers plentiful levels of torque over a broad range of engine speeds, providing instant yet controlled performance. The responsive eight-speed automatic transmission provides seamless gear changes to enhance the refined driving experience.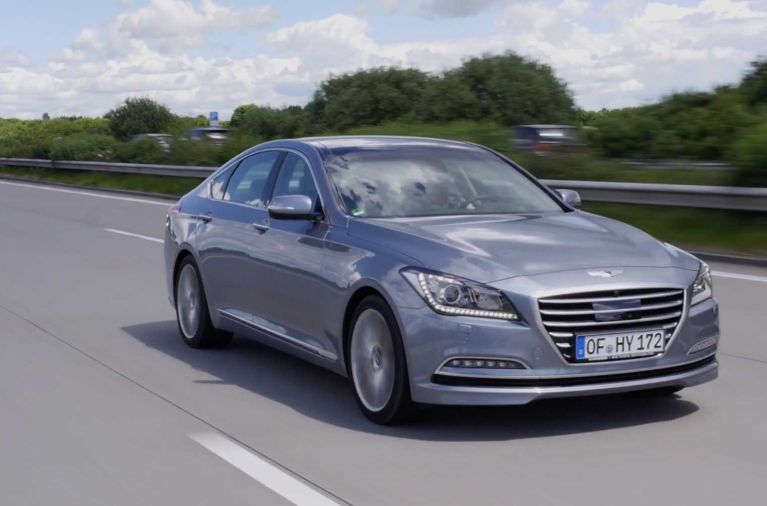 Direct-injected Lambda 3,8-litre V6 engine
All-New Genesis is powered by a powerful 3,8-litre direct-injected 'Lambda' engine, optimised to deliver a flatter torque curve, providing more pulling power at low engine speeds for enhanced usability. Comprehensively redeveloped, the engine includes a three-stage variable intake system, triangular-pattern fuel injector for improved combustion, an air-gap exhaust manifold to reduce noise and vibrations from the engine bay, and an upgraded cylinder block with a variable-vane two-stage oil pump for reduced parasitic losses. The engine utilises direct-injection technology to produce a maximum power output of 315 ps at 6000 rpm and 397 Nm of torque at 5000 rpm. Thermal efficiency gains are achieved thanks to the high 11.5:1 compression ratio, simultaneously increasing engine performance and fuel economy.
The engine also features a Dual Continuously Variable Valve Timing (D-CVVT) system, as well as variable induction, all-aluminium block and heads, steel timing chain and iridium-tipped spark plugs for the greater durability and performance demanded by European customers.
Eight-speed automatic with manual shift
The power unit of All-New Genesis is coupled to a carefully-refined eight-speed automatic transmission. The Hyundai-developed transmission offers seamless gear changes, instant response and top speed and reduced in-cabin intrusions. The transmission includes SHIFTRONIC® manual shift capability with an ergonomically-placed, force-fed paddle shift system for even greater control and driving pleasure, with manual operation when desired.