Distinctive visual aesthetic with sleek lines and short overhangs
Elegant proportions reflect natural poise and superior driving dynamics
Displays latest evolution of fluidic sculpture design philosophy
The exterior of All-New Genesis is defined by elegant proportions and clean lines that reflect its natural poise and superior driving dynamics.
The long hood and short trunk emphasise its long wheelbase and minimal overhangs, conveying its assured road manners. The car's styling is the latest interpretation of fluidic sculpture, the company's successful design philosophy, with restrained details adding to the air of sophistication.
All-New Genesis also features the family Hyundai look, with a striking hexagonal front grille as a key geometric element. The 3D grille is highlighted through a semi-gloss chrome finish, framed by the high-intensity discharge (HID) headlamps, light-emitting diode (LED) daytime running lights and fog lamps, the latter a technology Hyundai adopted early. Detailing is subtle and refined, such as the two-tone outside mirrors with embedded slim-type LED indicator repeaters.
In profile, the All-New Genesis presents an expressive form, with fluid lines and voluminous, blended surfaces giving it a three-dimensional presence in motion. A sleek, sharply sloping C-pillar echoes the model's elegant styling, which results in an extremely low drag coefficient (Cd) figure of just 0,26 – a figure equal to or better than all key rivals. The rear of the All-New Genesis benefits from a sculptural aesthetic with jewelled rear LED combination light clusters.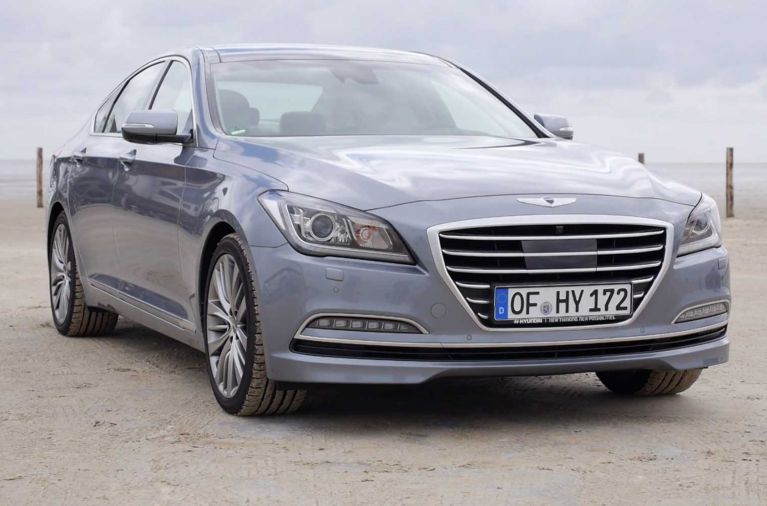 With All-New Genesis, Hyundai's designers have created a distinctive and stylish package that reflects the comfort and composure it allows all occupants to enjoy. The balanced proportions, reassuring stance and clean lines of this car provide an aesthetic balance that will appeal to discerning buyers
Interior design
The cabin of All-New Genesis presents occupants with an immersive environment that offers generous space and a relaxing environment. Intuitive controls and instrumentation make the rich list of comfort features easy to access and promote a feeling of serenity. The seats are highly adjustable, allowing occupants to find the optimal position for lasting comfort, and they have been designed to offer total support throughout even the longest of journeys. Finding a comfortable driving position is made even easier by the steering wheel that adjusts electrically for height and reach.

Every interior detail of All-New Genesis has been carefully considered to create a calming, intuitive and ergonomic space. Ergonomic research to ensure ease of control was meticulously undertaken, including the use of a specially-designed laboratory tool created to measure occupant operational force. No detail has been overlooked: the rim of the steering wheel is rotated by 15 degrees compared to typical sections, delivering improved grip and a more natural feel.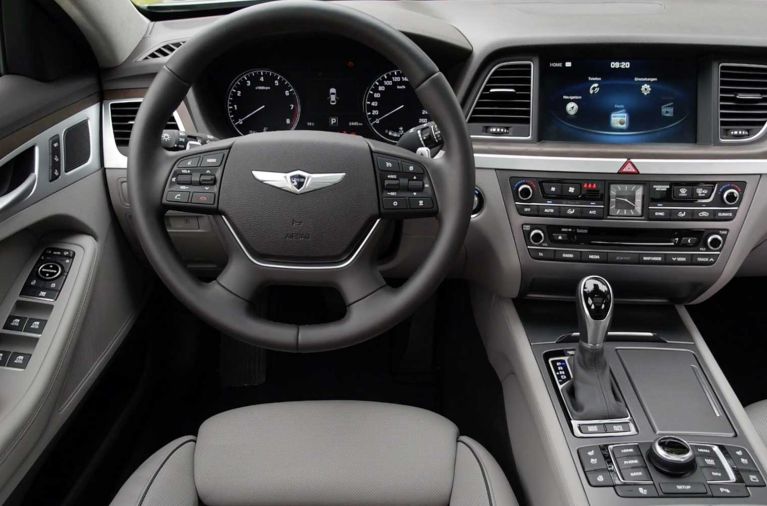 Precision fit and finish can be found throughout All-New Genesis, and its interior trim has been carefully designed to match the vehicle's proposition of understated sophistication. To maintain the luxurious feel, the relationships between different materials, their texture and colour coordination materials were intensely scrutinised.

The plentiful space available inside All-New Genesis is highly usable, with particular attention paid to the provision of storage for items such as mobile devices of different shapes and sizes, as well as beverage holders.

A new design pattern has been applied to the finest soft-touch materials to decrease interior reflections and brighten dashboard surfaces, while high-grade materials such as genuine aluminium and real wood are available to further lift cabin elegance.

New comfort-focused features for All-New Genesis include power-adjusted rear-seat recline, powered rear sunshade, manual rear-seat side sunshades, and a panoramic sunroof.