Executive sedan previews future of the Hyundai brand and products
Delivers true comfort courtesy of fine materials, caring features and serene ambience
HTRAC all-wheel drive system heightens driving pleasure and security
All-New Genesis is a high-technology premium sedan that clearly demonstrates Hyundai's capabilities in a number of key areas, including technology, style, comfort and driving pleasure.
Limited numbers of All-New Genesis will be made available in Europe, providing select customers with a highly-capable and luxuriously-equipped executive sedan that rewards with high levels of comfort and calm.
Hyundai's flagship model provides a clear demonstration how Hyundai products and the Hyundai brand – the fastest growing automotive brand since 2005, according to Interbrand – can be taken to new levels. While All-New Genesis will raise awareness of Hyundai in Europe, the premium sedan's use of craftsmanship and high-quality materials is increasingly reflected in the wider Hyundai range.
Though All-New Genesis is the biggest, most fully-equipped and technologically advanced Hyundai model available in Europe, it delivers fully on the brand's promise to provide value beyond expectations. Previewing advanced comfort and safety equipment and technology, All-New Genesis offers European customers an exclusive purchase proposition that focuses on refined performance and occupant well-being.
Available in a single, high-specification form, All-New Genesis is powered by a potent 3,8-litre V6 GDI engine delivers that plentiful power and torque across a broad range of engine speeds, and works in harmony with a smooth 8-speed automatic transmission to deliver refined performance. Driving pleasure and security is ensured by the new, HTRAC all-wheel drive system, sophisticated multi-link front and rear suspension and near-equal weight distribution.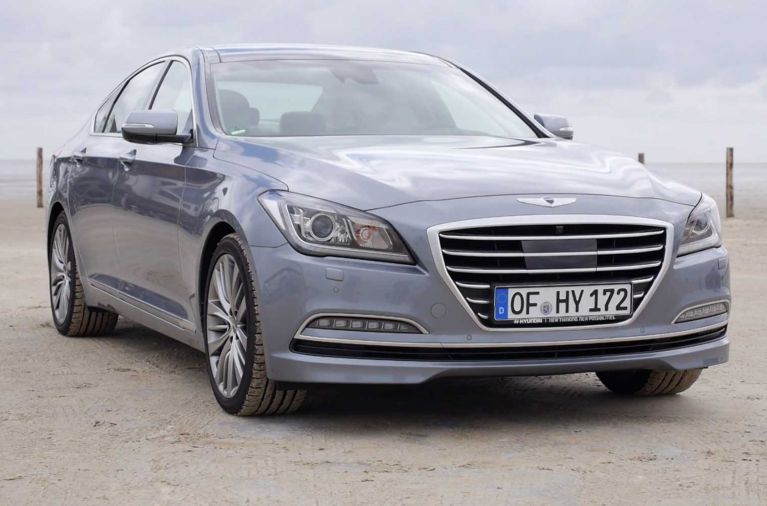 The generous accommodation provided includes levels of space and comfort never before seen in a Hyundai vehicle in Europe, and cossets occupants in opulent comfort. The accommodation uses fine materials to present a serene ambience, supported by advanced architecture that delivers superior refinement under all conditions.
 
Extensive levels of standard comfort features are immediately and simply accessed, thanks to excellent ergonomics and easily comprehended design. Minimal interior details support the calm cabin ambience, leaving occupants feeling fresh after even the longest of journeys.
Occupants of All-New Genesis are protected and cared for by a full portfolio of equipment that is both intelligent and unobtrusive. This includes Smart Cruise Control, Automatic Emergency Braking and the world's first C02 cabin sensor to monitor the cabin's environment and protect the driver from the dangers of drowsiness.

Showcasing the latest evolution of Hyundai's design philosophy, fluidic sculpture, the sleek, sophisticated styling of All-New Genesis hints at its technical capabilities and conveys its assured road manners.

All-New Genesis is the result of a 500 billion Won (€342 million) investment by Hyundai over a four-year period. It has been designed primarily for markets such as the USA and Korea, where its predecessor enjoyed great success, underscoring Hyundai's global policy of building the right cars for the right regions. The original Genesis won several prestigious industry awards in North America and played an important role in the rapid evolution of the Hyundai brand. In Europe, it will also help to raise brand awareness – and will play a different though equally well-defined role demonstrating the capabilities of Hyundai.

Global demand for All-New Genesis is being supplied from Hyundai's Ulsan production plant in Korea.
All-New Genesis offers a unique premium ownership experience that demonstrates the true breadth of our engineering and technological capabilities. There are a number of world and Hyundai-first technologies applied to this car, making it a true showcase of what we can achieve, and continuing Hyundai's legacy of delivering value beyond expectations across a broadening number and variety of high-quality cars.