Sophisticated connectivity and user-friendly functionality
Augmented assessment aids and assistance features protect occupants from hazards
Premium multi-media system offers unparalleled in-car entertainment experience
Drivers and passengers of All-New Genesis will enjoy access to an array of equipment that ensures their safety and allows them to stay informed and entertained at all times.
Just like the plentiful comfort and convenience features, these systems are discerning and discreet, providing forward-looking assurance to occupants without disturbing the on-board serenity.

All-New Genesis features high levels of technology, reiterating Hyundai's capabilities and its commitment to delivering value beyond expectations. Advanced driver comfort and occupant safety aids – including Smart Cruise Control and Automatic Emergency Braking – are joined by sophisticated multi-media and next generation infotainment systems.

Taking inspiration from aircraft technology, a new Head-Up Display (HUD) is fitted to All-New Genesis, projecting a virtual image onto the windscreen and enabling the driver to keep his or her eyes on the road using a system of mirrors combined with a TFT LCD display. The system utilises wide-angle projection with adjustable brightness to ensure both excellent day and night time visibility. Driving information such as speed, Smart Cruise Control (SCC) status, navigation, Blind Spot Detection (BSD), Forward Collision Warning (FCW), Lane Departure Warning System (LDWS) and audio information can be projected at a perceived virtual distance of approximately two metres ahead of the driver for maximum legibility while driving.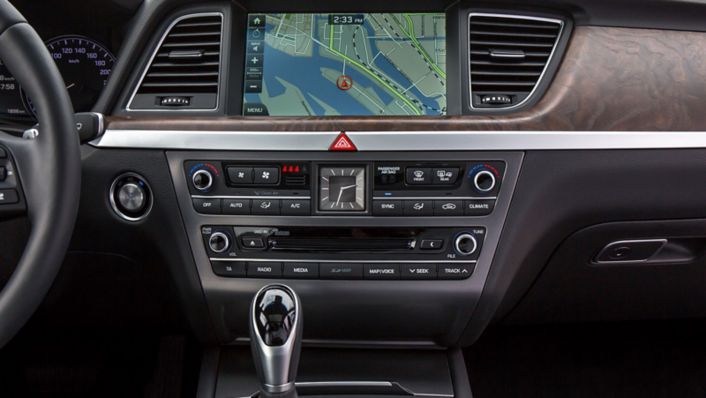 Composed and stress-free progress aboard All-New Genesis is aided by the undemanding navigation service. Built around a large 9,2-inch 720p High-Definition screen (8-inch for RHD models), its advanced features are easy to access and control, thanks to intuitive, smooth operation. Its 4,5-GB hard drive allows occupants to store thousands of songs, to be enjoyed through the car's premium-quality audio installation.

The specially-tuned Lexicon® Discrete Logic 7 Surround premium audio system fitted as standard to All-New Genesis utilises an algorithm programmed to the contours of the car, turning the spacious interior into an immersive auditorium of exceptional quality. The musical experience delivered through its 17 speakers (14 speakers on RHD models), Logic 7 Surround Sound processing and 12-channel digital amplifier with 900 watts of equivalent output is defined by quality, with power and clarity sure to satisfy the most demanding audiophile.

Augmented assessment and assistance features protect those in and around All-New Genesis. These include a Blind Spot Detection system that incorporates Rear Cross Traffic Alert to make avoidance of hazardous situations more likely; and an Around View Monitor that utilises four cameras to provide 360° vision and make manoeuvring easy.

Cohesion between the central fascia and audio controls has been streamlined by making the two separate sections appear as one.

The new model uses a high-resolution screen with 7,0-inch TFT LCD cluster display. The route screen displays trip computer information, advanced cruise control settings, details the next three manoeuvres and displays real road signage with junction views and lane guidance. Lane guidance outlines the lane or lanes the driver needs to remain in when a road ahead splits. Junction view uses street and road sign images to realistically represent what the driver will shortly see on the road.