Urban driving presents its own challenges but with more choice, perfect performance, and more ways to refuel, electric cars could be the answer for today's tech-savvy, green-conscious city motorist.
It's early on a Saturday evening, and after a long week in the office, you're readying yourself for a drive downtown for an evening dinner to meet some friends. Except, as usual, the route is beset by traffic jams, roadworks, traffic lights, pedestrians, cyclists, and fuel costs. City living, and by extension city driving, throws up an ever-changing landscape and different hurdles for those behind the wheel as they negotiate the busy streets.

And today's driver wants a car equipped for those challenges, that utilises cutting-edge technology – such as online connectivity to access apps and travel information - while embracing their own unique values and personal identity. Hyundai calls them Generation IONIQ.

And the electric vehicle may be that car.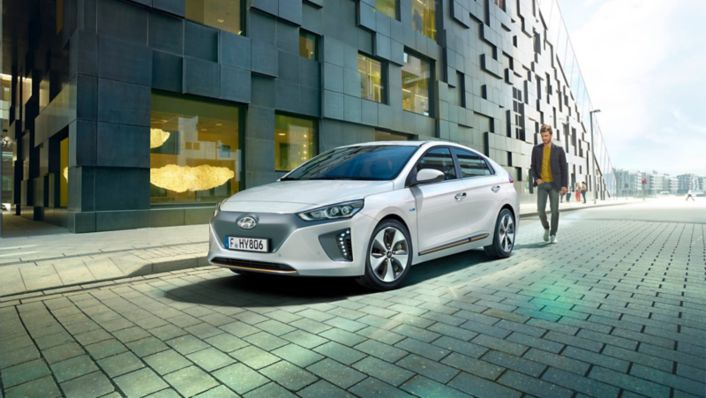 Electric car sales continue to grow


With greater choice, performance on a par with conventionally-powered vehicles, a growing infrastructure for charging points, and a more environmentally-conscious audience, electric car sales are set to continue their upward curve.

Countries like Norway and the UK are leading the way for electric car infrastructure. Norway is the current leader in terms of market share for electric cars sold, while according to Next Greencar there are now around 80,000 plug-in vehicles on UK roads, compared with just 3,500 in 2013.

With low-to-zero emissions, electric vehicles are cleaner than conventional petrol or diesel cars, and this has contributed to higher standards of city living. And the modern driver is a more green-conscious one, influenced not just by performance, appearance, and technology, but sustainability.

Even if the environmental impact isn't top of the list, the fact that electric vehicles boast lower running costs also comes into play. As Governments seek to cut carbon emissions, EV owners can make significant savings.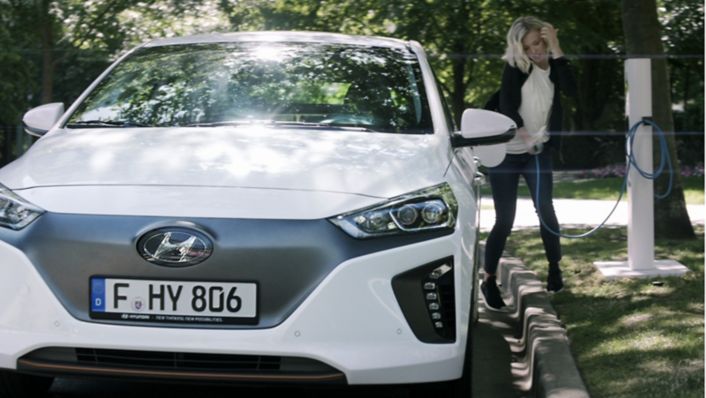 Generation IONIQ is the marriage of urban and green life

Likewise, our cities are getting bigger as urban sprawl and migration from the countryside to towns continues. And air quality is becoming a major issue in these densely populated areas. As traffic increases so do Carbon Dioxide levels and other air pollutants. With next to no emissions, electric vehicles could represent the future of city driving.

When running low on fuel, driving to a petrol station can be a hassle, but this is a consequence of owning a car. Electric vehicles also address that problem, as owners can charge them from the comfort of their own driveway. After all, you don't need to go to a mobile phone shop to purchase more data or charge your phone.

Whereas usually refueling means a detour to a petrol station, electric vehicles can be charged at your own home, in the car park while you work, or at the increasing number of on-street stations throughout Europe making them highly convenient for city driving and living.
Democratising e-mobility

The Hyundai IONIQ is the world's first electric car offering drivers a choice of three powertrains – battery, plug-in, and hybrid – within a single body type. By making environmentally-friendly electric vehicles accessible to a wider audience, the IONIQ is democratising this new e-mobility.

So if you are the downtown office worker, the school day taxi driver or the weekend escape artist, which of these powertrains is most suitable for your urban lifestyle?

The IONIQ Electric can travel a class-best 280 km on a single charge. A battery electric vehicle does not have an internal combustion engine meaning no carbon dioxide is released. It's a zero-emission automobile with a practical driving range and therefore perfect for inner-city driving, getting to work, and ideal as a second car.

The plug-in is best for shorter spins across the city and day trips outside the concrete jungle. The IONIQ Plug-in can drive more than 50 km in pure electric mode, for those who want to cover shorter distances. When the battery is low, you can drive with the combustion engine like a conventional car, offering a more sustainable, energy-saving way to travel.

Offering a full range like any conventionally-powered vehicle, the hybrid is perfect for longer trips or getaways out of the city. It combines a combustion engine with an e-motor and an electric battery. The car can change from one power source to another, for example at low speeds, or when requiring more thrust.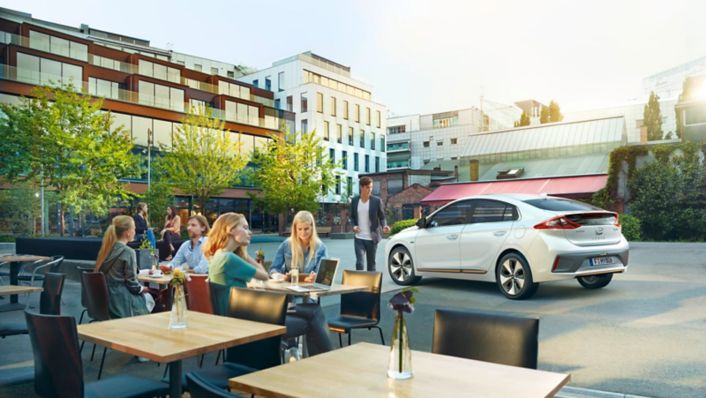 Generation IONIQ share this mindset

Active safety technology also caters for urban transit. Autonomous Emergency Braking, Lane Keeping Assist System, Smart Cruise Control and Blind Spot Detector among others are all fitted as standard.
The Hyundai IONIQ is breaking new ground by marrying engine choice, sustainability, environmental awareness, award-winning design, and the latest technology. These features mirror a driving community who share this mindset and attitude – Hyundai's Generation IONIQ.