Where does true innovation come from? The Hyundai IONIQ range is a whole new generation of electric cars offering solutions to the challenges of future mobility.
The Hyundai IONIQ is borne out of innovation. By offering choice, it provides a vision for sustainable mobility. The IONIQ is not only bringing e-mobility to a much wider audience, it is reflecting a new generation of car drivers who are reimagining how we see the world.
Driven by passion

Do car brands change the future or is it a new generation of driver? The truly innovative are those people driven by passion who are determined to change the world around them for the better. Like those who rethink how we build our cities, or creatives in the world of music and arts, the IONIQ is changing our expectations about electric vehicles. This spirit of innovation appeals to drivers who share a mindset and attitude. Hyundai calls them Generation IONIQ.

The IONIQ is bringing what were once considered future concepts into the present day. It is the product of worldwide co-creation between designers and engineers and is changing how electric car technology is perceived. The IONIQ is the world's first car offering a choice of electric powertrains – all electric, hybrid, and plug-in hybrid.

A driver who chooses electric mobility does not want to compromise on performance. The IONIQ offers an exhilarating driving experience and embraces the very latest autonomous features with advanced safety technologies like Autonomous Emergency Braking and Lane Keeping Assist system.

Reflecting the modern driver's digital lifestyle, this also extends to cutting-edge connectivity technology such as smartphone synchronisation with Apple CarPlay and Android Auto, and wireless mobile phone charging.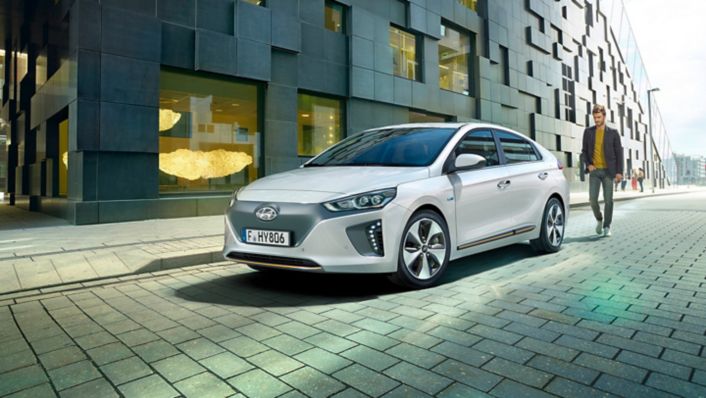 Innovators work to make the world of tomorrow a better one, searching for answers to the challenges of today. The IONIQ is a visible statement of Hyundai's dedication to eco-sustainability with low-to-zero emission technology. Our reliance on fossil fuels is changing, and a new type of driver is ready to make the switch to electric. Charging points on the street, at home, or at the office are already here and growing in number.

If electric and hybrid technology is now a reality and Generation IONIQ is the new breed of car owner, what are the next innovations for the car industry and where do we go from here?



Vehicle-to-vehicle communication

Advances in smartphones, wireless communication, and cloud computing could soon see cars which 'talk' to each other. Vehicle-to-vehicle communication, or V2V, would see cars communicate to alert drivers to roadside hazards ahead. Wireless signals between cars will relay information about location, speed, and direction. For example, car to car communication can warn a driver about a vehicle ahead that has come to a halt. Meanwhile vehicle to infrastructure, V2I, would allow cars to communicate with things like road signs or traffic management systems. Traffic lights could be synchronised to improve traffic flow, for example, turning green when only one car is stopped at a junction at night.



Augmented reality dashboards

The Hyundai IONIQ Augmented Reality app for the electric car range is a glimpse of things to come. Overlaying information onto real environments is already being used in the auto industry and we may soon see AR technology used within the cars themselves. Displaying information onto the windshield already exists but an AR display could react with information in real time, such as a graphical display of the distance to cars in front.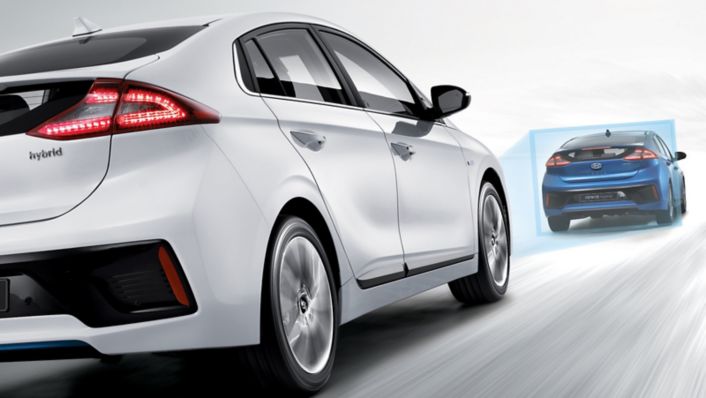 Energy saving body panels

In its annual "The Outlook for Energy" report, ExxonMobil predicts that half of all new cars will be hybrid vehicles by 2040. In order to compensate for the weight of the batteries and the space they take up, electric car manufacturers are experimenting with body panels that can store energy from processes such as when a car is plugged in overnight. This could reduce the size of future hybrid batteries saving energy even further. Some companies are also looking into developing panels that capture solar energy.



Self-driving cars

We already see semi-autonomous technologies in our vehicles. Cars that park themselves, brake in an emergency, and correct their lane position without the driver's input already exist. And completely autonomous vehicles are already at the road testing stage. Hyundai Motor has just announced the development of the Autonomous IONIQ concept .

Fully self-driving cars seem the logical next step when all these technologies come together. Radars, sensors, and cameras offering 360 degree views of cars combine with existing safety systems which take control to prevent accidents. Further integration with vehicle-to-vehicle and vehicle-to-infrastructure communications systems would put us even closer to large numbers of self-driving vehicles on our roads.



Eco-sustainability

If autonomous cars represent a future direction for the industry, it is in tandem with finding new ways to make our cars more environmentally friendly. Energy efficiency, low emissions, and renewable fuel-powered vehicles, such as hydrogen fuel cell or electric cars, are areas where new innovations are key.

Hyundai has already shown its green credentials with its continuing work on fuel cell-powered cars, and now the Hyundai IONIQ represents the next step in sustainable and accessible electric driving.