Hyundai Motor recently signalled its commitment to an ultra-low emission future by joining Go Ultra Low, the clean driving campaign which aims to increase the uptake of electric vehicles.
Drivers are increasingly turning towards electric and hybrid cars from traditional cars as they are more cost-efficient and feature a range of environmental benefits. In recent years, Hyundai Motor has brought the hydrogen-powered ix35 Fuel Cell and the IONIQ to the market. Now, the Korean manufacturer has joined forces with Go Ultra Low, a campaign that encourages car-buyers to purchase eco-friendly cars.

What is Go Ultra Low?

Go Ultra Low is a UK initiative that has been set up to help motorists and fleets understand the benefits, costs savings and capabilities of the wide range of electric vehicles (EVs) on the market, and to encourage them to consider switching from traditional cars to alternative powertrains.
The Go Ultra Low campaign is funded by the Office for Low Emission Vehicles (OLEV) and eight vehicle manufacturers working in association with the Society of Motor Manufacturers and Traders (SMMT), including Hyundai Motor.
Becoming part of the Go Ultra Low campaign demonstrates how seriously Hyundai Motor takes low-emission motoring... Both [the IONIQ EV and the ix35 Fuel Cell] demonstrate our commitment to care for our customers, providing innovative, technology-packed cars that enhance their lives while benefiting wider society.
Why people are switching to electric cars

2016 was a record year for electric car registrations, with 36,907 choosing to take them up in the UK, up 29 per cent on 2015. Over 90,000 drivers in the UK have switched to electric cars like the Hyundai IONIQ, and as well as benefiting from low running costs and high quality, they also receive government grants of up to £4,500 (€5,330). Go Ultra Low predicts that there could be in excess of 100,000 ultra-low emission cars on the UK's roads by mid-2017.
The infrastructure for electric vehicles is constantly improving, and 96 per cent of the UK's motorway services have a rapid charger which could recharge an electric car battery to up to 80 per cent in under 30 minutes.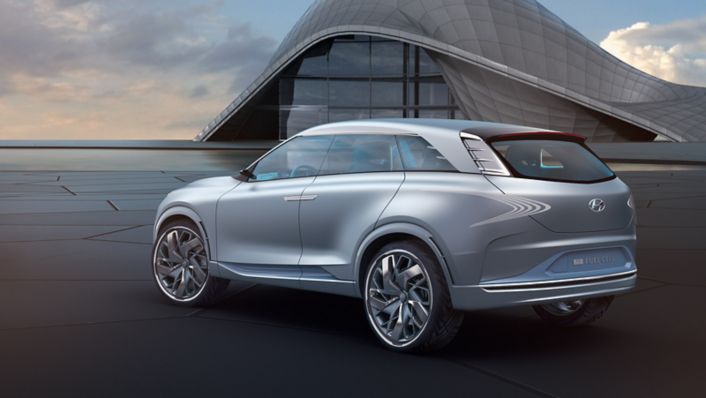 Hyundai's environmentally-friendly cars

The Hyundai IONIQ is the world's first car to offer hybrid, plug-in hybrid orr all-electric powertrains in a single body type. This innovative new approach democratises e-mobility, making low-to-zero emission driving more accessible to everyone.
Meanwhile, Hyundai recently unveiled the FE Fuel Concept at the 2017 Geneva Motor Show, which will serve as a basis for the brand's follow-up to the ix35 Fuel Cell, the world's first mass-produced hydrogen-powered vehicle. Using hydrogen fuel cell technology, the FE Fuel Cell Concept has a range of more than 800 km between refuelling.
The FE Fuel Cell Concept serves to demonstrate Hyundai Motor's commitment to fuel cell vehicle development and is part of the company's eco-vehicle programme that will see 14 or more new environmentally-focused models introduced by 2020.