From smartphones, to flying drones, to the cars we drive, hydrogen fuel cells could be the new solution to the need for alternative power.
With each new smartphone or laptop release, one of the first questions we ask is "how long is the battery life?" Our devices are becoming ever more powerful in the things they can do like constantly accessing apps and the internet, but to paraphrase a different kind of web weaver, Spiderman's uncle: "With great power, comes greater energy needs." Fuel cell technology could be our new hero.
Our smartphones and tablets have become a part of everyday life, but the one downside is the constant need to plug into a power source, after what seems a very short space of time. Fuel cell technology promises power for longer, and it's been adapted to everything from automobiles, to flying drones.
A fuel cell combines hydrogen fuel with oxygen taken from the air to produce electricity, heat and water. As there is no combustion, there are no harmful emissions. The only by-product is water. This makes it a very real fuel alternative for the car industry. Hyundai Motor is about to reveal its latest exciting concept model using the technology, but fuel cells are also being applied in other areas.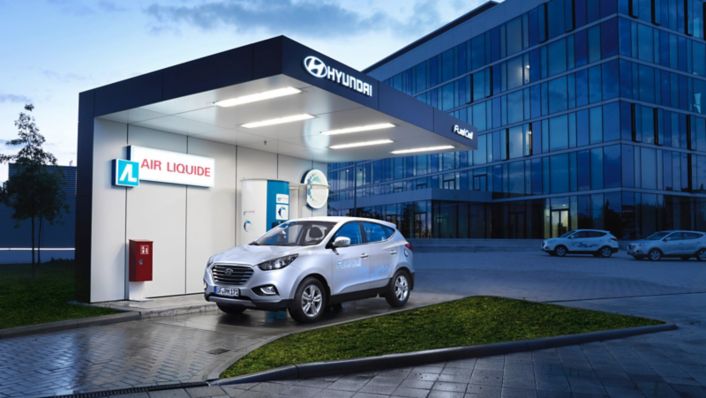 World's smallest fuel cell charger

At the 2017 Consumer Electronics Show (CES) in Las Vegas, Swedish innovation company myFC unveiled a portable charger which generates power using water and salt. The JAQ concept has been dubbed the world's smallest and most powerful portable fuel cell charger for mobile devices.
JAQ uses a thin recyclable single-use PowerCard containing water and salt. When the PowerCard is inserted into the charger, it produces hydrogen to fuel the cell and recharges the smart device. Each card enables one full smartphone charge.
A game of drones

British energy tech company Intelligent Energy has developed a prototype of a range extender for drones powered by a hydrogen fuel cell. Two of the biggest problems for battery-powered drones are the short flight time, and the time it takes to recharge. This new range extender, combining a lightweight fuel cell stack with a battery, dramatically improves both.
The commercial drone sector is ripe for expansion with delivery companies like Amazon experimenting with the technology while the city of Dubai is even looking at using them as taxis as early as this year. The extender can increase the flight time from the current 20 minutes approximately to several hours, while recharging time will decrease from one to two hours, to just minutes.
A smartphone that stays powered for a week

In 2016, CES in Las Vegas witnessed a demonstration of an iPhone that could hold power for a week. Intelligent Energy showcased an unusual looking version of the smartphone with a series of holes in the back. The device was adapted to house a hydrogen fuel cell inside the casing and when used with a hydrogen cartridge, stayed powered for a full week.
Further developments in miniature fuel cell technology open up the question of refuelling versus recharging. Fuel cells can run up to ten times longer than batteries and in the near future, we could see hydrogen-rich cartridges on sale in shopping centres and airports, just like we see charging points now.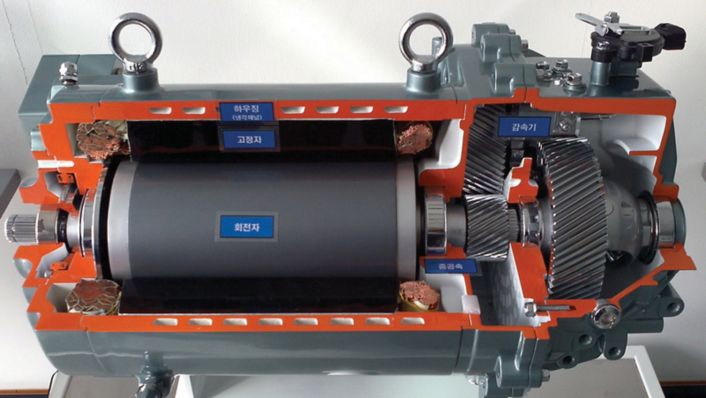 Exciting new Hyundai innovation at the 2017 Geneva Motor Show
In the automotive world, Hyundai Motor is to the fore in driving fuel cell technology. The company has developed partnerships throughout Europe in cities such as Paris, Munich and Copenhagen to deliver fuel cell vehicles and refuelling infrastructure, including a charging point at its European headquarters in Germany.
Hyundai's award-winning ix35 Fuel Cell is the world's first mass-produced and commercially available vehicle of this kind. It has set new records for the longest road trip with fuel cell vehicles across Europe, covering 2,500km, and has set a new speed record of 170 km/h on public roads in Europe.
At the 2017 Geneva Motor Show,
Hyundai unveiled its latest innovation in fuel cell technology
.