If you take up a career at Hyundai Motor Europe, you will be joining one of the fastest growing car manufacturers in the world with record sales and growing brand presence on the continent.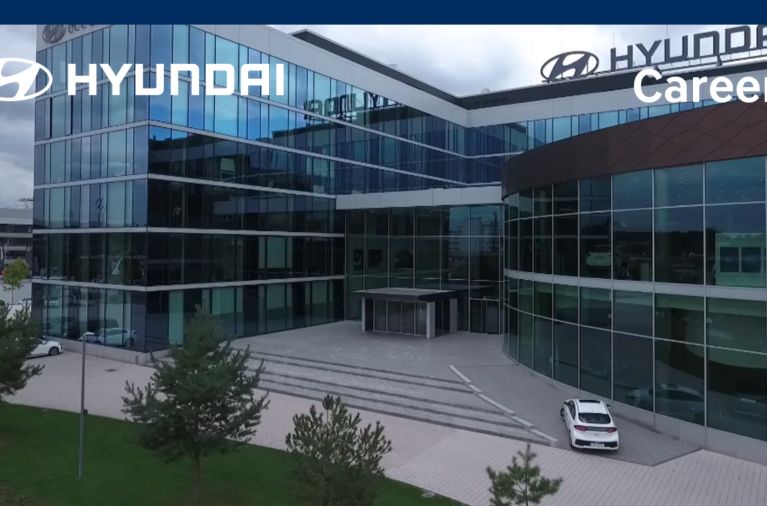 We have had great success until now, and our ambitious plan for the future will take us even further. And you could be part of our journey on the 'Road to 2021'.
Hyundai's European subsidiary Hyundai Motor Europe was incorporated in 2000 but the Korean car manufacturer has had a research, development and manufacturing presence on the continent since the 1990s. Today, 155,000 people in 31 countries owe their employment to the presence of Hyundai in Europe. Hyundai Motor aims to become the number one Asian automotive brand in Europe by 2021.
Close to the business hub of Frankfurt, Hyundai Motor Europe shares its headquarters in Offenbach, Germany, with other Hyundai affiliates and Hyundai Motor Deutschland. In total, around 600 employees, more than 160 of them for Hyundai Motor Europe, work at the facility which covers an area of more than 25,000 square metres.
In addition, Hyundai Motor has two manufacturing facilities in Europe in the Czech Republic and Turkey. It also has a research and development centre in Rüsselsheim, Germany established in 2003, and a testing centre at the famous Nürburgring race track. More than 90% of all Hyundai vehicles sold in Europe are designed, engineered, produced and tested there.
Employees at Hyundai Motor Europe share the company's passion for achieving growth through continuous innovation and creativity in an international business environment. Hyundai Motor Europe coordinates Sales, Marketing and Customer Service activities within Europe, in conjunction with the brand's global headquarters in Seoul, South Korea and its network of European national Hyundai subsidiaries and distributors.
These are the teams based at Hyundai Motor Europe
The European Marketing, Sales, and Customer Service divisions are all based in Offenbach. The company believes in promoting a customer-centric corporate culture by providing the best quality and impeccable service to play a role that extends beyond being a simple car manufacturer to become customers' lifetime companion.
Marketing Division
The Hyundai Motor Europe Marketing division consists of the Brand & Communications, Product Marketing, Advanced Product Planning and PR & Brand Experience teams, planning future products for the European markets, developing respective campaigns and steering communications.
Brand & Communications work to match Hyundai's brand image with the quality of Hyundai's products. They build desirability among customers for Hyundai's car models and the brand itself, developing and producing cross-media campaigns for Europe and working with colleagues in more than 30 countries for the national implementation.
The Product Marketing Team seeks to understand Hyundai's customer needs to help continuously to develop and improve car models for the European market. 90% of the Hyundai model range in the region has been replaced since 2015. Less than two years old, the i20 is the oldest car in the European line up. The i-models represent the DNA of the brand, and are the foundation of Hyundai's success in Europe. With more than 55 percent of sales in Europe in 2016, the current i10, i20, i30 and i40 models are important sales drivers representing quality and reliability. The New Generation i30, dubbed "the new people's car", makes the latest safety and connectivity features accessible to everyone.
Recognising the growth trend for SUVs, Hyundai is also planning to launch five new SUV models and derivatives in the next 2 years in Europe. 50 percent of Hyundai's European line-up will be SUVs, aiming to fully meet customer expectations and needs.
The Advanced Product Planning team analyses market trends and conducts marketing research to understand customer needs while the job of the PR & Brand Experience Team is to raise awareness and tell the story of Hyundai's products and presence in Europe - designing and building award-winning cars for European drivers - through communications activities, partnerships and events.
Head here for open vacancies in the Hyundai Motor Europe Marketing Division
.
Sales Division
In just a few years Hyundai Motor has demonstrated strategic global growth and enriched its brand image with a focus on quality, design, innovation, technology and sustainability, manifested by models such as the All-New Tucson, All-New IONIQ, or the New Generation i30. 2016 was a record year for Hyundai sales in Europe with more than half a million registrations, while its range of cars has picked up a string of 'best-selling' and 'car of the year' awards and accolades across the continent.
The Hyundai Motor Europe Sales Planning Team is responsible for mid/long-term business strategy. It monitors the economic outlook and market demand as well as collecting and analysing sales data.
The Sales Operation Team supports Hyundai's subsidiaries and distributors to meet their sales target. They communicate closely with the markets, manufacturing plants and headquarters in Korea, as well as controlling and monitoring an effective order delivery system.
Corporate Sales are a core focus for Hyundai, as shown by the fact that the brand currently sells more than 40% of its total sales volume through its European fleet business. As Hyundai looks to increase its presence in Europe's fleet sector, the company has made a significant investment in its dedicated Corporate Sales and Remarketing department. High residual values, superior services and professionalism make Hyundai Motor and its product line up a viable choice for corporate fleets. The team is responsible for steering corporate sales throughout Europe, as well as marketing and training initiatives tailored at the fleet community.
Over the past years Hyundai also evolved to become a highly progressive brand with an enthusiastic engagement in sustainable technologies, aiming to democratise low-to zero-emission mobility by making it accessible to everyone. The ix35 Fuel Cell is the world's first mass-produced and commercially available hydrogen-powered vehicle. The next generation Fuel Cell vehicle will be introduced in 2018. With the IONIQ family Hyundai offers the world's first model with three electrified powertrains in a single body type: Electric, Hybrid and Plug-in Hybrid. As part of the global sustainability strategy, Hyundai will launch 14 eco models until 2020.
With the Automotive Industry facing big changes over the next years, including for instance sustainable mobility solutions, autonomous technologies or shared economy trends, Hyundai Motor Europe newly established the Eco Car and Mobility Team.
For current open positions in the Hyundai Motor Europe Sales Division, head here.
Customer Service Division
Hyundai Motor strives to be the customer's lifetime partner in automobiles and beyond. Support does not end once customers are handed their new car keys. That is when the Customer Service Division gets to work, always looking at new ways to offer unique customer solutions and services, including for instance Hyundai's industry-leading Five Year Unlimited Mileage Warranty. Customer loyalty to the brand is strongly influenced by the customer services and satisfaction provided at the dealership and beyond.
The Aftermarket, Technical Service, Quality & Warranty sub-divisions as well as the Training Academy ensure that Hyundai products have superior quality and reliability, and that the network of dealers are professionally trained to keep customers happy during the whole customer life cycle, including digital touchpoints. The division also makes sure that spare parts are available on time and in the right place.
Dealer Network Development
Hyundai Motor has a network of over 1,600 dealers in Europe, responsible for more than 2,100 sales outlets serving customers in 31 countries. The Dealer Network Development Team at Hyundai Motor Europe is responsible for maintaining and expanding this network, as well as reinforcing the best possible experience for customers entering a Hyundai dealership.
You're interested in working with Hyundai. Here's what you can do now.
If you believe you can bring new ideas and creativity to make the impossible possible, then join us 
here
!