Wireless charging technology is doing away with cables in our cars, simplifying how we power our smart devices. In the future, the same principle might fuel vehicles themselves.
With an increasing array of phone models and accessories supporting the technology, wireless charging is here and set to become widely available in more and more car makes. The simple process of placing the device on a pad or holder without the need for a cable makes even more sense when our phones and cars are becoming always interconnected.
With Apple CarPlay and Android Auto allowing us to sync our phones to our cars' on-board systems cutting down on distractions while we drive, we also want a way to charge our smart devices that's both neat and tidy. And most importantly, that works.
Some smartphones have wireless charging capability built into the casing. For others, you can buy a replacement back or cover. By placing your portable device on a pad or in a holder, your battery will be restored via inductive charging. Here is a list of 
Qi standard enabled handsets
 or solutions for Samsung, iPhone, LG etc, and 
other compatible devices
 or possible accessories.
How does wireless charging work?
Wireless or inductive charging allows charging over short distances without cables. A charging base uses an inducting coil to create an electromagnetic field which transmits power to the device. A second induction coil in your phone converts this power into an electric current which charges the battery.
The wireless base can come in the form of a holder or pad. While more and more mobile devices have the charging surface built into the phone casing, there are accessories available for other models such as suction cup phone cradles or cup holder adapters that feature built-in wireless charging plates.
We're also seeing the technology being more widely adapted in the motor industry. For example, in Germany, Bombardier Transportation recently demonstrated a 3.6 KW charger for cars. The company's Primove project is based on electric vehicles using a contactless charging process which begins automatically when a car comes to a halt over equipment buried underground.
Advantages of wireless charging

In the past, wireless charging tended to fall down in one fundamental area: speed. However, today's technologies have largely resolved that issue. So, what are some of the advantages of wireless charging for your phone while driving?
Firstly, it's quick and easy. You just place your device on the pad or in the holder and it gets to work recharging your battery. It's also more convenient and looks neater without having a maze of cables in your car's cockpit.
The connections are protected against corrosion when all the electronics are enclosed. There is also less wear and tear on the socket and cable that you might have if you have to constantly plug and unplug connections. This gives your device more durability.
This type of wireless technology is also becoming more widespread in places like cafes, restaurants, and hotels, while apps such as Aircharge QI detail the locations of nearby QI (one of the common standards) charging pads.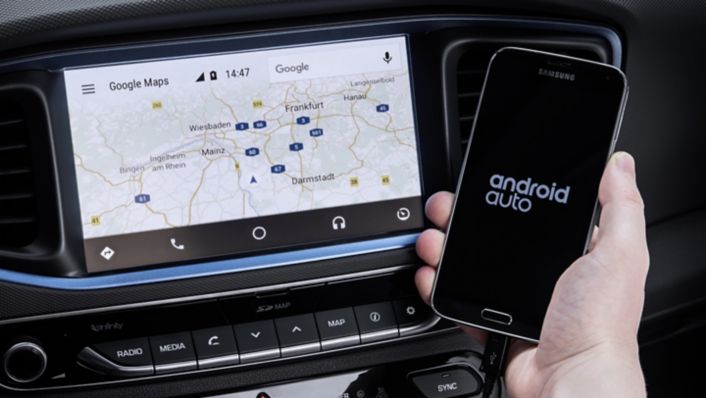 Wireless charging points for electric vehicles
Among its other cutting edge connectivity features such as Apple CarPlay and Android Auto, the Hyundai IONIQ also offers a wireless inductive charging pad (Qi standard) for mobile phones, (as does the New Generation Hyundai i30). Electric cars are on the increase with the IONIQ offering a choice of three electric powertrains, and the number of
charging points across Europe is also expected to increase
in the coming years. Already, engineers are exploring how these charging points can become wireless.
London initiated a trial of 13 wireless charging points and 50 electric vehicles in the Shoreditch area of the city while Transport for London trialled the technology in specially-designed buses that could power their batteries while they waited at stops.
Soon, powering your EV battery could become something you don't even have to think about. At night, you can simply park your car above the charging pad and in the morning, you're ready to go at full charge. Experts claim power transmission is 90 per cent as efficient as the cable version.
So, could inductive charging also become a constant source of energy for cars? Researchers at the Korea Advanced Institute of Science and Technology (KAIST) have developed a system called Online Electric Vehicle, (OLEV) where cables underneath the road surface produce power to the vehicles by non-contact magnetic charging.
While today, you can charge your phone by simply placing it on a pad when driving, we might soon see the day when we will be sitting behind the wheel while the car is powered by the road beneath us.