Although it might sound like the act of charting the skies above us, cloud mapping is actually considered the next generation in in-car navigation. But what exactly is it?
Well, imagine this scenario: you're driving on your first family holiday in Italy, enjoying the fantastic scenery despite the winding, unfamiliar roads. Just two minutes ahead of you, there's a traffic jam and all the cars around you have ground to a halt – far too early for any traditional satellite navigation system to detect and then warn or reroute you.

Yet within seconds, the information is relayed directly to your car, allowing you to make a driving decision – slow down, stop or look for a turn-off, for instance – well in advance of arriving at the scene. Instantly the chance of your vehicle becoming involved is significantly reduced, and the safety of your family is greatly enhanced.

Even better, all the cars travelling around you will be provided with the same information, meaning no other drivers are caught unaware and the risk of additional accidents occurring is also minimised. Real-time data instantly available to all road users – yes, thanks to cloud mapping, this is now a reality.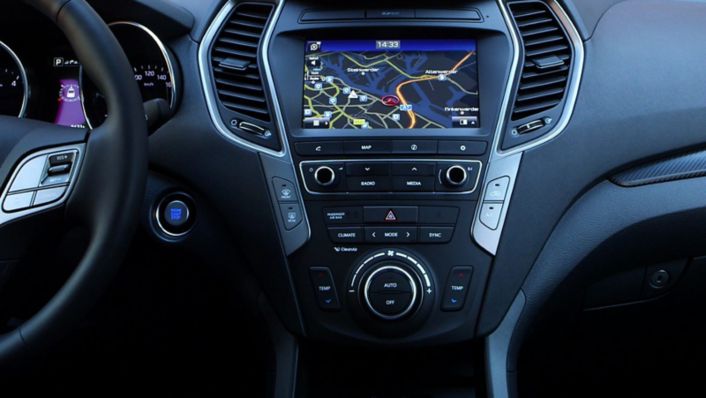 On-board sensors detect information
So how does it work? On-board sensors can be utilised to detect information inside and outside a car, such as sudden changes in speed or weather conditions. As soon as it is collected, that data is sent via the internet to a cloud mapping system's central computer servers and can be used to inform other vehicles connected to it.
For example, in the hypothetical Italian traffic jam scenario described above, sensors would detect events such as the triggering of an airbag and rapid deceleration in one or more of the cars involved. With split-second analysis of those events, a warning of a potential accident in that area can be sent almost immediately to every connected vehicle in the area – including your family car as it heads straight towards it.
One company that's pioneering cloud mapping is Hyundai partner
HERE
. At January's Consumer Electronics Show in Las Vegas, it debuted its HD Live Map system, billed as the most advanced cloud-based map asset commercially available for vehicles today. Designed to enhance both Advanced Driver Assistance Systems (ADAS) and automated driving functionality, HD Live Map creates a highly detailed and dynamic representation of the road environment, enabling a vehicle to effectively "see around corners" beyond the reach of conventional on-board sensors.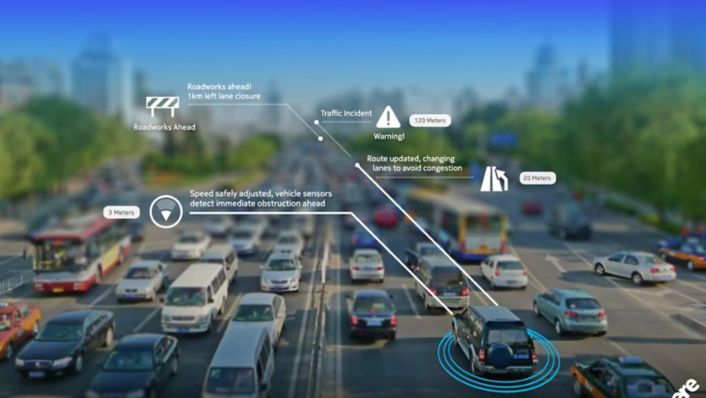 Updates in near real-time
HERE describes it as a "self-maintaining map", updated from aggregated data in near real-time. So as well as accidents that have happened just ahead, if vehicle sensors detected a speed limit sign that is inconsistent with what is currently displayed on your in-car navigation display, it would update accordingly so that other vehicles approaching the same spot have the new, correct information. As we move into a more 'driverless' world, this is important for ADAS functionality such as adaptive cruise control.
Similarly, if a new lane closure was reported, the map would update accordingly so that other vehicles approaching the area can already prepare to switch lanes or re-route if that closure causes traffic to become heavy.
"As we move towards higher levels of vehicle automation, drivers need to feel that their car is making the right decisions on their behalf,"
Christof Hellmis
, HERE's
VP Strategic Program Management
explained. "When it comes to trusting your car, having consistent real-time awareness of road conditions near and far is absolutely critical. With HD Live Map serving this need, we believe it will become the car industry's most intelligent vehicle sensor."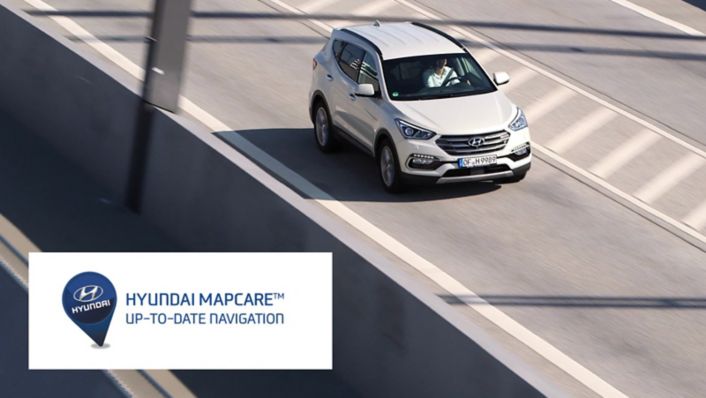 Cloud mapping is here to stay

HERE clearly caught the eyes of more than just those present in Las Vegas. Proof that cloud mapping is a trend that's here to stay, three months later Amazon and Microsoft were confirmed as being in talks about taking a minority stake in the company. It was perhaps no surprise that the two billion-dollar tech firms want in on this exciting new innovation, given that rival Google is already trialling its own system in and around California.

The owner of the world's leading internet search engine is already using cloud mapping to help pilot the autonomous cars it is developing. Clocking up a combined three million road miles a day, the data they collect is used to create extremely accurate maps of the US state that is then sent out across the entire fleet to help inform their driving decisions.

Hyundai has collaborated with HERE for a number of years now, and in June that partnership was further strengthened when it was announced that every new Hyundai vehicle with a built-in navigation system in Europe will be equipped with the latest map content powered by HERE. Both companies also introduced an exclusive offer with *Lifetime MapCare™ providing free map updates for Hyundai cars in Europe with a built-in navigation system from 2010 onwards.

The Hyundai navigation system gives drivers accurate and fresh map data provided by HERE. In addition, the navigation system offers drivers voice-activated turn-by-turn navigation, photorealistic 3D buildings, millions of local search points of interests and ADAS features.

Preceding that, in April Hyundai launched its roadmap for connected car development, which will see it collaborate with leading global IT and networking companies to develop its own 'Hyper-connected and Intelligent Car' concept. Part of that roadmap will be the company's new Smart Traffic feature, aimed at reducing congestion, speeding-up journeys and minimising driver costs by considering traffic and road conditions shared through the cloud.

*Lifetime MapCare™ is the commercial term of Hyundai's subscription to MapCare™ programme by which annual map updates will be provided for the eligible Hyundai vehicles for a minimum period of ten years after the model's end of production.