Helping to shape the future of mobility, Hyundai Motor is developing new technologies to provide solutions for customers today and tomorrow.
With a clear focus on ever-more sustainable approaches, Hyundai has already established itself as a leader in fuel-cell driven cars. One key factor is to ensure that these cars deliver the same high level of everyday usability like any other Hyundai car.
Offering zero emissions combined with a powertrain that is as easy to use as a conventional car, hydrogen is often called the fuel of the future. Frank Meijer, Head of Fuel Cell Electric Vehicles at Hyundai Motor Europe, explains more about Hyundai's focus on fuel cell technology.
Mr. Meijer, what people really want to know is, can we already buy such a fuel cell car today?
Yes, you can. By the end of 2015 there will be over 250 Hyundai ix35 Fuel Cell vehicles on European roads in 13 countries. That is more than the cars from every other manufacturer combined.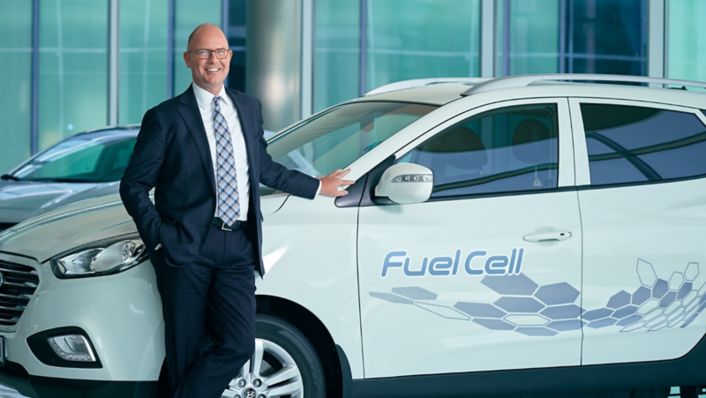 So Hyundai is claiming hydrogen leadership in Europe and worldwide. Can you give us examples?
Certainly. The ix35 Fuel Cell is the world's first mass-produced and commercially available fuel cell electric vehicle. In June 2013, Hyundai delivered the first fleet of 15 ix35 vehicles to the City of Copenhagen in Denmark. FCEVs are not a newly developed technology for Hyundai. The ix35 Fuel Cell is already the fourth generation of FCEV, following the Santa Fe FCEV in 2000, the Tucson FCEV in 2004 and the ix35 FCEV in 2012.
Hyundai will host a Fuel Cell Forum on November 4th, 2015 in its European Headquarters in Offenbach, featuring presentations and Q&A sessions with industry leaders. We are excited to share exclusive updates about our activities with the world's first Fuel Cell mass production car, the ix35 Fuel Cell. We would be glad to welcome all guests, and registration is open at www.surveymonkey.com/s/FuelCellForum
Can Hyundai compete with other zero-emission vehicles on the market?
The ix35 Fuel Cell is the most affordable fuel cell vehicle in Europe. With tax incentives currently in place, the car is priced from less than 58,000 Euros, for example in Norway. Compared to other zero-emission vehicles, I think Hyundai has not only a very competitive offer, it is clearly the number one in producing FCEVs. Already available in 13 European countries – far more than any other commercially-available fuel cell car – the ix35 Fuel Cell will be offered in more markets in the near future.
A reason for customers to buy a FCEV could be the higher range compared to electric vehicles with a rechargeable battery. What can people expect from a Hyundai fuel cell car in terms of mileage?
The longest recorded trip with an ix35 Fuel Cell on a single tank of hydrogen was 700.4 kilometres. It was undertaken by independent hydrogen pioneers Arnt-Gøran Hartvig and Marius Bornstein in June 2014. The official specified range of the ix35 Fuel Cell is about 600 kilometres.
Buying such a FCEV is one thing. But what about servicing this new technology? 
Hyundai Motor is the first manufacturer to train and equip its dealership staff in the servicing and repair of FCEVs. We want to ensure a consistent level of highly-informed, high-quality customer service. By the end of 2015 there will be 30 fuel cell dealers in Europe with the aim to having 50 in 2016. So, yes, our trained personnel will offer the same high-quality service for our fuel cell vehicles as Hyundai customers experience for the full range of models we offer.
The incredible Hyundai N 2025 Vision Gran Turismo racing car was presented at the 2015 IAA in Frankfurt, powered by fuel cell technology. Is this how you envision the future for fuel cell at Hyundai Motor?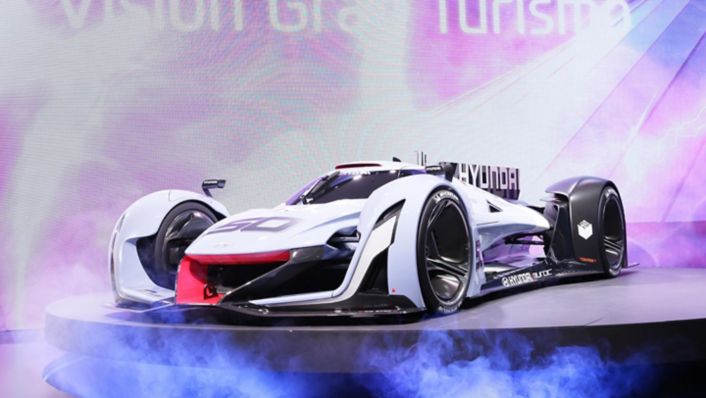 Why not? We bring our passion for performance and sustainability to a new level with this remarkable concept car. And while we are talking about the future: you will see a new model with hybrid, EV, and plug-in hybrid powertrains starting in 2016. 
Regarding sustainability: what will happen at the end of the lifecycle of a Hyundai FCEV?
Like any regular production car, at least 85% of our ix35 Fuel Cell is recyclable. Moreover, our battery is treated the same way as for other electric vehicles, such as hybrids. And the battery in our car is smaller than in a typical EV, which means less energy is required during this process for ix35 Fuel Cell. From the stack itself, we can recover most of the platinum.
Thank you for the interview.