The Hyundai IONIQ Electric recently received a prestigious award from Fleet News. In recent years, the fleet industry has embraced eco-friendly vehicles that don't sacrifice safety and satisfaction.
Fleet cars are vehicles owned or leased by a business, government agency or other organisation rather than an individual, and provide a range of benefits to employers and employees alike. Fleet cars are useful for employers looking to drive recruitment as well as being considered a staff perk as many applicants may not own a car appropriate for work or prefer not to use their own vehicle. Companies often own and manage each fleet vehicle and can determine which safety and technology features their company considers important.
For the last 35 years, Fleet News has been one of the leading media brands in the UK fleet industry. An expert panel on behalf of the publication recently honoured the IONIQ Electric with the award for "Best Plug-in Car (0g/km), while Hyundai Motor was named "Green Manufacturer of the Year". With alternative powertrains becoming more cost-effective and fuel-efficient, cars like the IONIQ are an increasingly popular option for the corporate fleet industry.
Why alternative powertrains are now a viable option for businesses

Previously, alternative powertrains have been considered but not implemented on a large scale. Although fleet managers and company car drivers are aware of their social and environmental responsibility, many have been unwilling to compromise financially or on driveability. However, over recent years the infrastructure that makes eco-friendly cars viable for business fleets has been put in place, from the practical - an increase in range and the increase in electrical charging points - to the cost, as hybrid and electric cars are proven to save drivers money over traditional cars.
As well as being good for the environment, hybrid cars require less fuel, for example, while the cost of electricity to charge electric or plug-in cars is on average considerably lower than the cost of petrol or diesel. Meanwhile, many European countries offer incentives to owners of green vehicles in the form of lower road tax, higher fiscal deductibility and purchase subventions which help to offset the higher investment price of the cars themselves.
Different alternative powertrains suit different types of people, and the way drivers use their vehicles determines how much they save and how satisfied they will be. For example, sales representatives that travel around and mainly use motorways would be more suited to a hybrid or plug-in hybrid than an electric car as it can be tricky to find electric charging points on long-distance journeys. However, those who use their car mainly for their daily commute within a city would be well-suited to an electric car. It is with this in mind that Hyundai developed the environmentally-friendly and versatile IONIQ, which offers three electrified powertrains: hybrid, plug-in hybrid and electric.
Why the eco-friendly IONIQ offers advantages over traditional fleet cars

As the world becomes more eco-conscious, corporate mobility is shifting towards more sustainable forms of driving. Hyundai's mission is to make low-to-zero emission mobility accessible for everyone, without compromising in driving dynamics, comfort and safety.
By offering an emission-free range of up to 280 km on a single charge, the IONIQ Electric can transform the overall energy efficiency of a company's fleet. In just 23 minutes, the car will be 80% charged, and its electric powertrain has fewer components than a combustion engine, which results in lower maintenance and repair costs. The IONIQ Electric also has a considerable advantage over petrol and diesel cars. In France and the UK, electric vehicles are exempt from company car tax, while in Germany they are eligible for a €4,000 premium.
Meanwhile, cars like the IONIQ Hybrid and IONIQ Plug-in require less fuel than conventionally-powered vehicles and can travel on electricity alone for several kilometres, while delivering the same performance and saving money on petrol. The Plug-in can drive more than 50 km in pure electric mode, which is ideal for shorter distances. When more power is needed the IONIQ's electric motor assists the combustion engine to produce more torque. Hybrids also benefit from tax reductions. Though these are typically less than electric vehicles, hybrids and plug-ins cost less to purchase up front.
Though there is a perception among some people that cars powered by electricity may be less reliable over longer distances due to the need to be charged, Hyundai has developed a range of smart technologies to give drivers ease of mind. Both the Plug-in and Electric versions of the IONIQ can be charged externally, and feature electronic control systems to maximise the range they get out of their batteries. In addition to this, the IONIQ features Apple CarPlay and Android Auto, which allows for seamless smartphone connectivity and wireless inductive charging for compatible devices. LIVE services provide useful information on an eight-inch display, including an audiovisual navigation system.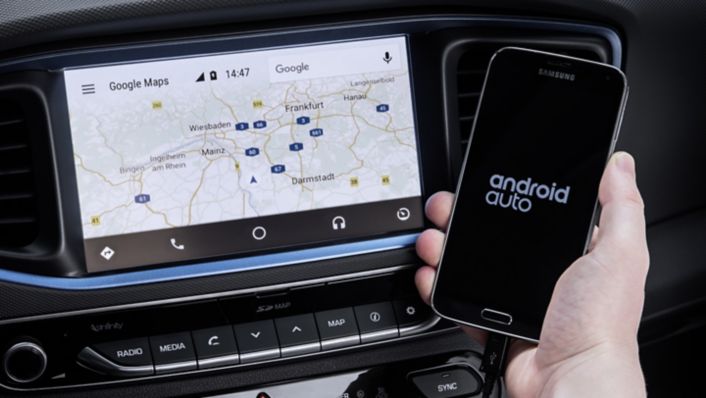 As well as offering a rigid body that boasts 53% Advanced High Strength Steel, the IONIQ features a long list of active safety features in all versions, including Autonomous Emergency Braking with pedestrian detection, Lane Departure Warning, Lane Keeping Assist and Smart Cruise Control. In addition to its industry-leading Five Year Unlimited Mileage Warranty, Hyundai Motor has also included an eight-year, 200,000-kilometre warranty on the IONIQ's high-voltage battery.
Consumption Data
IONIQ Electric

28 kWh Battery: Battery efficiency: 11.5 kWh/100 km; CO2 emissions: 0 g/km

IONIQ Hybrid*

1.6 GDi / 1.56 kWh Battery: Fuel consumption combined: 3.9 - 3.4 l/100 km; urban: 3.9 - 3.4 l/100 km; extra-urban: 3.9 - 3.6 l/100 km; CO2 emissions combined: 92 - 79 g/km

IONIQ Plug-in**

1.6 GDi / 8.9 kWh Battery: Fuel consumption combined: 1.1 l/100 km; Battery efficiency: 9.4 kWh/100 km; CO2 emissions combined: 26 g/km
* Depending on trim and tyre specifications
** Values are tentative and not homologated yet, hence subject to changes.