The 2018 Geneva Motor Show saw Hyundai Motor unveil a series of new models, including the warmly-received futuristic concept, Le Fil Rouge. Here's what the press have had to say about it.
At this year's Geneva Motor Show, Hyundai Motor unveiled the 'Le Fil Rouge' concept car, a reinterpretation of the brand's historical Hyundai Coupe Concept from 1974. It marks a new beginning for the brand's design and providing a glimpse into its future design direction. The name translates as 'common thread', and is a reflection of Hyundai's belief that the brand's past, present and future designs are all connected.
We sifted through articles from across the global media to bring you the ten best press reactions to Le Fil Rouge.
1. Evo
British car magazine 
Evo
 noted that Hyundai's design team had gone for revolution rather than evolution with Le Fil Rouge, describing it as a "radical departure" from the look of its current models.
The Hyundai Le Fil Rouge concept is a long, elegant, four-door coupe, and it certainly seems to represent a radical departure from Hyundai's current design themes.
2. Autobild
Elsewhere in Europe, German website 
Autobild
 described Hyundai's latest concept car as "dynamic".
With its long wheelbase, large wheels and completely redesigned radiator grille, [Le Fil Rouge] is actually quite dynamic. In the interior, Hyundai is showing for the first time the Intelligent Personal Cockpit, which will be integrated into the brand's models in the future.
3. Auto Motor Und Sport
Fellow German publication 
Auto Motor Und Sport
 acknowledged the "two-part interior" design, which it says offers distinct benefits for both driver and passengers.
The front passenger seat maximizes comfort even on long-distance journeys, while the ergonomically optimised driver's seat ensures more driving pleasure. The front passengers sit on apparently floating armchairs, in the rear there are two individual seats on a continuous bench.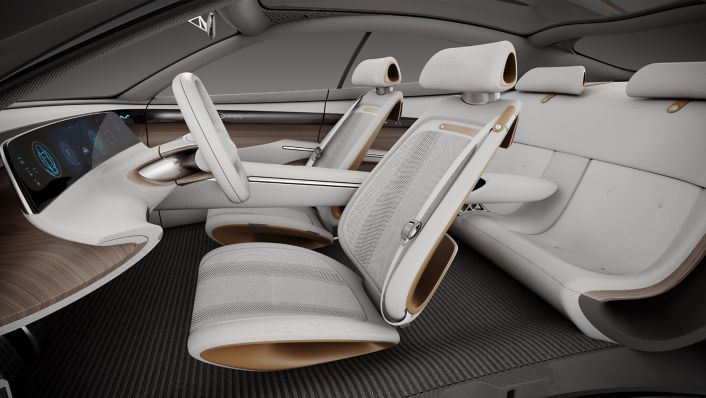 Front and rear mounts melt into the pavilion design, an impression reinforced by the absence of central studs. The cantilevers are short and the hood down, giving the car the look of a classic GT.
5. Quattroruote
Italian automotive publisher 
Quattroruote
 reserved warm words for Le Fil Rouge's interior, in particular.
Inside you will find a sporty and ergonomic style, with an enveloping architecture that aims to create a quiet, spacious and comfortable travel environment for all passengers.
6. Motorionline
Motorionline
, the Italian car website, praised the "elegant lines and ergonomic interior" of Le Fil Rouge.
Among the numerous innovations presented by Hyundai at the Geneva Motor Show, the Le Fil Rouge concept is the most interesting look to the future, a true manifesto of the South Korean brand's forthcoming design vision.
7. Cnet
With a number of technological innovations on display in Geneva, it's not just car publications that seek to grab a slice of the reviewing pie. Tech bible 
Cnet
 took a look at Le Fil Rouge, and was hugely impressed with what it saw.
The coupe concept offers hints of what to expect from future Hyundai vehicles, from sedans to SUVs, and it looks amazing.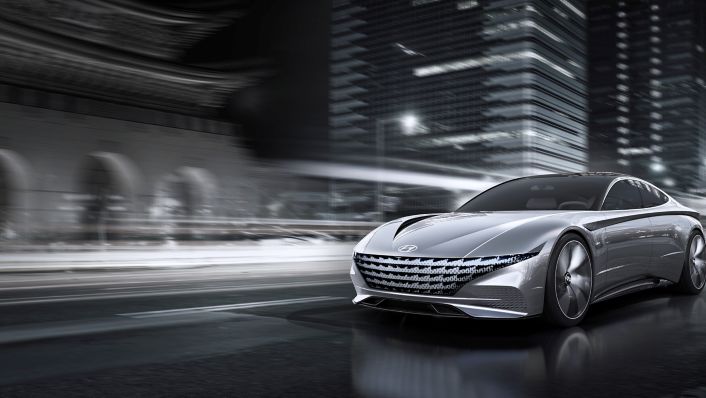 8. Wheels
Car website 
Wheels
, described Le Fil Rouge as "stunning", praising Hyundai for developing a concept car that places the driver at the centre of the action.
At time when many concepts are exploring future of driverless pods, it's heartening to see a design theme that still very much has the driver in mind.
9. Maxim
Men's lifestyle magazine 
Maxim
 expressed its surprise at seeing one of the Geneva Motor Show's "most exotic concepts" being developed by a Korean manufacturer, rather than a traditional Italian powerhouse. However, this is surely a complement as to how Hyundai's vehicle designs have evolved in recent years.
10. Carscoops
Readers of 
Carscoops
 voted Le Fil Rouge the best looking car of the 2018 Geneva Motor Show. Even the site itself considered this quite an achievement, saying "If someone told us just a few years ago that a Hyundai would end up as the best-looking model in an auto show full of premieres from many major manufacturers, we'd probably think they were joking. This concept, though, is no joke."
The site goes on to liken it to a futuristic vehicle from a science fiction film.
Le Fil Rouge is like nothing Hyundai has in its range, what with the long bonnet, short rear decklid and suicide rear doors, not to mention the sci-fi-like interior.