When it comes to cleaner mobility, the debate that's gripped the car industry over the past few decades has been whether to plump for a powertrain fuelled by an electric battery or a fuel cell.
Surprisingly, neither electric cars nor fuel cells are new. Electric cars have been around in one form or another since the 19th century, when the first fuel cells were developed. However, it is only in the last few years that significant strides have been made to make these technologies available to a wider audience. When used to power today's vehicles, both have one very important thing in common: zero emissions.
As part of a future-facing commitment to reduce its environmental impact, Hyundai has sidestepped this debate altogether. A pioneer in green driving, the company became the first manufacturer with a mass-produced hydrogen-powered vehicle, and also offers the world's first car with three alternative powertrains in one body type.
IONIQ Electric

The IONIQ Electric provides zero emissions mobility through a lightweight 28 kWh Lithium-ion Polymer battery pack that is compact and located low in the chassis for better handling characteristics, which delivers an estimated maximum range of 280 km. The instantly available maximum torque of 295 Nm is delivered by a high power electric motor with maximum output of 88 kW (120 PS) through the single-speed reducer transmission, accelerating the car up to 165 km/h.
Keeping the IONIQ Electric topped up with power couldn't be easier, either. All models feature a standard rapid charge compatibility, ensuring an 80 percent charge capability in just 23 minutes from a 50kW DC fast charging station. With a standard AC charging station, a full charge is achieved in four hours and 25 minutes.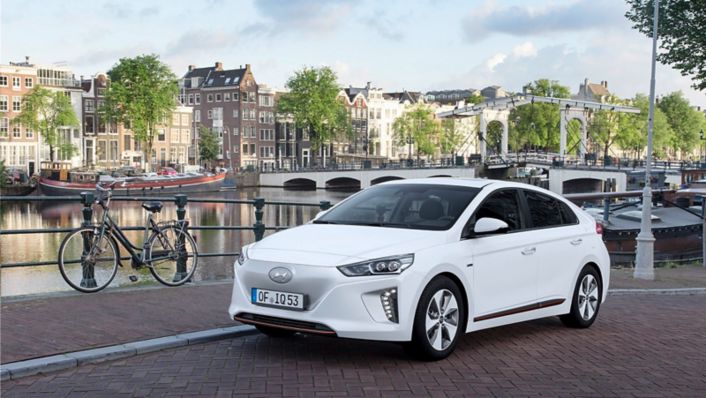 Of course, one of the advantages of an electric battery is that it can be charged at home. Every IONIQ Electric is equipped with an integrated In-Cable Control Box (ICCB) connector that allows drivers to charge their car at a regular household socket, with a full charge achievable overnight in 12 hours.
In order to save electricity and go the extra mile, the IONIQ Electric also boasts adjustable regenerative braking, via steering column-mounted paddles, maximising driver engagement and enhancing efficiency. When decelerating (e.g. through braking) or driving downhill, the electric motor operates as generator and regenerates kinetic energy into electric energy that is then stored in the car's battery.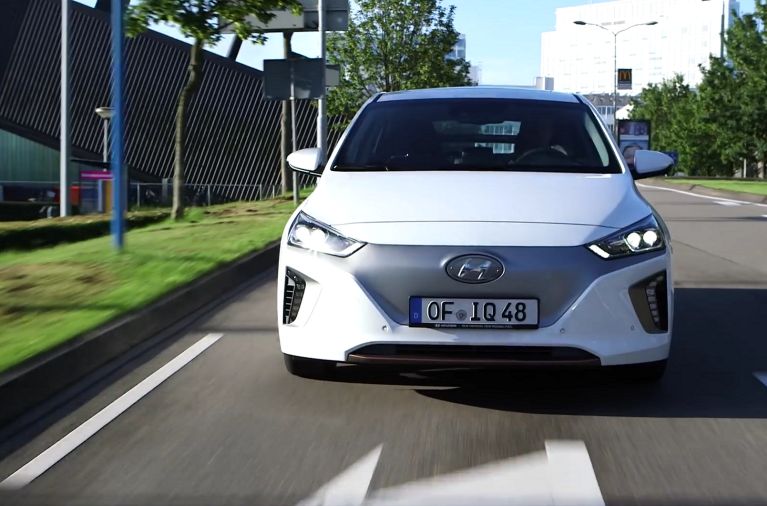 The ix35 Fuel Cell

Though a fuel cell vehicle may look like any other car, underneath it has a completely different anatomy. The fuel cell at the heart of the technology works by passing hydrogen and air through a fuel cell stack. A chemical reaction within the stack generates electrical power to drive the vehicle while emitting nothing but water vapour.
While rapid charging of an IONIQ Electric takes a minimum of 30 minutes, it only takes three minutes to fully fuel the ix35 Fuel Cell's hydrogen tanks, a time comparable to most standard combustion engine cars. The ix35's two hydrogen storage tanks, located between the vehicle's rear axle, enable it to travel a total of 594 km on a single fuelling – more than double that of the IONIQ. You will need to find a station that offers a hydrogen fuel pump before the needle hits 'empty', though.
Hyundai Motor has been a world leader in the development of hydrogen fuel cell technology ever since research into its first fuel cell began in 1998. The company introduced the Santa Fe FCEV in 2000 and operates a dedicated fuel cell research division at its Eco Technology Research Institute in Korea. In January 2013, Hyundai became the world's first automaker to begin assembly-line production of hydrogen-powered vehicles with the ix35 Fuel Cell.
The ix35 Fuel Cell is the result of 14 years and several hundred million euros of research by hundreds of engineers. In that time, the car logged more than three million kilometres of road tests in real-world conditions across Europe, Korea and the United States, from the blistering heat of California's Death Valley to the Baltic ice fields of frozen Sweden.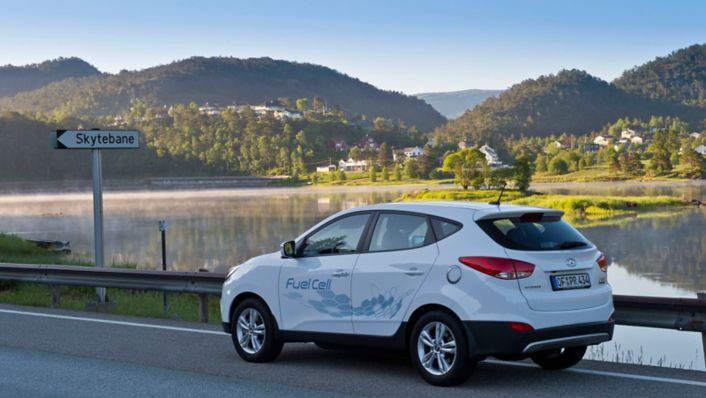 The ix35 Fuel Cell is equipped with a 100 kW (136 PS) electric motor that can reach a maximum speed of 160 km/h, accelerating 0 to 100 km/h in 12.5 seconds. Just like the IONIQ Electric, the ix35's motor also converts mechanical torque to electricity when decelerating and driving downhill, which is then stored in its lightweight and compact lithium-polymer battery located low in the chassis for better handling characteristics.