​Self-driving cars are being touted as a vision of future transport but we're already seeing the technology being put to commercial use.
If you've browsed through a newspaper, magazine or website in the past few months, you can't fail to have come across a raft of articles excitedly telling us that in the future nobody will be driving a car – because they'll be driving themselves for us.
A fleet of autonomous taxis

Perhaps the one commercial use for self-driving cars that has caught a fair amount of attention is that of the taxi. When ride-hailing app behemoth Uber launched a fleet of autonomous taxis in a 12-square-mile area of the US city of Pittsburgh in September 2016, the world certainly took notice.
Despite the entire fleet coming with safety drivers and reportedly travelling at a pretty sluggish, overly-cautious pace, it was nevertheless a pretty revolutionary development, and one of the first opportunities for members of the public to experience self-driving cars. Three months later, Uber rolled out its second pilot scheme in San Francisco and in February of this year, a third followed in Tempe, Arizona.
It had, however, been beaten to the punch by nuTonomy, a US-based start-up that began the world's first trial of self-driving taxis in Singapore in August 2016. Like Uber, nuTonomy's cars are hailed via a smartphone app, and it signalled its ambition is every bit as strong as its larger competitor when it rolled out a second trial in Boston at the start of the year.
Both firms may soon find themselves eclipsed, though, as Waymo – Google's self-driving car project – and ride-sharing app Lyft have announced an alliance between them. Although the details revealed were scarce, it's not hard to imagine intentions to launch a fleet of Waymo autonomous cars being hailed by Lyft users the world over in the years to come.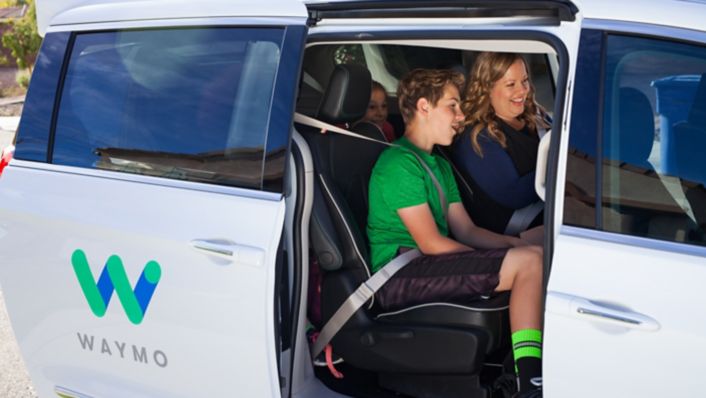 The first self-driving bus trial of its kind

You might imagine that public transport would be a little harder to automate on our roads, given the much larger size of the vehicles involved. But you would be wrong.
In January 2016, the WePod shuttle transported six passengers back and forth along a 200-metre stretch of road in the central Dutch agricultural town of Wageningen, in what was the first self-driving bus trial of its kind. The WePod was more minibus than bus and drove at a leisurely 8kmph, but the Dutch went full-size six months later.
In July 2016, the bus lane between Schiphol Airport and Haarlem saw the first operational test run by a self-driving bus outside a closed test course. It completed the 12-mile journey on the route's regular bus lane without any human steering, accelerating or using the brake pedal, and travelled at the 50-70kmph speed limits.
The Dutch experiments are part of a global effort. In January this year, French company Navya debuted its 15-person fully-autonomous shuttle bus at the UK's Heathrow airport and the US city of Las Vegas, having already tested it in Australia, France and Singapore.

193-miles completed without human intervention

Perhaps the biggest and most profitable commercial use for any road-going vehicle is in delivery and haulage. And yes, these are already being automated too. On October 20, 2016, a self-driving truck designed by San Francisco-based start-up Otto – purchased the year before by none other than Uber – and filled with 50,000 cans of beer completed a 193-mile-long journey across the US state of Colorado, something the company claimed as a world first. Despite having a safety driver on board the whole time, the vehicle completed the entire route without any human intervention.
Once again Uber may find itself eclipsed by even bigger players, however. International delivery firms DHL and FedEx have both stated that automated technology and self-driving vehicles will play a big part in their future strategies.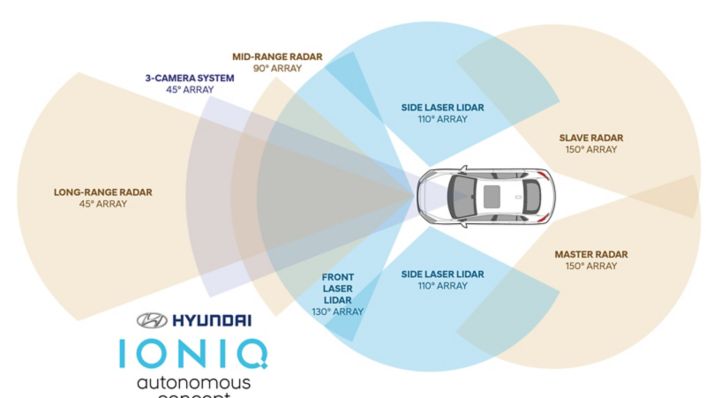 There's no doubt all three firms will be aware of recent reports that internet retail behemoth Amazon has assembled a 12-person team to investigate the use of driverless vehicle technology to its advantage. The company currently relies on third parties to deliver most of its orders, but it is thought the creation of this team belies a future ambition to transport goods itself.
Its autonomous delivery drone project has already raised more than a few eyebrows, so it isn't a stretch to see our books, last-minute presents, groceries and everything else we buy on Amazon soon being transported autonomously. Quite how they'll get from the vehicle to our front doors is another matter entirely.
Hyundai Motor's Autonomous IONIQ model offers a glimpse at the company's vision for future mobility. The car uses LiDAR technology fitted behind the IONIQ's bumpers rather than on the roof, and features high-definition mapping software and GPS antenna. It demonstrates Hyundai's continuing development and refinement of self-driving technology.