You can already order parcels online, DVDs, and even your week's grocery shopping. Now get set to take ownership of your new car at the touch of a button.
Hyundai's Click To Buy has launched in the UK allowing customers to purchase a new Hyundai model completely over the internet. Buyers can compare quotes, configure their model, and pay online. Within two weeks, drivers can take ownership of their new car from their local dealership having arranged everything online. For customers paying cash, the new car can even be delivered to your home, meaning you don't even have to leave the house.
Since launching in the UK in January, 26 Hyundai cars have already been ordered through the Click To Buy website. The first person to complete his purchase was Keith Peile, a 65-year-old retiree, who replaced his existing Hyundai i10 with a brand-new model. The Hyundai cars currently available are the i10, i20, i20 Coupe, i30, Tucson, and Santa Fe.
A landmark moment for the industry
Some people just don't like the salesroom experience and the need to negotiate on a price. Reflecting the connected world we live in, Click To Buy allows customers to get a trade-in price for their current car, and arrange the finance plan and deposit on their computer, laptop, or smart device. The UK's The Sun newspaper described Hyundai's innovation as "a landmark moment for the auto industry".
In 2014, Rockar Hyundai was launched, billed as the world's first digital automotive retail experience. Along with two physical stores in the United Kingdom, visitors can research, test-drive, part-exchange their old car and purchase a new Hyundai at the click of a mouse.
Last year, Hyundai launched Click2Drive in Spain, a digital dealership supported by a physical store in in Gran Plaza 2 shopping centre in Majadahonda, Madrid, and operated by Hyundai dealer Motor Gamboa Group. Customers can get a close-up look at the models before doing everything online such as getting a valuation for a used car, configuring the car they want, and completing a purchase.
Hyundai's latest innovation Click To Buy is the first time a car manufacturer has offered customers nationwide the facility to purchase new car completely online.
The process is very simple with just a few short steps on 
clicktobuy.hyundai.co.uk
. If paying with cash, the entire order can be completed in less than five minutes.
How it works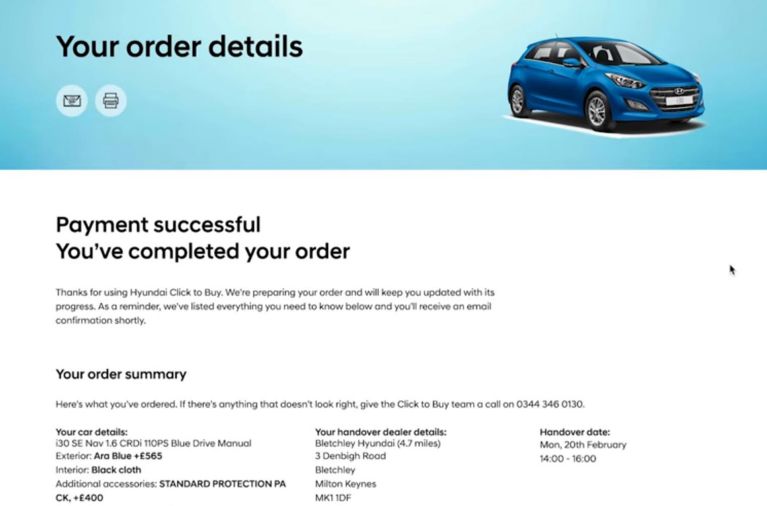 Personalised quote

If you're looking to sell your car, you'll be given a part-exchange value. You can pay for your brand-new model with cash or work out a finance plan based on how much you'd like to pay per month.

Configure your car

Choose your colour, accessories etc. and compare quotes to decide what suits you best

Select your handover dealership

Choose where you want to collect your new car and a convenient time. And if you're paying cash, sit back and have your new car delivered to your door.

No haggling

Once you've decided on your quote, you can apply for finance and await approval. The initial payment is £250 followed by the balance of the deposit.

Collection

Pick up your new Hyundai or have it delivered. It's that easy.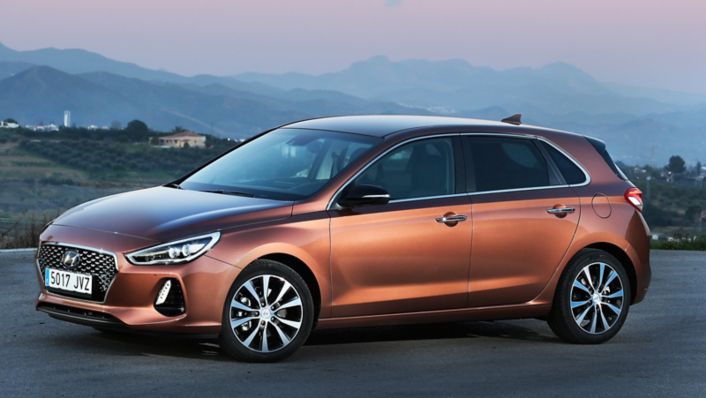 Almost every retail sector has seen the shift towards online buying in some capacity. Now, the ability to make a car purchase completely online is another move towards the 'hyper-connected society', one of 12 trends identified by Hyundai's Project IONIQ Lab, a long-term research initiative examining how the car industry will look by 2030.

More choice for buyers

Salesrooms are still an integral part of buying a car but more and more customers are even foregoing test drives before buying. According to the BBC, Hyundai's Rockar project found just 53% of customers opted to drive their chosen car before purchasing. They also point to current auto industry statistics which state that whereas in the past the average car buyer used to visit three showrooms before buying, now they tend to visit just one.
Of course, users of Click To Buy can visit their local dealerships prior to making a purchase, and can choose the most convenient site to collect their new vehicle. With the option of completing the process completely online, car buyers are simply getting more choice.