Hyundai has packed plenty of features into its cars to keep your comfort levels at maximum on any long distance journey.
Cars offers drivers so much freedom compared to other forms of transport and provide the opportunity to travel to new and far flung destinations, whether it's a visit to an amusement park or country estate, a day-trip to the coast or a full-on week's holiday. Of course, given the greater distances travelled, it's these occasions when we spend the most amount of time sat in our cars in one continuous period.
Add in humid conditions, traffic jams and the uncertainty of travelling somewhere you've never driven to before, and these can also be the occasions where we experience the most amount tension behind the wheel. Fortunately, Hyundai Motor has developed a number of car features that help make any trip taken this summer as stress-free as possible.

Lifetime MapCare™*

Before you've even set off, the worry of not being familiar with a new route – especially if it's a long way away – can be enough to get your blood pressure rising. Thanks to Hyundai's unique Lifetime MapCare™* programme, finding your way to any of Europe's far-flung driving destinations is no longer the daunting prospect it once was.
Free in the All-New Kona and all Hyundai cars with a built-in navigation system from 2010 onwards, Lifetime MapCare™* is an industry-leading update service package that keeps navigation maps and software up-to-date. It encompasses all of Europe, helping to make even long-distance, pan-European route planning truly worry-free with highly accurate map data. Updates can be carried out free of charge during the vehicle's annual maintenance at a Hyundai dealer, and transferred to a new owner when the car is sold.
Panorama Sunroof

After packing your suitcases, beach towels and bucket and spade into the boot, it can feel a little underwhelming to find the summer sun suddenly blocked from view by a car's roof. The optional panorama sunroof in Hyundai's New Generation i30 and Tucson and Santa Fe SUVs ensures that passengers won't miss a moment of the sky above them.
The tilt-and-slide glass roof opens extends from the front seats back and opens with the touch of a button, bringing in light and fresh air. In the New Generation i30 it opens 30 percent wider than the previous model, further enhancing the feeling of roominess that can make all the difference on long trips.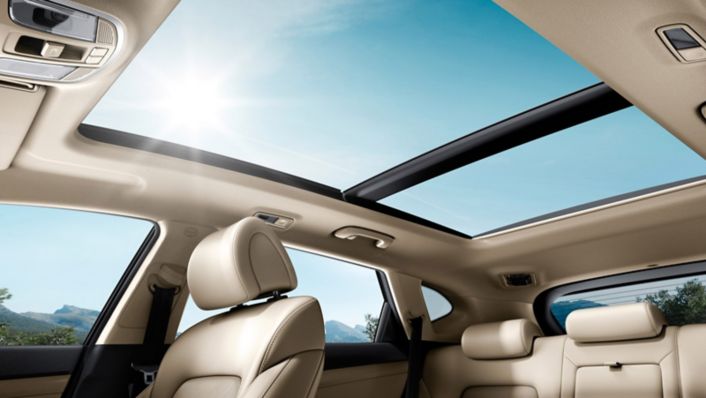 Advanced Smart Cruise Control

If you are travelling on a motorway for an extended period of time, Hyundai's Advanced Smart Cruise Control is your new secret weapon for combating driver fatigue. Using front radar sensors, it allows the car to maintain a constant speed and distance from the vehicle ahead by automatically accelerating and braking.
When traffic stops, Advanced Smart Cruise control also applies the brake until the car comes to a standstill, and accelerates to your desired speed as soon as the road becomes clear. Because you don't need to keep your foot on the pedal, you can relax your legs and find a more comfortable driving position for long stretches of your journey.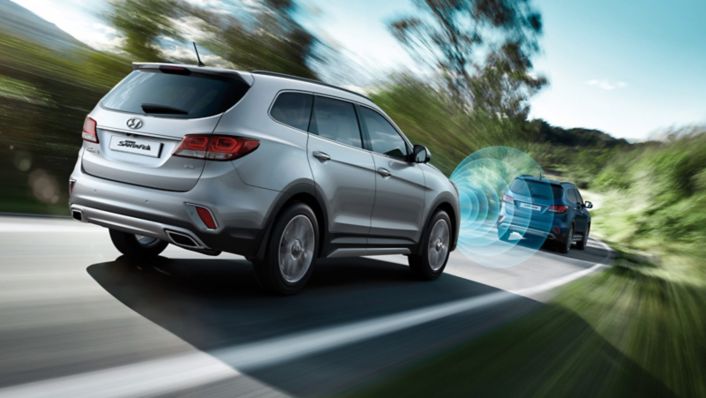 Smart and efficient climate control

While every driver knows how valuable air-conditioning is when the temperature rises, they are also aware that it can come at the cost of diminished fuel efficiency. To counter that effect, the Hyundai IONIQ's climate control can be switched to an efficient operation mode to provide comfortable and refreshing in-car conditions without using unnecessary amounts of energy.
Due to a maximum utilisation of the inside air when the air-conditioning is active, ventilation losses can be minimised and the overall efficiency of the system increases. Also, the dual-zone climate control can be set to 'driver only' mode, reducing the load of the air-conditioning and heating.
For added comfort on a hot summer's journey, Hyundai's IONIQ and Tucson and Santa Fe SUVs have optional ventilated front seats. Their integrated seat cooling fans provide crisp, cooling air ventilation in hot, humid weather, meaning you'll arrive at your destination as fresh as the moment you left.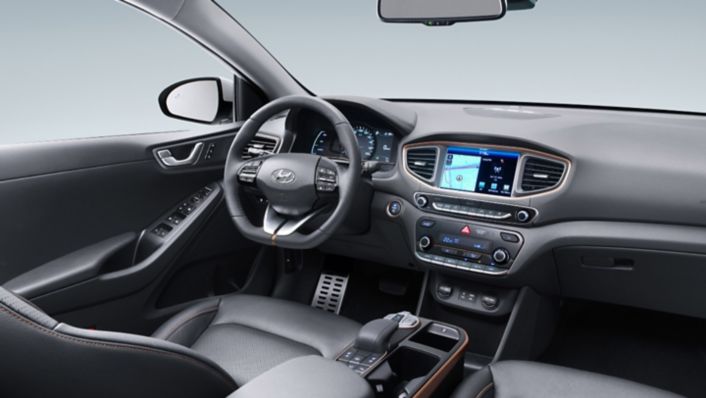 Apple CarPlay/Android Auto

As anyone who went on a summer holiday with their parents can remember, there's nothing more boring than being stuck in a passenger seat playing I Spy for mile after mile. With Apple CarPlay and Android Auto connectivity in a car like the Kona, the newest member of Hyundai's SUV family, users can connect their smartphone devices to deliver and control apps, music, telephone or navigation functions on the high resolution seven-inch colour LCD touchscreen.
Once connected, you can listen to an audio book on Audible, an album on Spotify or a podcast on TuneIn Radio, making the journey fly by. Apple CarPlay and Android Auto also allow passengers to use the navigation capabilities of their smartphone without the need for built-in car navigation and – to ensure as little distraction as possible – can be controlled via voice control.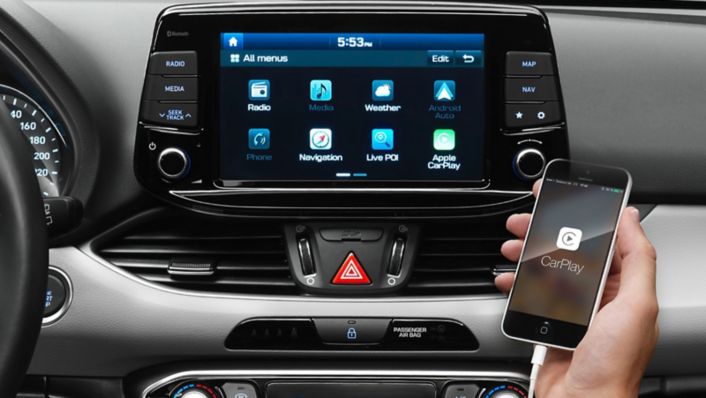 * Lifetime MapCare™ is the commercial term of Hyundai's subscription to MapCare™ programme, by which annual map updates will be provided for the eligible Hyundai vehicles for a minimum period of ten years after the model's end of production.