It was billed as Hyundai Motor's 'big surprise' at this year's Geneva Motor Show, and the automaker didn't disappoint with its stunning Le Fil Rouge concept car.
Translating as 'the common thread', Le Fil Rouge wasn't simply about surprising the world's media with its incredible looks. It was also a unique statement of intent, marking a new beginning for Hyundai's design.
Described as 'Sensuous Sportiness', the concept will be applied to all future Hyundais, from city cars and hatchbacks to sedans and SUVs. Combining beauty, emotional value and desirability, here's five cool things about this incredible new car.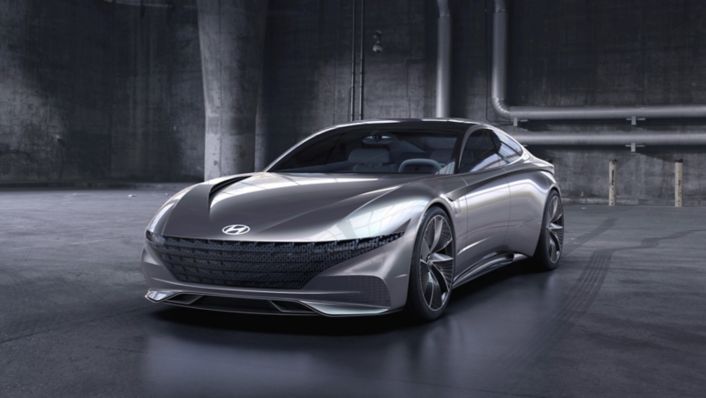 1. Its creator

Luc Donckerwolke is the executive vice president and Head of Hyundai Design Center. A veteran of the industry, he has been responsible for the look of some the world's most desirable supercars.
His wealth of design experience is evident with Le Fil Rouge, which combines a futuristic look with a measured style that oozes class.

2. The Golden Ratio

Thought to have been in use for at least 4,000 years – perhaps even by the Ancient Egyptians to build the pyramids – the Golden Ratio describes the perfectly symmetrical relationship between two proportions. It is a common ratio found throughout nature that can be used to create pleasing, natural looking compositions.
This is exactly what Hyundai's designers employed to achieve proportional uniqueness through Le Fil Rouge's long wheel base, large wheels and short overhangs. An optimal dash-to-axle – the distance from front wheel centre to base of windshield – ensures the perfect driving position, with a higher beltline rounding off the car's spectacular presence.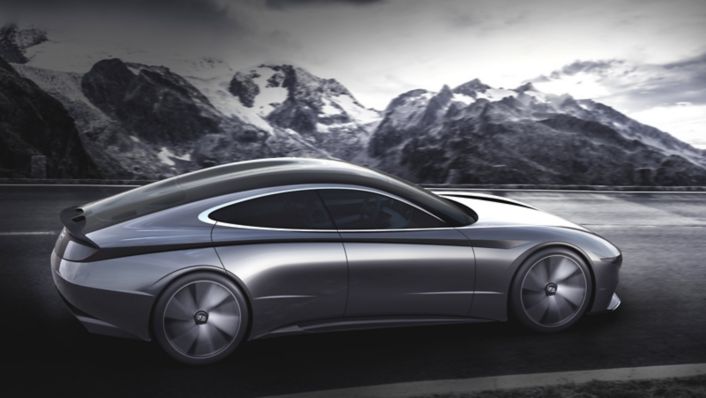 3. Light and Tube Architecture

To boost the brand's design heritage with a progressive identity, Hyundai created a new approach that it calls 'Light Architecture'. This is seen in Le Fil Rouge's single, high beltline crease that flows from its front grille and headlights, over the wheel arches to the tail lights, then seamlessly through front and rear pillars and roof, as if it were drawn with a single line.
Tube Architecture, Hyundai's other new design concept, brings these exterior elements to the car's interior, keeping its sensuous and sporty character consistent. For example, the vehicle's beltline is echoed in its floating centre console, while its overarching silhouette is reflected in the lightweight profile of its front seats.

4. Future tech

Of course, a car that represents Hyundai's future should be enhanced by cutting-edge technology – and that's exactly what Le Fil Rouge is. A panoramic floating display featuring haptic touch technology sits in front of the driver, offering access to intuitive controls for climate control and other commands.
For ultimate driver and passenger comfort, a two-way air ventilation system inspired by those found in aircraft projects air over the curved surfaces of the interior, distributing evenly throughout the cabin. Its exquisite, sensuous forms are constructed of high-tech fabrics and revitalised wood, evoking natural beauty and creating an airy, calming feel.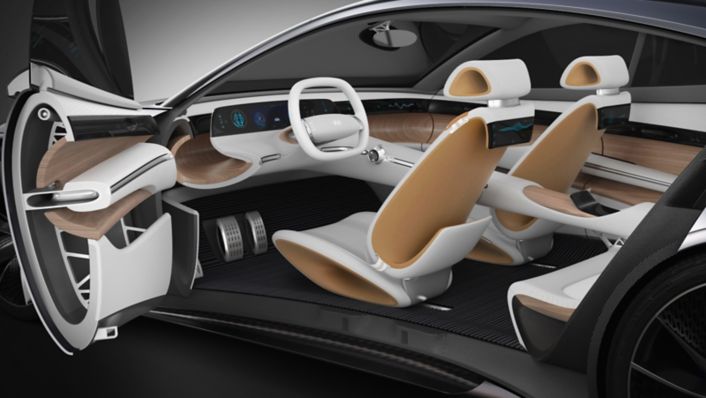 5. Unique style

In a world were conformity is making it hard to distinguish one product from another, this concept represents a vehicle that is instantly recognisable as a Hyundai from any distance. Carefully orchestrated concave and convex forms, along with a harmonious blend of layered crisp lines and pure volumes, work together to create a distinctive and unique look.
A new three-dimensional interpretation of Hyundai's cascading grille, augmented with parametric jewels inside, give Le Fil Rouge a commanding presence. This is enhanced by its wide, layered front hood, generating a dynamic look and forward motion effect.