'COOL4SEA' wins Hyundai Motor's 'Brilliant Young Entrepreneurs' award
2014 competition contested by 20 finalists from 14 countries
Brilliant Young Entrepreneurs award helps business dreams become reality 
Hyundai Motor Europe has announced the winner of the 2014 'Brilliant Young Entrepreneurs' competition at a ceremony in Amsterdam, Netherlands.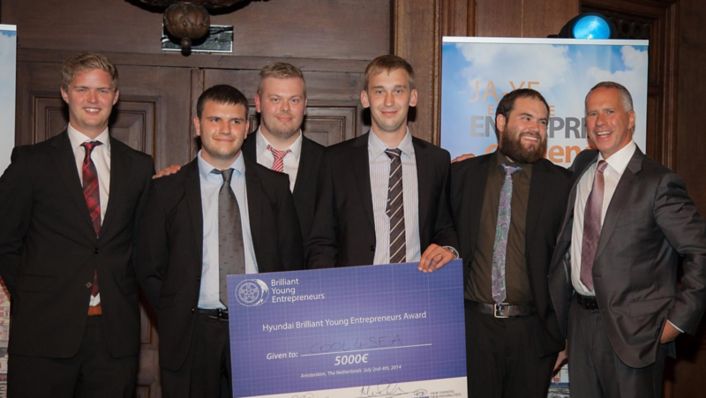 The winner of the 2014 award was 'COOL4SEA' from Denmark. The group of students, from the Svendborg International Maritime Academy, developed a unique system that cools and heats the accommodation of a ship by utilising waste heat from its main and auxiliary machinery.
COOL4SEA competed against 20 finalists from 14 countries across Europe to win the grand prize of mentoring and €15.000 in financial support, both delivered by Hyundai over 12 months, to help turn their business dream into reality.
Judges assessed five main categories to determine the viability of future success: business potential, opportunities for growth, community impact, financial performance, and innovation.
Allan Rushforth, Senior Vice President and COO at Hyundai Motor Europe, and Brilliant Young Entrepreneurs judge, commented: "COOL4SEA stood out to the judging panel with its unique energy-saving solution for the maritime sector. While not directly linked to the auto industry, these students demonstrated the kind of 'new thinking' that's needed in order to build a sustainable future for all industries in the transport sector."
"Business leaders of tomorrow need support now, and that's the focus of the Brilliant Young Entrepreneurs programme. Hyundai is committed to supporting bright business talents who will lead European industry and the economy to future prosperity," Rushforth added.
In addition to Allan Rushforth, the judging panel consisted of Jorge Llorente de Diego, Dealer Network Development Manager, Hyundai Motor Europe; Philippe Vanrie, CEO European Business & Innovation Centre Network; and Fausto Escriga, CEO and co-founder of Cramway – the 2013 winner of Spain's national Brilliant Young Entrepreneurs award.
Established in 2012, the Brilliant Young Entrepreneurs programme is open to university students, aged 19 to 30 years old, and is run in conjunction with Junior Achievement Young Enterprise (JA-YE) Europe, the region's largest provider of entrepreneurship education programmes.
The programme is one of Hyundai Motor's pan-European activities to support and encourage young people to develop their skills through real-world opportunities. 'Skills for the Future', also set up in 2012, provides mentoring and financial support for school students aged 15 to 18 years.