Ask most people who they think station wagons are designed for and they will probably answer 'company car drivers' and 'families'. However, if you're someone who needs to carry a fair amount of luggage around on a regular basis but also wants to enjoy driving, today's wagons are an excellent choice.
Wagons, estates and combi cars are all the same type of car. For decades, they have shared a bodytype which offers a greater volume of boot space than other cars. However, wagons have long grown out of this niche and are also environmentally-friendly, with low-slung bodies that are aerodynamic and fuel efficient. No longer the preserve of large families, modern wagons are sporty and fun to drive, with tighter handling and more options for packing equipment and adventure gear in the back. The question is how does a car manufacturer like Hyundai Motor design a modern-looking wagon without losing the thing that made it impressive in the first place?
In recent years, wagons have had a reputation of being practical and pragmatic rather than sleek and sporty. However, newer models boast great design without compromising on all-important boot space.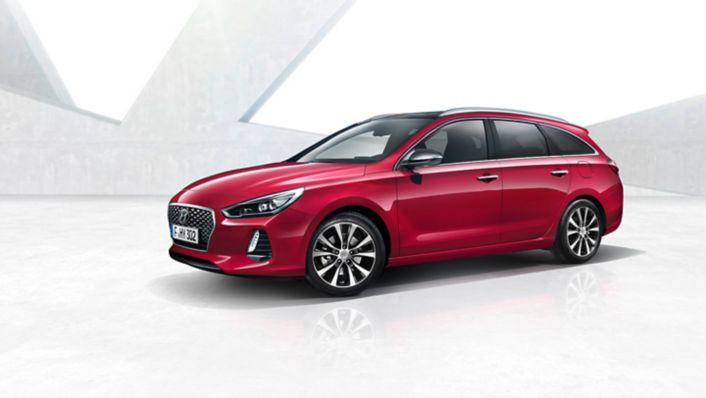 Before buying, think about how much you would like to be able to carry – it goes without saying that boot space can vary significantly between models. All wagons have fold-down rear seats that can boost capacity, and a split-back design gives greater convenience by allowing one side to be folded down while a passenger sits in the remaining rear seat.
Hyundai recently unveiled its New Generation i30 Wagon at the 2017 Geneva International Motor Show.
Despite its sleek and dynamic profile, the i30 Wagon still offers huge amounts of room for your luggage. Offering 602 litres of space with the rear seats in place and expanding to 1,650 litres (VDA 214) when folded, it has one of the biggest boots in the segment. If that isn't enough, the i30 Wagon offers even more capacity thanks to several compartments housed in its boot floor.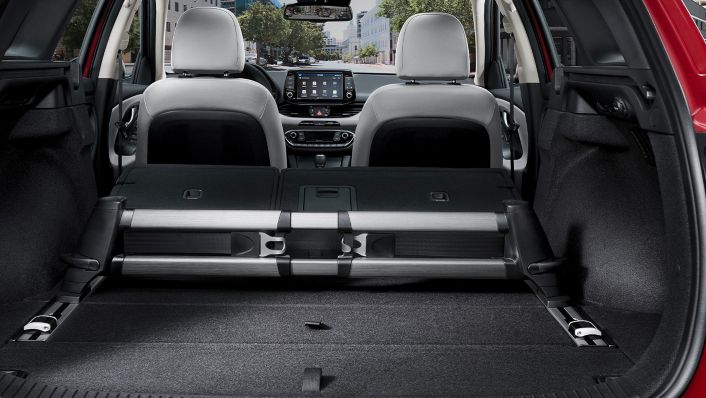 The efficient company car

A wagon may be designed to carry more, but that doesn't mean it has to compromise on efficiency. Some of today's models utilise smaller cylinder turbocharged engines to combine economy with performance. To ensure you don't ending up paying more at the petrol pump every time you put your foot on the accelerator, check out your chosen powertrain's stats before you commit to purchasing.
The i30 Wagon is available with Hyundai's all-new turbocharged four-cylinder petrol engine, the 1.4 T-GDi, which delivers a maximum power of 140 PS, its new three-cylinder 1.0 T-GDi, delivering a maximum power of 120 PS, or a 1.6-litre turbo diesel engine featuring two power outputs (110 and 136 PS). The range offers an economical fuel consumption of 5.8 – 3.6 litres/100km and CO2 emissions of 135– 95 g/km.*

Keeping your family safe

All wagons will come with a series of safety features as standard, but some come with more features than others, to keep your family safe. With advanced driver aids preventing blind-spot mistakes and the possibility of collision becoming ever more common, it pays to compare models to see what each offers.
Hyundai has given the i30 Wagon the best-in-class standard active safety features, which includes an Autonomous Emergency Braking system that warns drivers visually and acoustically, controls the brake according to the collision danger stage and then applies maximum braking force to avoid a collision or minimise damage when a collision is unavoidable.
Other standard features include Driver Attention Alert, which helps monitor driving patterns in order to detect reckless or fatigued driving and prevent potential accidents, High Beam Assist, which detects both oncoming vehicles and vehicles in the same lane ahead at night and changes down to low-beam lights as appropriate, reducing blinding effects on other drivers, and the Lane Keeping Assist System, which alerts the driver acoustically and visually about unsafe movements at speeds over 60 km/h by sensing the car's position, before inducing corrective steering to guide it back to a safe position.
Designed and equipped for a sporty life

If you're into outdoor sports like cycling or surfing, a musician in a band or a filmmaker with plenty of equipment, a wagon may well be your best option. The i30 Wagon features a sporty exterior with dynamic lines and ample interior space which is designed to be versatile, so you can fold down seats to create enough room to carry your belongings without having the sense you're packing too much into the boot.
With the car market as competitive as ever, manufacturers are offering an increasing variety of driver convenience and entertainment features once found only in luxury marques, so keep this in mind as you shop around. Meanwhile, the i30 Wagon's ergonomically-positioned alloy pedals give you a sporty sensation as you cruise along the motorway.
The free-floating infotainment system in the i30 Wagon offers state-of-the-art connectivity features such as Apple CarPlay and Android Auto, which bring the functionality of your smartphone to its eight-inch touchscreen, and LIVE Services for real-time road and traffic updates. And if your smartphone is running low on battery, a wireless charging system with the Qi standard is available as well.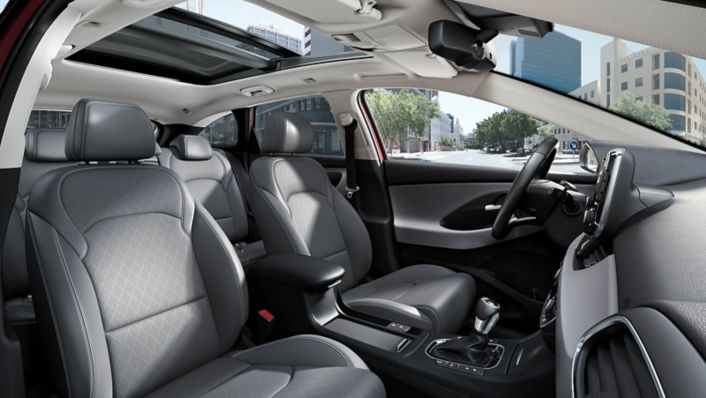 *Values are tentative target values and not homologated yet, hence subject to changes.
Consumption Data*
i30 Wagon

Gasoline Engines
1.4 MPI (100 PS): Fuel consumption combined: 5.8 - 5.6 l/100 km; urban: 7.0 - 6.9 l/100 km;
extra-urban: 5.1 – 4.9 l/100 km; CO2 emissions combined: 136 - 131 g/km
1.0 T-GDi (120 PS): Fuel consumption combined: 5.2 - 4.9 l/100 km; urban: 6.0 - 5.9 l/100 km;
extra-urban: 4.6 - 4.4 l/100 km; CO2 emissions combined: 120 - 115 g/km
1.4 T-GDi (140 PS): Fuel consumption combined: 5.5 – 5.0 l/100 km; urban: 6.7 – 6.0 l/100 km;
extra-urban: 5.0 - 4.6 l/100 km; CO2 emissions combined: 129 - 114 g/km
Diesel Engines
1.6 CRDi (110 PS): Fuel consumption combined: 4.3 – 3.7 l/100 km; urban: 4.7 – 4.1 l/100 km;
extra-urban: 4.1 – 3.5 l/100 km; CO2 emissions combined: 112 - 96 g/km
1.6 CRDi (136 PS): Fuel consumption combined: 4.3 - 3.7 l/100 km; urban: 4.7 – 4.2 l/100 km;
extra-urban: 4.1 – 3.6 l/100 km; CO2 emissions combined: 112 - 99 g/km
* Depending on trim and tyre specifications