Designed, developed, tested and built in Europe, the All-New i30 Fastback was recently unveiled at a Double World Premiere in Düsseldorf as the latest member of the i30 range, joining the i30 five-door, the i30 Wagon and the i30 N. Traditionally, manufacturers would produce a car like the i30 Fastback as a three-door hatchback, but as Hyundai Motor always seeks to move on and challenge existing conventions, the company decided to create a car with the spirit of a coupe and a GT-like silhouette instead.
Hyundai Motor recently launched the All-New i30 Fastback. Raf Van Nuffel, Head of Product Marketing and Pricing at Hyundai Motor Europe, introduces the car in a walkaround video.
It is really a game-changer for us, because this is the very first five-door coupe in the c-segment.
In the following video, Van Nuffel takes viewers through the All-New i30 Fastback's design highlights and most exciting features.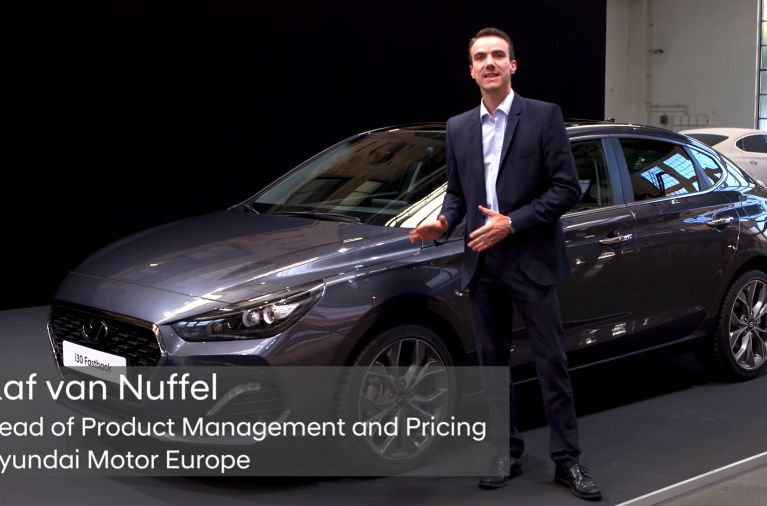 A sloping roofline, long bonnet and muscular body

The All-New i30 Fastback is characterised by its strong stance and sporty, elongated lines, which emphasises the bonnet. 
If you look at the front of the car, we've redesigned the bumper. Also, the Cascading Grille has been reduced in height, and underneath you can see a very wide and horizontal air intake, so this really gives width to the front of the car, and really makes it look bold and strong on the road.
Van Nuffel reveals that the length of the All-New i30 Fastback is 150mm longer than a standard five-door hatchback, and the height has been reduced by 25mm compared with the i30 five-door, making it look very sleek and elegant.

Downsized turbocharged GDi engines

Van Nuffel says that Hyundai Motor offers downsized Turbo GDi engines with the All-New i30 Fastback, including a three-cylinder 1.0-litre with 120 PS and a 1.4-litre four-cylinder engine with 140 PS. The powertrain line-up will be completed with the addition of a newly developed, efficient 1.6-litre four-cylinder turbocharged diesel engine available with two power outputs: 110 PS and a "high power" version with 136 PS. Both versions will be available with the 6MT or 7DCT.

Smart connectivity features and best-in-class safety equipment

The All-New i30 Fastback offers best-in-class standard safety equipment. Van Nuffel says this feature standardises AEB (Autonomous Emergency Braking), Lane Keeping Assist, Driver Attention Alert and also High Beam Assist.
Finally, Van Nuffel discusses the All-New i30 Fastback's smart connectivity features, which he says offers customers a wide variety of choice. This includes a standard five-inch radio and full-map navigation with an eight-inch touchscreen.
All this makes the i30 Fastback not only a very good looking car, but also a car that democratises premium design and premium features for everyone.
The All-New Hyundai i30 Fastback will be available across Europe by the beginning of 2018.