When we are young, carefree, and looking to buy a car, it's easy to look at the market and feel like the world is our oyster. You can have any type of car you desire, from a smooth city model to a sleek sports car.
As we get older, perhaps find a life-partner, and are thinking about starting a family, that small two-seater or super fast sports choice simply aren't practical.
With such responsibility, you're going to need a vehicle that combines safety, greater storage and all-round practicality. Of course, car manufacturers are well aware of this, meaning there is a huge amount of choice when it comes to the family car segment.

Questions for parents-to-be

If you're new to this, the task of picking the right one for your growing brood can seem like a bit of a minefield. Fear not, however: by answering just a few simple questions, your path to parent-on-the-go gets that much easier.
One of the first questions that any parent-to-be might ask when purchasing a new car is: "Will this keep my family safe?" A helpful guide in this respect is the vehicle's Euro NCAP rating. If your car has been awarded five stars under the newly-revised rating system like the New Generation Hyundai i30, it will offer the maximum amount of protection possible in the event of an accident, and will be well-equipped with collision-avoidance technology.
You can also dig deeper and look for the car's Child Occupant Protection score. This is based on three factors: the protection offered by child restraint systems in the event of front and side impacts, the ability to accommodate restraints of different sizes and design, and features that facilitate safe use of child seats, such as airbag deactivation options and ISOFIX child seat attachment points.
Changing your car is one of the many things to think about when a new addition to the family sends your life on a new road.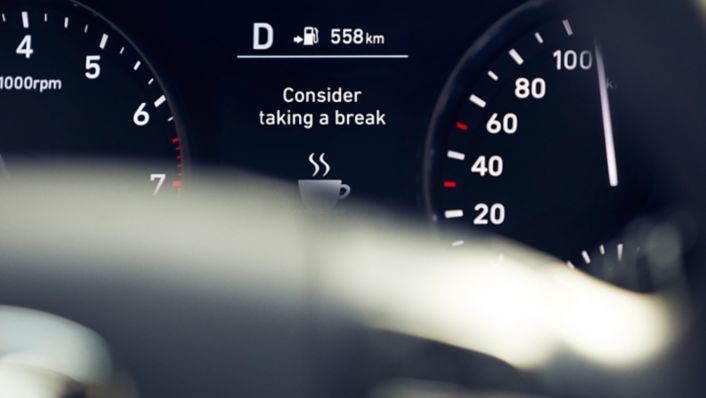 The Hyundai i30 Wagon boasts a best-in-class safety package

Hyundai's new i30 Wagon incorporates the very latest technology to give it the best-in-class standard safety package. This includes an Autonomous Emergency Braking system that, using camera sensors, first warns drivers visually and acoustically, then controls the brake according to the collision danger stage and applies maximum braking force to avoid a collision or minimise damage when a collision is unavoidable.
Other standard features include Driver Attention Alert, which helps monitor driving patterns to detect reckless or fatigued driving and prevent potential accidents, and High Beam Assist, which detects both oncoming vehicles and vehicles in the same lane ahead at night and changes down to low-beam lights as appropriate, reducing blinding effects on other drivers. The Lane Keeping Assist System alerts the driver acoustically and visually about unsafe movements at speeds over 60 km/h by sensing the car's position, before inducing corrective steering to guide it back to a safe position.

Think about storage

When you've found the answers that offer peace of mind as far as safety is concerned, the next question to ask is: "Will this car provide enough storage space for everything my family requires?" Think about the amount of stuff you and your partner put in your car every week, then double it.
Consider life with a new-born – suddenly, you'll need to add huge packs of nappies to your weekly supermarket shop and pushchair and baby change bag every time you go out. Then remember that your child is only going to get bigger and potentially need room for larger items as it grows, be it bikes, sports kit or beach equipment.
Despite its sleek design, the i30 Wagon offers versatile luggage space with one of the biggest boots in the segment. Open the rear door and you're presented with a voluminous 602-litre load space, while the 60/40 split-folding rear seats give you the flexibility to haul big loads as well as passengers.
Fold down the rear seats flat and you can quickly expand the space to a generous 1650-litres. Versatility is further enhanced by the additional storage space beneath the boot floor within several compartments.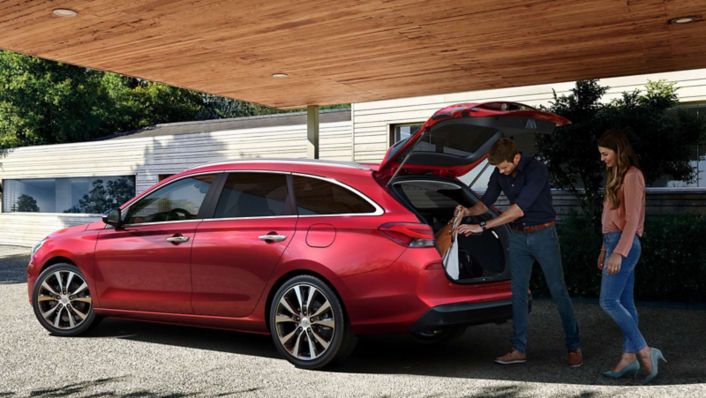 A car that can share the driving responsibilities

Finally, when taking that all-important test drive, ask: "Does this car offer enough driver assistance and convenience features?" You might think this is question you'd ask when buying any kind of vehicle, but for a family car it is doubly important.
Remember, driving with children – particularly once they become more mobile and talkative – can provide a distraction. To compensate for all the times they demand your attention, it's nice to have a car that'll share some of a driver's responsibilities.
The i30 Wagon is packed with such features. Its Speed Limit Information Function displays the current speed limit on the floating eight-inch screen and the supervision cluster. Using a combination of front camera and navigation system information, the system identifies road speed signs and shares that valuable information with you in real time.
The i30 Wagon's rear-view camera activates when reverse is selected, so you can see where you're going on the floating screen. Dynamic guidelines help to keep you on track, resulting in perfect parking every time.
When you do come to a stop, the Electronic Parking Brake's Auto Hold function automatically maintains braking pressure, ensuring that the vehicle will not creep forwards or roll backwards even with the brake pedal released. When you and your family are ready to go again, simply step on the accelerator pedal and the brakes will automatically release.
Finally, the i30 Wagon's eight-inch floating touchscreen features an infotainment system that offers state-of-the-art connectivity features such as Apple CarPlay, Android Auto. This enables users to connect their devices to deliver and control music, telephone or navigation functions. Also included is a seven-year subscription to LIVE services, which offers updated information in real time about weather, traffic and speed cameras, plus online searches for points of interest. The navigation system also features 3D maps and Hyundai Motor's unique Lifetime Mapcare™* with free annual map and software updates included.
Consumption Data**

Gasoline Engines
1.4 MPI (100 PS): Fuel consumption combined: 5.8 - 5.6 l/100 km; urban: 7.0 - 6.9 l/100 km;
extra-urban: 5.1 – 4.9 l/100 km; CO2 emissions combined: 136 - 131 g/km
1.0 T-GDi (120 PS): Fuel consumption combined: 5.2 - 4.9 l/100 km; urban: 6.0 - 5.9 l/100 km;
extra-urban: 4.6 - 4.4 l/100 km; CO2 emissions combined: 120 - 115 g/km
1.4 T-GDi (140 PS): Fuel consumption combined: 5.5 – 5.0 l/100 km; urban: 6.7 – 6.0 l/100 km;
extra-urban: 5.0 - 4.6 l/100 km; CO2 emissions combined: 129 - 114 g/km
Diesel Engines
1.6 CRDi (110 PS): Fuel consumption combined: 4.3 – 3.7 l/100 km; urban: 4.7 – 4.1 l/100 km;
extra-urban: 4.1 – 3.5 l/100 km; CO2 emissions combined: 112 - 96 g/km
1.6 CRDi (136 PS): Fuel consumption combined: 4.3 - 3.7 l/100 km; urban: 4.7 – 4.2 l/100 km;
extra-urban: 4.1 – 3.6 l/100 km; CO2 emissions combined: 112 - 99 g/km
* Lifetime MapCare™ is the commercial term of Hyundai's subscription to MapCare™ programme by which annual map updates will be provided for the eligible Hyundai vehicles for a minimum period of ten years after the model's end of production.

** Depending on trim and tyre specifications