Thinking of making the step up from your first car? Boasting large cabin space, advanced safety features and fuel efficiency to save you money, the Hyundai i40 is the perfect family-friendly choice.
Room for your family to stretch out
Whether taking the kids on the school run or planning a driving holiday, the i40's expansive interior makes it the perfect choice for your first large family car, and it comes available in two body types: Saloon and Tourer. The i40's large cabin space ensures that there is ample legroom in both front and back, which will give your family room to stretch out over long journeys. Meanwhile, its spacious boot means you still have room for your shopping bags even after your child's buggy has been packed.
Rather than fitting the i40 out with a bulky handbrake, Hyundai's designers installed an electric parking brake to save you valuable front cabin space. This takes the form of a smart computer-linked button that is controlled by your finger. You'll find a host of other advanced technologies inside, including smart key-controlled ignition, voice-activated Bluetooth to keep in touch with family and friends, while the in-built satellite navigation puts the world at your fingertips.
As well as all this, the i40 is currently the only car that offers Android Auto, which seamlessly links your smartphone to your car's infotainment system, and allows you to access your calls, messages, entertainment apps and Google Maps through the car's in-built touchscreen.
When driving with children, the potential for distractions is inevitably increased, so a car's safety credentials are crucial to ensure that you remain in control. Built with robust materials and carrying a five-star Euro NCAP rating, you can rest assured that the i40 will keep your family safe. In addition to seven airbags offering protection throughout the car, there is a comprehensive array of safety features across the range.
Electronic Stability Control ensures the i40 retains its stability at all times by monitoring the vehicle's motion through the onboard sensors. If there is a possible risk of a loss of stability, it intervenes and stabilises the vehicle by controlling the brakes on each wheel and engine torque.
The i40's Smart Parking Assist System (SPAS) means you will get into a tight space first time, every time. By simply shifting into reverse as you set to park, a range of sensors and software take over to park the car for you, while the rear camera lets you see if any obstacles are around.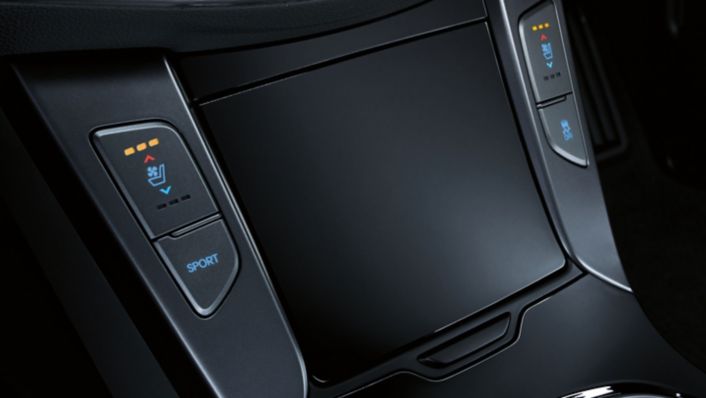 Modern cars demand top temperature optimisation to cope with the all-weather conditions nature throws up throughout the year. Hyundai is democratising these features across its range of smaller to larger cars, so as well as being equipped with front seat warmers, the i40's rear seats are fitted with heated cushions to keep your passengers warm even in the heart of winter. As a mid-size car, the i40 offers more driving comfort, quieter noise levels and a better cabin atmosphere than smaller models.
Meanwhile, the dual full auto air conditioner lets you set individual temperature controls to keep you cool during the summer months, and both front seats are fitted with air ventilation technology to ensure you stay looking smart during hot and humid conditions.
Fuel efficient and eco-friendly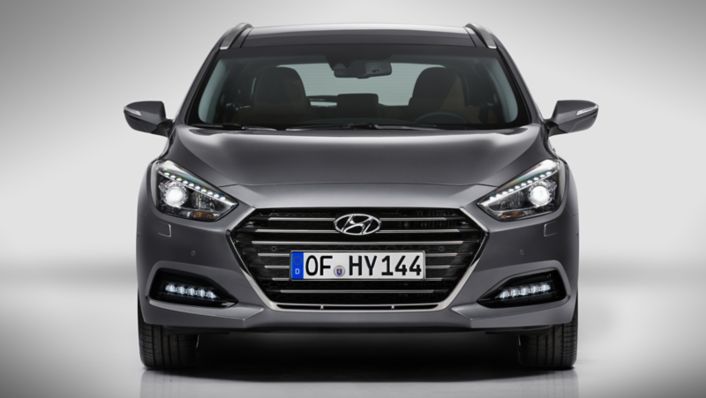 The i40 has been engineered to deliver a refined, relaxing and satisfying drive, whether you're cruising on the motorway or out with the family at the weekend. Its Blue Drive® technology includes a number of features that will save you fuel and reduce emissions. Intelligent Stop & Go helps to achieve this by cleverly turning off the engine when the car comes to a standstill, then switching it on again as soon as you press the clutch.
The Advanced Dual Clutch Transmission offers a range of advantages compared to standard automatic transmission, including CO2 emissions from 129g/km, better fuel efficiency and faster gear changes. It works like two separate manual transmissions inside one casing, each connected to the engine via its own clutch. This allows the next gear to be pre-selected as you accelerate or slow down.
Consumption Data*
i40

Gasoline Engines
1.6 GDi (135 PS): Fuel consumption combined: 6.6 - 6.1 l/100 km; urban: 8.5 - 7.7 l/100 km; extra-urban: 5.5 - 5.2 l/100 km; CO2 emissions combined: 153 - 140 g/km
2.0 GDi (165 PS): Fuel consumption combined: 7.5 - 7.1 l/100 km; urban: 10.4 - 9.4 l/100 km; extra-urban: 6.2 - 5.8 l/100 km; CO2 emissions combined: 176 - 165 g/km
Diesel Engines
1.7 CRDi (115 PS): Fuel consumption combined: 4.8 - 4.2 l/100 km; urban: 5.7 - 4.8 l/100 km; extra-urban: 4.3 - 3.8 l/100 km; CO2 emissions combined: 118 - 110 g/km
1.7 CRDi (141 PS): Fuel consumption combined: 5.1 - 4.3 l/100 km; urban: 5.2 - 4.8 l/100 km; extra-urban: 4.6 - 4.1 l/100 km; CO2 emissions combined: 134 - 114 g/km
*Depending on trim and tire specifications.