First media reviews of KONA N start with pan-European test drive in Germany
Hyundai's first "hot SUV" praised for its powerful driving performance, everyday usability and sporty design
KONA N combines popular SUV body style with high-performance features
Hyundai Motor recently unveiled its first dedicated high-performance SUV, all-new Hyundai KONA N. At the recent pan-European driving experience at greater Frankfurt area, Germany, international media representatives gave the company's latest N model a spin for the first time since its launch. The highlights of the event can be seen in this video.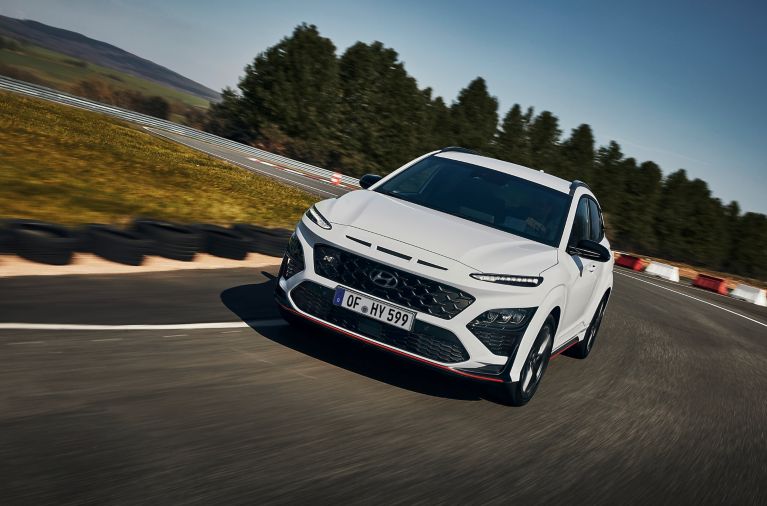 Fuel consumption combined for the Hyundai KONA N 2.0 T-GDI (280 PS) with DCT in l/100 km: 8.5; CO2 emissions combined in g/km: 194 (WLTP)
KONA N is an urban high-performance SUV that combines exhilarating performance with a balanced day-to-day driving experience.
Based on Hyundai's top-selling KONA model, it offers a winning combination of versatility, spirited acceleration, agility and race track capability, while also benefitting from an extensive list of technological and advanced safety features. The latest member of the company's N brand is powered by a 2.0-litre turbocharged GDI engine paired exclusively with N DCT, an enhanced eight-speed wet-type dual-clutch transmission developed in-house by Hyundai. The powertrain delivers a maximum output of 280 PS and 392 Nm. It comes with 19-inch forged alloy wheels and a bold exterior design.
Automotive media from across Europe recently had the opportunity to get behind the wheel of KONA N. Hyundai's "hot SUV" was warmly commended for its high-performance capabilities and driving versatility, in particular.
Press reactions to KONA N
This is what the press had to say about KONA N:
German automotive bible Auto Motor und Sport, is convinced KONA N is a real N model:
Hyundai has managed to raise the driving experience of the i30 N to a higher level.
The publication also believes the model outperforms its rivals, despite a lower purchase cost: "In any case, the driving pleasure is far greater than that of the all-wheel-drive competition à la VW T‑Roc R… and in addition: significantly cheaper".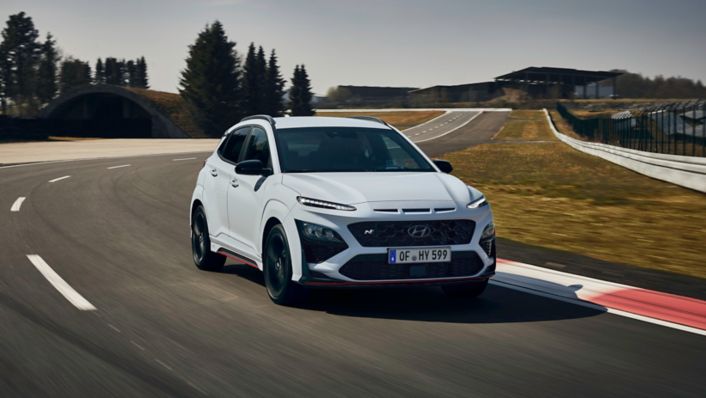 Fuel consumption combined for the Hyundai KONA N 2.0 T-GDI (280 PS) with DCT in l/100 km: 8.5; CO2 emissions combined in g/km: 194 (WLTP)
Italy's Motorionline praised KONA N for being an everyday sports car. "Right from the first few kilometres the car surprised us with its everyday usability, much more so than a Hyundai i30 N, from which it takes its mechanicals and engine ... Everything about KONA N contributes to the fun behind the wheel, starting with the masterful exhaust system, full of pops, bangs, distinctive sounds and distinctive tones." The publication also applauded the transmission, stating: "The pairing with the N DCT automatic is perfect, without making the excellent Hyundai N manual feel any worse".
UK magazine Auto Express noted the hot SUV's race track capabilities, thanks to its electronically controlled limited slip differential (eLSD). "The electronically controlled differential plays its part perfectly too – get on throttle mid-corner and you can feel the car tighten its line. It feels like a thoroughly modern front-wheel drive performance car, not just in terms of its capability but also the surprising ease with which its pace and balance is accessible."
Fuel consumption combined for the Hyundai KONA N 2.0 T-GDI (280 PS) with DCT in l/100 km: 8.5; CO2 emissions combined in g/km: 194 (WLTP)
Germany's Stern praised Hyundai's engineers for ensuring KONA N provides an optimum driving experience: "The steering is precise and not too smooth, while the brakes provide good feedback of the road conditions. The engineers seem to have put a lot of work and attention to detail into this".
Another German media outlet, Welt, asserted that KONA N offers "endless driving pleasure", reserving particularly warm words for its bold design: "Like its fast i30 N and i20 N brothers, KONA N shows what it's made of from the outside… The fenders are taut like trained biceps, and the face is dominated by the familiar N Line look with its three (closed) air vents above the coarse mesh grille, which now also features the N emblem."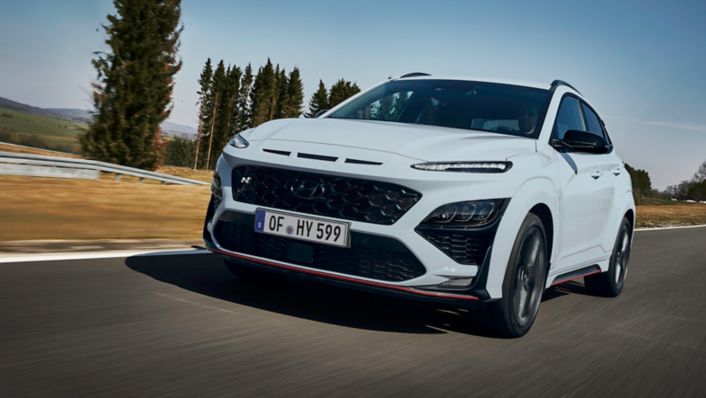 Fuel consumption combined for the Hyundai KONA N 2.0 T-GDI (280 PS) with DCT in l/100 km: 8.5; CO2 emissions combined in g/km: 194 (WLTP)
Italy's Gazzetta highlighted the N model's powerful driving performance, suggested KONA N is a first of its kind in the sporty SUV segment. "In N mode it really manages to entertain, it is fast, but at the same time able to make you feel what is happening under the wheels and it is this connection that is able to make it unique and perhaps the first true sports SUV in this category."
Another Italian publication, Quattroruote, also lauded KONA N's driving performance, with particular praise for its 8-speed N DCT. "The 2.0-litre turbocharged petrol is that of the i30 N, with 280 PS and 392 Nm of torque; even if the manual gearbox is not available, I can assure you that the dual clutch can give you the thrill you need in fast driving."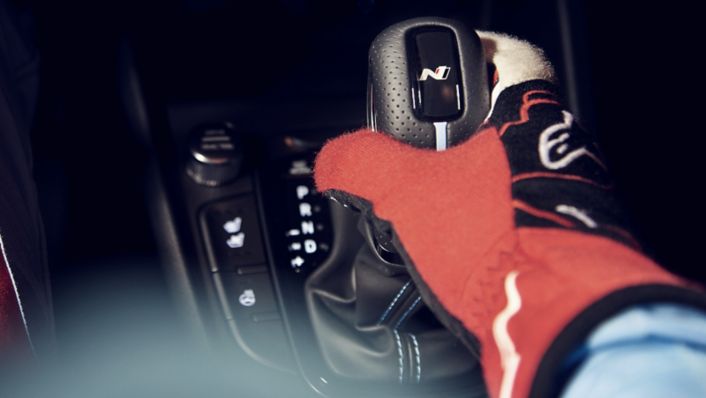 The journalists at the UK's Autocar believe Hyundai's N division has successfully managed to limit the dynamic compromises that are necessary to develop a crossover model. The magazine states that KONA N's "responsive handling [gives it] a decent feel on corners and flowing roads that definitely has more in common with a hot hatch than an SUV". In addition, they were impressed with the model's affordability compared to competitors:
There's little else like it at this price point of the performance SUV market, and for that reason you suspect it could become a cult classic.
Disclaimer: CO2 and emissions data
Fuel consumption combined for the Hyundai KONA N 2.0 T-GDI (280 PS) with DCT in l/100 km: 8.5; CO2 emissions combined in g/km: 194 (WLTP)
Fuel consumption combined for the Hyundai KONA 1.0 T-GDI with 6MT 2WD in l/100 km: 6.1-5.7; CO2 emissions combined in g/km: 137-128 (WLTP)
Fuel consumption combined for the Hyundai KONA 1.0 T-GDI with 7DCT 4WD in l/100 km: 6.0-5.8; CO2 emissions combined in g/km: 137 - 132 (WLTP)
Fuel consumption combined for the Hyundai KONA 1.0 T-GDI 48V with 6iMT 2WD in l/100 km: 6.1-5.5; CO2 emissions combined in g/km: 139-124 (WLTP)
Fuel consumption combined for the Hyundai KONA 1.6 T-GDI with 7DCT 2WD in l/100 km: 6.7-6.2; CO2 emissions combined in g/km: 152-142 (WLTP)
Fuel consumption combined for the Hyundai KONA 1.6 T-GDI with 7DCT 4WD in l/100 km: 7.4-7.0; CO2 emissions combined in g/km: 167-160 (WLTP)
Fuel consumption combined for the Hyundai KONA 1.6 CRDi with 6iMT 2WD in l/100 km: 5.2-4.7; CO2 emissions combined in g/km: 136-124 (WLTP)
Fuel consumption combined for the Hyundai KONA 1.6 CRDi with 7DCT 2WD in l/100 km: 5.2-4.7; CO2 emissions combined in g/km: 136-124 (WLTP)
Fuel consumption combined for the Hyundai KONA 1.6 CRDi with 7DCT 4WD in l/100 km: 5.6-5.2; CO2 emissions combined in g/km: 147-137 (WLTP)
Fuel consumption combined for the Hyundai i20 N 1.6 TGDI (204 PS) with 6MT in l/100 km: 6.9; CO2 emissions combined in g/km: 158 (WLTP)
Fuel consumption combined for the Hyundai i30 N 2.0 T-GDi (250 PS) with 6MT in l/100 km: 7.7; CO2 emissions combined in g/km: 175 (WLTP)
Fuel consumption combined for the Hyundai i30 N 2.0 T-GDi (280 PS) with 6MT in l/100 km: 8.0; CO2 emissions combined in g/km: 182 (WLTP)
Fuel consumption combined for the Hyundai i30 N 2.0 T-GDi with N DCT in l/100 km: 8.4; CO2 emissions combined in g/km: 191 (WLTP)