Second store follows the success of Rockar Hyundai at Bluewater, which has welcomed 163,000 shoppers through its doors in 12 months
New Westfield London Stratford site measures 250 square metres and includes five new Hyundai display models
Features 18 'Angels' offering advice and help plus 11 interactive tablets - allowing customers to browse and purchase
The digital car sales revolution continues with the news that, today, Hyundai and Rockar have opened the second Rockar Hyundai store, at Westfield London, Stratford.
The digital car sales revolution continues with the news that, today, Hyundai and Rockar have opened the second Rockar Hyundai store, at Westfield London, Stratford.

Following the overwhelming success of the first Rockar Hyundai store at the Bluewater Shopping Centre in Kent - which has welcomed 163,000 shoppers through its doors in just 12 months, with 94 per cent of customers being completely new to the brand - Hyundai and Rockar are proud to bring the digitally enhanced sales concept to one of Europe's largest urban shopping and leisure destinations.
At 250 square metres the Westfield store is slightly larger than the Bluewater site but its aim is the same: to put customers in complete control by giving them all the facts and figures and as much time and flexibility as they need when making a purchase.

Located on the lower ground floor of Westfield Stratford, the new store features five display models including the new Tucson, i20 and award-winning i10. Rather than salespeople on commission-based pay, Rockar has friendly, knowledgeable 'Angels'  on site at Westfield to help customers through the process.  

The concept, designed by creative agency Dalziel & Pow, features 45 digital content screens and two browsing tables with 11 interactive 21-inch touchscreen tablets. These allow customers to browse the Hyundai range independently, book on-site 'You Drive' test-drives and even make a purchase in five minutes flat. Unique to Westfield is that one of these touchscreen tables is located outside of the store. A set-back storefront creates a 24-hour brand zone, allowing customers to look at display cars, browse and buy even when the store is closed but the shopping centre is open, for instance if going to Westfield's cinemas or bars in the evening.
Thanks to the on-site Experience Centre, there are 20 cars available for 'You Drive' test drives. Located in the shopping centre's car park atrium the YouDrive pick-up and drop-off centre has been designed to feel like an inviting lounge, an evolution of the Bluewater concept as a response to higher than expected usage of the space. It operates as an extension of the store and acts as a test drive hub and service centre, where existing Hyundai owners can drop off their car and then shop or see a film while it is being worked on.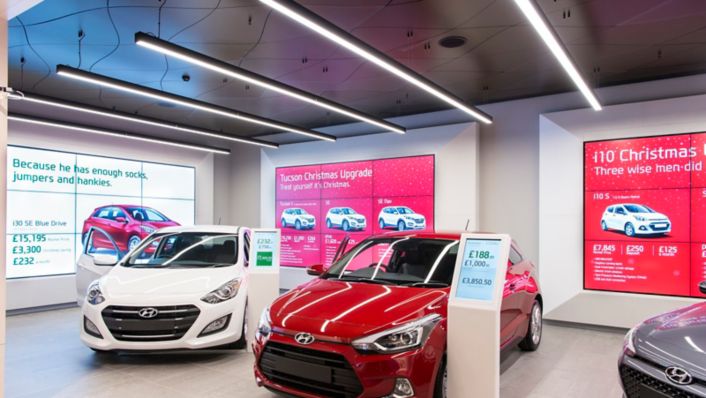 A digital wrap around the perimeter walls of the store can screen everything from latest pricing and promotions to product films, while the front of the store features further dynamic screens which can also be changed at any time to display the most relevant messages (for example, real-time weather conditions or traffic updates).

This concept of blending the best of online and offline retailing has been hugely successful at Rockar Hyundai at Bluewater. With a clear and honest representation of the costs of buying a new car, Rockar Hyundai has lured 72 per cent of its customers away from the used car market. In addition, the purchasing model of Rockar Hyundai has also strongly resonated with women, with over 54 per cent of all buyers being female while the average age of customers is just 39 years old.

This success has led to Rockar Hyundai at Bluewater being named one of the country's Top 10 dealers with a customer experience rating of 4.9/5. It has also received many awards including BT Retail Week Tech & Ecomm Awards, Digital Store of the Year and Automotive News Europe's L.E.A.D.E.R Digital Retail award.

Simon Dixon, CEO and founder of Rockar, said: "My vision was to turn the traditional approach to car buying on its head with Rockar - and I'm absolutely delighted to have achieved this and to be opening a second Rockar Hyundai store in Westfield Stratford today. It has always been imperative that the Customer is truly at the heart of Rockar and we've therefore utilised our leanings from the first store in Bluewater for our new site.

Until Rockar, customers had no choice but to go to a car dealership if they wanted to purchase a car. Now the whole car-buying process can be done in less than five minutes from the comfort of consumers' own homes on rockar.com, or online in-store if preferred.

Rockar will continue to evolve and will always be focused on offering what's right for consumers - both today and in the future - and I'm very excited to see the results of our new store."
With the Rockar Hyundai model, we offer customers a new approach to accessing our products and services, matching their changing needs and lifestyles. It's an innovative step forward for the Hyundai brand and is well suited to our digitalised world, bringing car-buying, finance and aftercare within a few clicks for customers.