Hyundai Motorsport has taken a 1-2 finish in Rally Estonia, round four of the 2020 FIA World Rally Championship (WRC), the team's second victory of the season
Estonian crew Ott Tanak and Martin Jarveoja claimed their first win for Hyundai Motorsport with a masterful performance
Alongside co-driver Paul Nagle, Craig Breen finished in the runners-up spot to register his debut podium for the team and equalling his WRC career best.
Hyundai Motorsport has taken its second victory of the 2020 FIA World Rally Championship (WRC) with an assertive 1-2 result in Rally Estonia, the fourth round of a revised calendar.
A masterful performance by Ott Tanak and Martin Jarveoja in their home event& saw the Estonians claim their maiden win as a Hyundai Motorsport crew, finishing 22.2-seconds ahead of team-mates Craig Breen and Paul Nagle. The result marked Tanak's third consecutive podium result of the season, having finished second in Sweden and Mexico.
Second place equalled Breen's best-ever finish in WRC and his debut podium in the Hyundai i20 Coupe WRC on his fourth championship outing for the team. The combined result represents Hyundai Motorsport's 16th win in WRC and its fourth-ever 1-2 result.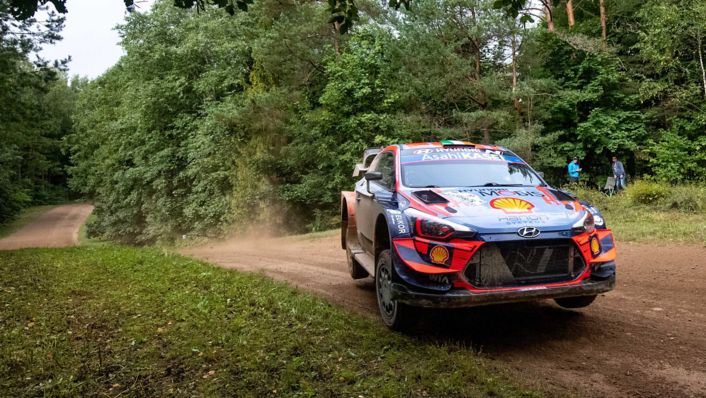 It was a weekend to forget for Thierry Neuville and Nicolas Gilsoul, who – despite re-joining on Saturday – were unable to push for Power Stage points due to a mechanical issue, which ultimately forced them to retire from the event.
Rally Estonia's intense and challenging itinerary saw 17 stages run primarily across two days, culminating with Sunday's repeated loop of Arula (6.97km), Kaagvere (15.46km) and Kambja (20.05km). With all three Hyundai Motorsport crews registering stage wins on Saturday (three for Tanak, two for Breen and one for Neuville), it was a more cautious and measured final morning.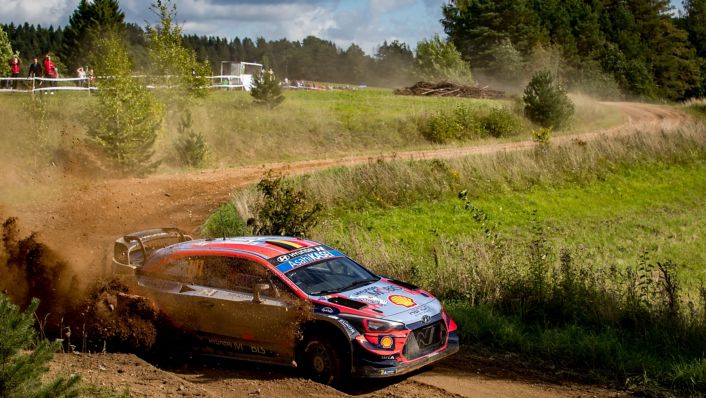 Tough and often unpredictable conditions on the high-speed and rutted stages caught out several crews, demanding focus and concentration right up to the Kambja Power Stage, the second longest test of the entire rally. There were extra points for Tanak and Breen for finishing third and fifth respectively in that stage.
Today's result sees Tanak move up to third place in the drivers' classification on 66 points, with just a 13-point gap to the leader. Hyundai Motorsport also sees an uplift in its championship aspirations, holding second place with a five-point gap to the top.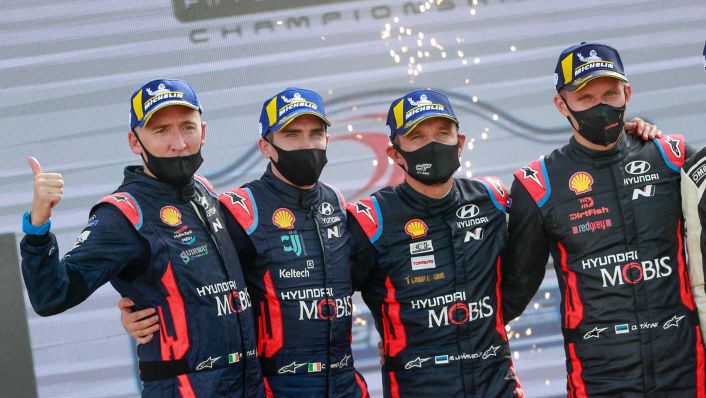 The return of WRC following an enforced six-month hiatus due to the ongoing global pandemic has been an important for the championship. Hyundai Motorsport extends its thanks to the WRC promoter, to all those involved in Rally Estonia and to the loyal fans around the world for their support from home.
Crew Notes: Ott Tanak/Martin Jarveoja (#8 Hyundai i20 Coupe WRC)
Estonians first WRC win as a Hyundai Motorsport crew; the team's 16th in total
Tanak moves up to third in the drivers' championship
I am happy to take this first win for Hyundai Motorsport. It means a lot, especially in my home event. There was a lot of pressure this weekend, to be honest, and moments of stress which are now relief! The first WRC event in Estonia was one that I had to win, while also knowing it would be my first with Hyundai Motorsport. It was extremely important to bring it home. I couldn't afford any mistakes, taking no risks but also performing with the required pace to win; bringing all of that together was a real challenge. We had to use this chance to catch back points for the championship, and thankfully we were able to use it well. My thanks to the whole team, who have all been working very hard during the past months; it's been a truly great job and we most keep on pushing because we've shown what we can achieve.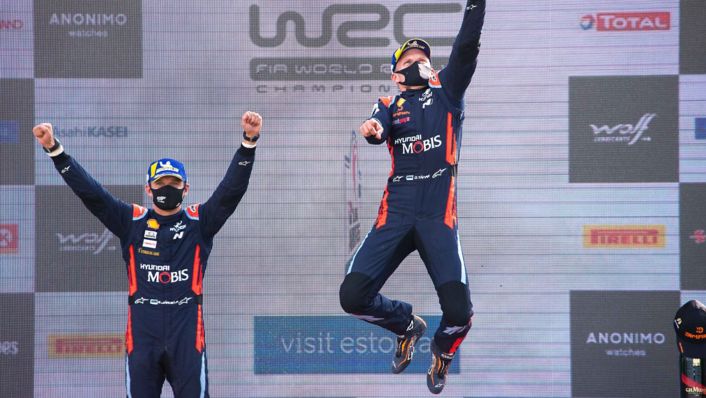 Crew Notes: Craig Breen/Paul Nagle (#42 Hyundai i20 Coupe WRC)
First podium with Hyundai Motorsport
Two stage wins on Saturday and one Power Stage point
What an incredible weekend! I took it easy in the Power Stage, to make sure we made it through safely. I probably didn't mean to take it that easy, but this is a great result. From the opening kilometres of the rally, everything just clicked. The car has done absolutely everything I've asked of it and has given me the confidence I needed. The man beside me, Paul, has done a fantastic job and I'd like to thank everyone who has made this possible. I feel like I'm starting my career all over again; I've certainly not forgotten how to do it and I want to do it even more!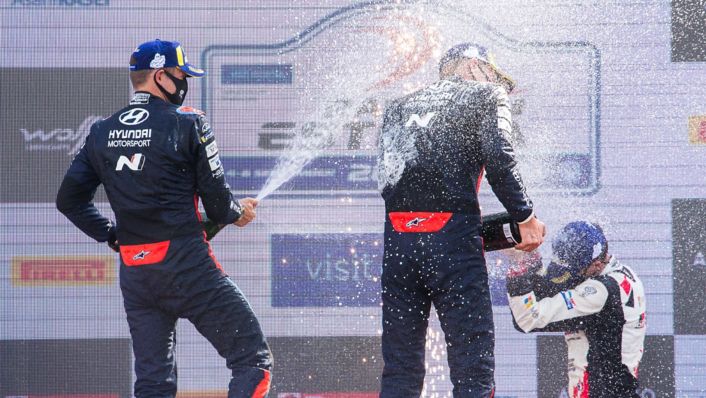 Crew Notes: Thierry Neuville/Nicolas Gilsoul (#11 Hyundai i20 Coupe WRC)
Missed opportunity for Belgians after unfortunate Saturday retirement
Crew prevented from a Power Stage push due to a mechanical issue
It has definitely not been our weekend, and we didn't really deserve it to be honest. Our target today was to salvage some points from the Power Stage, but we had an issue ahead of the start, which meant we couldn't drive at speed. The issue on Saturday was also unfortunate as we were kicked out of the line and hit something on the outside. We saw the videos from other crews at the same place, and it was similar for everyone, it was just we lost a wheel. Disappointing but the next one will be better.
This is a very emotional result. After Mexico, we all faced a difficult period. Six months later, to be here in Estonia celebrating a 1-2 result, is an incredible feeling. We have kept busy since the last event, working hard in the way we were able, knowing we had to catch up. We used the opportunity that presented itself. I know how much I have pushed my people, while trying to remain calm in the face of the uncertain situation. I am proud of them all, and happy we can share this result. It is nice to see Ott and Martin take their first victory with our team; to see them winning at home is special. It has been important for Craig and Paul to show what they are capable of when given the proper tools, matching the pace of the others. For Thierry and Nicolas, I am sorry for them as we failed to give them what they needed in the Power Stage due to a problem that should not have occurred; we had some electronics glitches that didn't allow the engine to run smoothly, so we had to retire them from the event to prevent any further damage. A final word to my people and their families for their unwavering support during this tough period. This result is for them.
Next rally
The 2020 FIA World Rally Championship (WRC) continues its revised schedule in two weeks' time with the gruelling gravel roads of Rally Turkey
The Marmaris-based event takes place from September 18-20 and will be the fifth event of the season.