Mixed weekend for Hyundai Motorsport at the fourth round of the 2021 PURE ETCR season, held at the Hungaroring on August 20-22
Drivers demonstrated great pace with the Hyundai Veloster N ETCR in the Battle Rounds, with four on-track wins for three drivers before post-race penalties
Technical issue on Augusto Farfus's car prevented the Brazilian from competing in his Super Final, but a fantastic effort by the team saw Jean-Karl Vernay finish second to maintain his championship position.
A mixed weekend for Hyundai Motorsport saw the team claim victories but endure more disappointment at the fourth round of the 2021 PURE ETCR season, held at the Hungaroring this weekend.
Although three of its drivers registered four victories in Saturday's Battle Rounds, post-race penalties for Jean-Karl Vernay and Augusto Farfus stripped them of a win apiece.
Farfus made a perfect start in Hungary with an early victory in his first Battle. The Brazilian crossed the finish line of his Round 2 Battle first, but received a penalty after the race that deducted six points from his weekend haul. Farfus went on to set the fourth fastest time in Sunday's time trial, however data analysis by the team revealed a technical fault that required a component change within the powertrain of his Hyundai Veloster N ETCR. Despite the best efforts of the team and its technical partners, the issue was unable to be resolved in time for the Brazilian to take part in the Pool A Super Final.
His team-mate Filippi received his first Driver's Choice in Friday's draw, which enabled him to choose to start in pole position in Round 1. Although the Frenchman made an excellent start, he was unable to keep the cars behind over the three laps and finished in third. A gutsy move saw him go door-to-door in his head-to-head Round 2 Battle, and he went on to take an emphatic victory. Sunday proved to be more difficult, with the Frenchman setting the fifth fastest time in the time trial and finishing in the same position in the Super Final.
In Pool B, Vernay repeatedly challenged for the lead of his first Battle but had to settle for second place. After a comfortable victory in Round 2, the Frenchman was handed a time penalty for exceeding track limits and was classified second. Vernay bounced back with the second fastest lap of Pool B's time trial and briefly powered into the lead of the Super Final. However, with his freshly-repaired Hyundai Veloster N ETCR ready just moments before the race, he elected to bring the car home safely in second place. As a result, he remains second in the driver's standings.
In his Round 1 Battle Tom Chilton consistently applied pressure to the second-place car over the course of the short race, but had to settle for third. A closely-fought Round 2 saw him miss out on a win. In Sunday's time trial, Chilton was handed a penalty for track limits during his qualifying lap, which saw him drop a position to fourth for the Pool B Super Final. The British driver was firmly in the mix in the final race, swapping positions with the cars around him, and crossed the line in fifth.
While we made a good start to the weekend, ultimately we feel we haven't unlocked our full performance at the Hungaroring. Our target was to claim more victories in the Battle Rounds and Super Finals. It was unfortunate we were unable to fix Augusto's car in time for him to compete in his Super Final after his fantastic Saturday, but a brilliant effort by the whole team enabled us to get Jean-Karl out and able to fight at the front of his final race. John and Tom also put up some great fights in their close battles, and as a team we are constantly learning with every round. Now we must focus on maximising our performance for the final round of the season, where we will be targeting our first overall victory in PURE ETCR.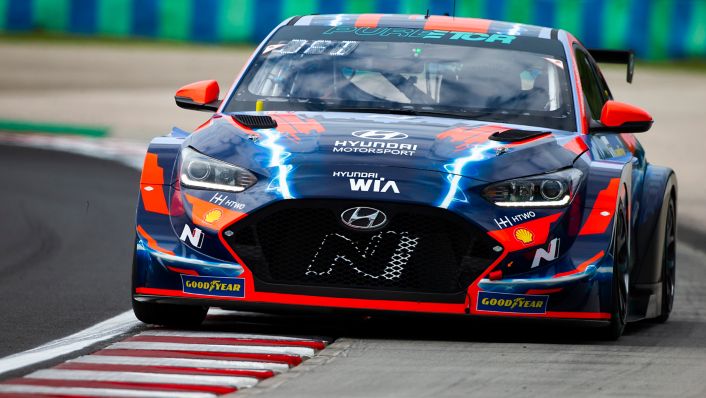 Jean-Karl Vernay (#69 Hyundai Veloster N ETCR) 
Briefly led Super Final B after qualifying in second place
Frenchman sits second in drivers' standings with one event remaining
We were expecting to be strong in the Battles but our Pool was quite tough. We managed to have a good Saturday, but I made a mistake in Round 2 that resulted in a penalty for exceeding track limits. It was unfortunate because we lost six points. We had an issue on my Hyundai Veloster N ETCR that we were able to fix in time for me to compete in the Super Final. I tried my best to keep Azcona behind and was a bit aggressive, but we were still missing something to keep him behind. The positive thing is we are still second in the drivers' championship.
Augusto Farfus (#8 Hyundai Veloster N ETCR) 
Claimed victory in Saturday's Battle Rounds before post-race penalty in Round 2
Technical issue prevented the Brazilian from taking to the grid for Super Final A
It is difficult to summarise my weekend at the Hungaroring. I have to highlight Saturday, where we did extremely well but Sunday was a day to forget. The team did an incredible job to try and fix the technical issue we found on my Hyundai Veloster N ETCR after the time trial today. It was out of our control and we were unable to get the car ready for the Super Final. It was painful to see the car sitting in the garage while my race was happening, but it is part of motorsport and we have to focus on improving for the final round.
John Filippi (#27 Hyundai Veloster N ETCR) 
French driver claimed Round 2 victory with gutsy on-track move
Struggled with pace in Sunday's time trial and Super Final A
It was a mixed weekend for me at the Hungaroring. I started a bit too gentle but I pushed myself in the Battle Rounds and had a good Saturday. We know that Sunday is the most important day and I didn't have the same pace. It was tricky to fight in the Super Final and find the right strategy to improve our position. I think we have to understand why we lost pace today and keep pushing. The championship is not over and personally, I want to release my full potential in the final weekend.
Tom Chilton (#3 Hyundai Veloster N ETCR) 
Set the third fastest time in Round 3 before a time penalty dropped him to fourth
Starting Gate position affected overall result in Saturday's Battle Rounds
If I'm completely honest, this weekend has been really frustrating. I came here with high hopes, as I love this circuit and when we tested here a few months ago I was fast. Sadly as the weekend progressed and the track got more grip, we seemed to go slower and I was unable to get a win. I feel that we should have done better here but we gave it our absolute maximum and while I enjoyed the racing, looking at the championship points I am disappointed.
King Driver Classification - Hungaroring
M. Azcona 77
P. Eng 72
M. Ekström 63
J. Vernay 58
R. Baptista 48
 J. Gené 45
J. Filippi 43
D. Nagy 37
L. Ferrara 36
T. Chilton 30
A. Farfus 21
L. Filippi 16
2021 PURE ETCR Manufacturers' Standings
After round 4
Zengo Motorsport X Cupra 536
Romeo Ferraris - M1RA 470
Hyundai Motorsport N 443
2021 PURE ETCR Drivers' Standings
After round 4
M. Ekström 273 
J. Vernay 244
M. Azcona 238
J. Gené 212
R. Baptista 197
A. Farfus 161
L. Filippi 160
J. Filippi 146
P. Eng 143
D. Nagy 141
O. Webb 135
T. Chilton 93
L. Ferrara 36
S. Coletti 22