Hyundai Motorsport has secured a podium finish in Acropolis Rally with Ott Tänak and Martin Järveoja taking second place, their third top-three result of the 2021 season
Dani Sordo and Cándido Carrera confirmed fourth spot after a battling weekend for the Spaniards in their first WRC event as a new partnership
Thierry Neuville and Martijn Wydaeghe salvaged a top-eight finish after a difficult weekend that was shaped by power steering problems on Friday.
Hyundai Motorsport has claimed a second-place podium finish in the Acropolis Rally, round nine of the 2021 FIA World Rally Championship (WRC) and the team's first-ever participation in the iconic event.
Ott Tänak and Martin Järveoja cemented second place on the final day to finish 42.1-seconds from rally winner Kalle Rovanperä. The Estonians had been in contention for a podium finish from the very first day, as they took a stage win on Friday morning. In total, the crew scored three stage wins on their way to a third podium of the 2021 season (after victory in Arctic Rally and third in Kenya).
Dani Sordo and Cándido Carrera, in their first WRC event as a crew, completed the rally in fourth place to score manufacturer points. Thierry Neuville and Martijn Wydaeghe had their chances of a strong rally result taken away on Friday, having sustained power steering issues that dropped them down the order. The Belgians fought back valiantly for the remainder of the weekend, making their way back into eighth place overall.
Sunday's schedule saw crews tackle the longest stage of the weekend – Pyrgos (33.20 kilometres) – as well as two alternative versions of Tarzan, the first run over 23.37 kilometres and a shorter 12.68-kilometre profile that was held as the Power Stage. Neuville and Tänak picked up a handful of extra points in the final stage, setting the fourth and fifth fastest times respectively.
The result sees an increased gap in the manufacturers' standings with Hyundai Motorsport now 57 points adrift of the lead in second place. Neuville holds third in the drivers' classification on 130 points with Tänak in fifth on 106.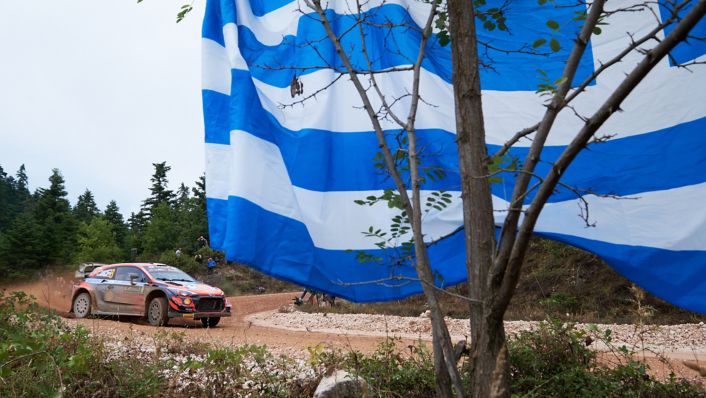 Crew Notes: Ott Tänak/Martin Järveoja (#8 Hyundai i20 Coupe WRC)
Estonians scored seventh podium for Hyundai Motorsport with committed performance
Three-stage wins over the weekend
At the end of a challenging weekend, it is good to come away with second place and another podium. We haven't had the easiest rally, but we have worked hard to find improvements to get a better feeling from the car, and there have been some positive signs. Kalle has been on top form since the very start, so we have had to focus on confirming second place. We have made some bold decisions on tyres, which has only been possible because of the work of our weather crew. I'd like to say thanks to them for a great job. We know there is more work we need to do, but I think we've achieved all that was possible in Acropolis with second place.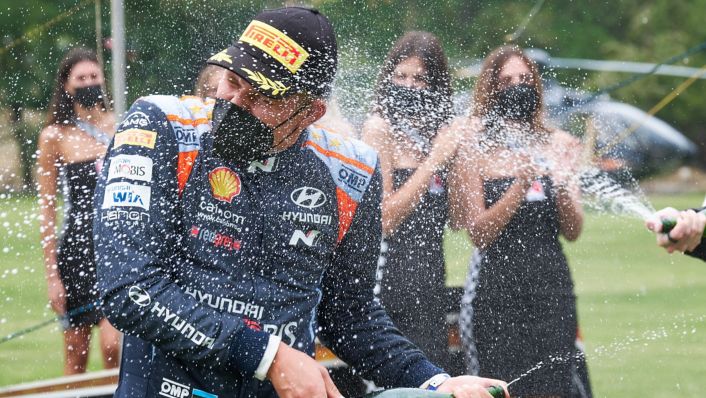 Crew Notes: Dani Sordo/Cándido Carrera (#6 Hyundai i20 Coupe WRC)
Fourth place for the Spaniards in their first WRC event as a partnership
Crew struggled with pace notes after weather-affected recce
This has been a tough weekend. The days on which we had to make our pace notes were difficult and as a result, we didn't have the confidence we needed. The conditions today were really nice, and I liked the stages, but it was difficult to follow the road at times. Fourth place was about the best we could manage, so we concentrated on securing the result, nothing more. This was the first WRC event with Cándido, and he has done a good job, but we will try to do better on the next one.
Crew Notes: Thierry Neuville/Martijn Wydaeghe (#11 Hyundai i20 Coupe WRC)
Belgians fought back up to eighth place after dropping down the order on Friday
Two extra points for fourth in the Power Stage
We have given everything this weekend and we have fought hard from the start to the finish. Unfortunately, there is no compensation for all that work. Our rally was over with the power steering issues on Friday. Since then, our focus has been on recovering positions to try and salvage whatever we could from the rally. To be honest, I think we deserve more than this. We have put absolutely everything into it and haven't got out of it what we should.
I cannot deny that it has been a frustrating weekend. Sadly, we have had from time to time a recurrence of the same problems which upsets me. I have to say all three crews have done an amazing job, so my thanks to them. As Ott mentioned, I also thank our weather crew, Marion and Hannes, who have done a fantastic job this weekend in some treacherous conditions. Rallying is all about teamwork and all our unsung heroes play such an important role.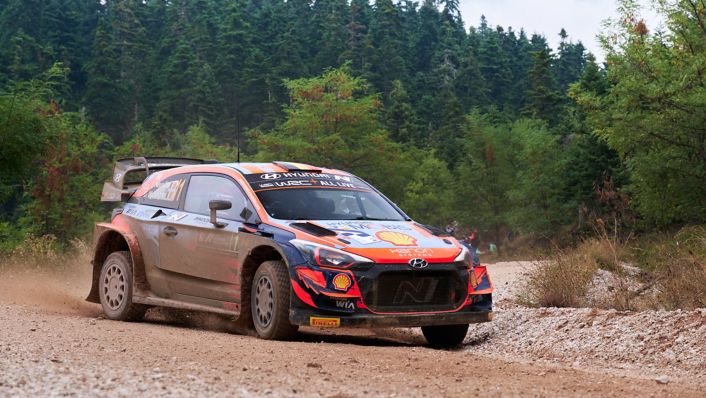 Next rally
The FIA World Rally Championship heads to the high-speed gravel roads of Rally Finland next month for the tenth round of the 2021 season
The rally weekend takes place from October 1-3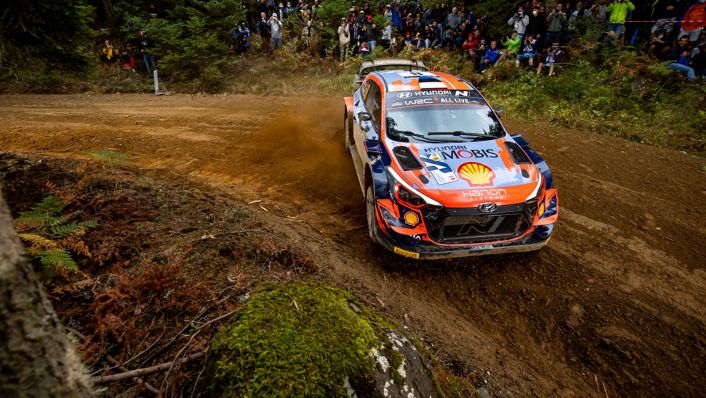 Final Overall Classification – Acropolis Rally
| | | | | |
| --- | --- | --- | --- | --- |
| 1 | K. Rovanperä | J. Halttunen | Toyota Yaris WRC | 3:28:24.6 |
| 2 | O. Tänak | M. Järveoja | Hyundai i20 Coupe WRC  | +42.1 |
| 3 | S. Ogier | J. Ingrassia | Toyota Yaris WRC | +1:11.3 |
| 4 | D. Sordo | C. Carrera | Hyundai i20 Coupe WRC | +3:01.0 |
| 5 | G. Greensmith | C. Patterson | Ford Fiesta WRC | +5:45.0 |
| 6 | E. Evans | S. Martin | Toyota Yaris WRC | +6:42.7 |
| 7 | A. Fourmaux | R. Jamoul | Ford Fiesta WRC | +6:54.4 |
| 8 | T. Neuville | M. Wydaeghe | Hyundai i20 Coupe WRC   | +8:41.1 |
| 9 | A. Mikkelsen | E. Edmondson | Škoda Fabia Evo | +9:02.5 |
| 10  | M. Bulacia | M. Der Ohannesian  | Škoda Fabia Evo | +9:19.2 |
2021 FIA World Rally Championship for Manufacturers' Standings
After round 9
| | | |
| --- | --- | --- |
| 1 | Toyota Gazoo Racing World Rally Team | 397 |
| 2 | Hyundai Shell Mobis World Rally Team   | 340 |
| 3 | M-Sport Ford World Rally Team | 153 |
| 4  | Hyundai 2C Competition | 44 |
2021 FIA World Rally Championship for Drivers' Standings
After round 9
| | | |
| --- | --- | --- |
| 1 | S. Ogier | 180 |
| 2 | E. Evans | 136 |
| 3 | T. Neuville | 130 |
| 4 | K. Rovanperä | 129 |
| 5 | O. Tänak | 106 |
| 6 | T. Katsuta |   66 |
| 7 | C. Breen |   60 |
| 8 | G. Greensmith   |   44 |
| 9 | D. Sordo |   43 |
| 10  | A. Fourmaux |   36 |