Many people won't be familiar with HMI. Can you explain your area of work?

In Human Machine Interface (HMI) we focus on people by placing them at the centre of what we do. So this is how they interact with their car - particularly the infotainment system - and how they understand information, such as icons and text. Our goal is that every ride in the car creates a positive experience by making the infotainment system and the passengers' interactions with it attractive, efficient and stimulating, and at the same time ensuring it is safe to use while driving. To achieve this, we work together closely with colleagues from other areas: function owners, graphic designers, software developers and market researchers, to name a few.
We spoke Regina Kaiser, a Hyundai Motor Europe Human Machine Interface engineer, about the All-New KONA's best features and why the art of usability is that people don't recognise when it's done well.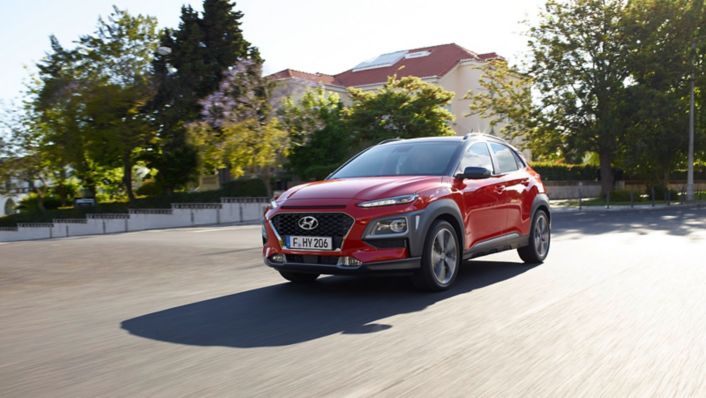 What is special about the All-New Hyundai KONA? Can you describe its infotainment highlights?

The KONA's two main special features are the combiner head-up display and Display Audio. Both features are firsts for Hyundai.
The combiner head-up display uses its 8-inch image size to project speed and navigation information, shows music and radio information, and informs the driver about the status of various safety features. You can tailor it to your personal preferences by adjusting the angle and height of the projected information, and by choosing which content is displayed on the screen. To ensure that the content is visible even in difficult light conditions, the combiner head-up display provides a class-leading luminance of 10,000 cd/m2.
The Display Audio that features 7-inch centre display comes with an accessible connectivity option. A key benefit of Display Audio is that passengers have the opportunity to view their smartphone's content on the centre display, such as their own phone's built-in satellite navigation capabilities. The All-New Hyundai KONA offers the likes of Bluetooth connectivity, but more importantly, it also offers Apple CarPlay and Android Auto too. This means that drivers don't have to opt for a navigation system to use both connectivity systems.
Aside from the infotainment features, other highlights include Hyundai's latest SmartSense technologies, including active safety features like Autonomous Emergency Braking, Lane Keeping Assist System, Blind Spot Detection and Rear Cross Traffic Alert - even in the B segment.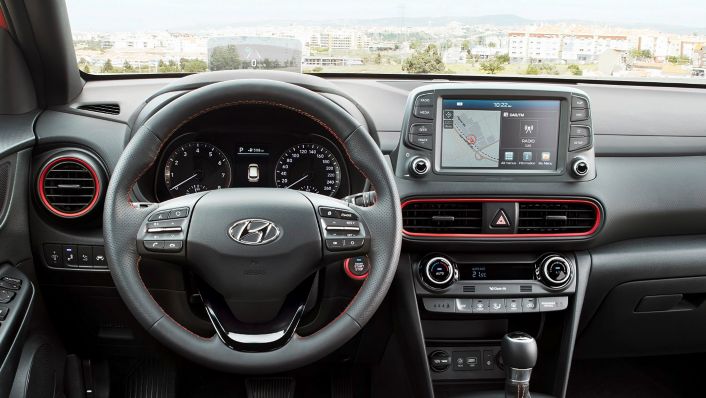 What are the challenges to creating a user interface like the one in the All-New KONA?

The major challenge when developing a user interface is to make it simple and intuitive, but appealing at the same time. The physical buttons, touch display and combiner head-up display must be well designed to provide the driver all the information they need while driving, without distracting them. Therefore we have to decide carefully which information should be shown in each display.

What are the emerging trends and future direction of Human Machine Interface and connectivity?

Personalisation will become an even bigger trend than it is today. Cars will be our personal comfort zones, and every driver will be able to adjust them to his or her preferences - or have it adjusted automatically as cars will be able to predict the needs and wishes of the occupants.

One of the trends in the automotive industry is autonomous driving. If we no longer have to control cars ourselves, what do you see the car interior of the future looking like?

If drivers don't have to steer the car at all times any more, then they will be able to spend their travelling time doing different things. This gives us the freedom to create a more flexible and highly personalisable interior. As HMI engineers, this gives us great opportunities and challenges to offer a broad variety of new entertainment features. It's conceivable that the entire windshield will be used to display those features, or content from one of your own connected devices.

Why is usability so important for car services?

With the increasing complexity of our daily lives, it becomes more and more important to reduce the cognitive load by providing systems with a well-conceived usability. Driving a car is a complex task that demands a lot of attention, but at the same time people have a strong urge to be connected and entertained even while driving. Therefore infotainment systems and safety features need to be easy to understand and able to be operated without having to read the entire user manual.
When it comes to the importance of usability for car services, it can be summarised like this: the art of usability is that you will not recognise it when it is done well, but you will clearly notice it when this is not the case!