New Hyundai H350 Light Commercial Vehicle including conversions on display at the Hyundai booth
Now available with new Euro 6 compliant engines with reduced fuel consumption and standard Active ECO Drive mode
New warranty tailored to the needs of customers: three years unlimited mileage warranty or new five years and 200,000 kilometres warranty
Hyundai Motor is presenting its new Hyundai H350 at the 2016 IAA Commercial Vehicles Show in Hanover, Germany - two years after its debut at the 2014 IAA.
This is the first Light Commercial Vehicle (LCV) Hyundai Motor has launched in the big van segment in Europe. Manufactured on a dedicated assembly line, H350 ensures high quality, reliability and value. Now the new Hyundai H350 debuts with enhanced Euro6-compliant engine with lower fuel consumption and a unique tailored warranty offer.
Two years after the debut of the H350 at the IAA in Hanover – we have launched our new challenger in 14 European markets and now we are enhancing our offer for our European customers with product enhancements and a unique tailored warranty. Customers have a choice between our established three-year unlimited mileage warranty and a five-year and 200,000 kilometres warranty package to satisfy the various needs of their business.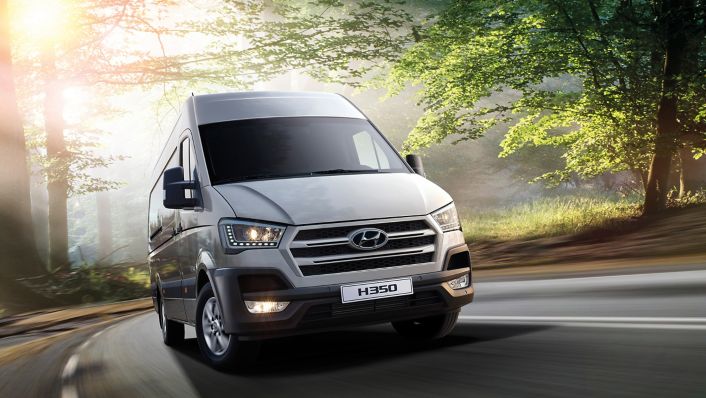 New Hyundai H350 presented at 2016 IAA Commercial Vehicles Show

Thanks to collaborations with several commercial vehicle body builders across Europe the new H350 is already available in different conversions to fulfil customers' needs. At the 2016 IAA in Hanover, Hyundai Motor is exhibiting for the first time three solutions based on the new H350: a tipper version, a platform version and a crew van version for seven people.
Additionally, Hyundai Motor is also unveiling a unique H350 Fuel Cell concept to exhibit its technology leadership in the field of fuel cell technology based on the world's first mass-produced vehicle, the ix35 Fuel Cell. In the application of the H350 Fuel Cell concept it offers customers unique advantages making zero emission mobility accessible in the LCV segment.
Updated powertrains for higher efficiency and Active Eco Drive mode as standard

The powerful 2.5-litre turbo diesel engine is now Euro 6 compliant and has been improved for higher efficiency, reducing fuel consumption by up to 4.4% thanks to the use of Selective Catalytic Reduction technology in addition to improved features of the base engine such as a variably controlled oil pump. Combined with a 6-speed manual transmission and rear-wheel drive, it offers best-in-class driving dynamics and efficiency. From now on the Active Eco Drive mode also comes as standard. This enables further reduction in fuel consumption by adapting the engine characteristics to the current driving behaviour.

New tailored warranty to meet all customers' needs

Hyundai Motor is extending its unique warranty offer in the LCV market by giving customers a choice of the three-year unlimited mileage warranty or a five-year and 200,000 kilometres warranty package. With this new option, Hyundai Motor is responding to different customer requirements. From long-distance parcel delivery operators to local urban businesses with low mileage, the new warranty covers all customers' needs and their business requirements.
Five more European markets and more dealers offering the H350 to customers

Initially available in nine countries, the H350 is now marketed in 14 countries in all. New markets are Romania, Bulgaria, Denmark, Hungary and Portugal, in addition to the original countries Austria, Belgium, the Czech Republic, Germany, Italy, Poland, Turkey, Spain and Switzerland. The H350 dealer network has also been vastly increased. From the beginning of 2017, around 500 dealers across Europe will offer the H350 to customers. In Germany alone, the number of dealers will double from 40 to a total of 80 outlets.
More markets and more dealers mean a larger number of European LCV customers can benefit from the H350 and its features: large cargo capacity, ergonomic design and strong performance combined with high quality and safety standards based on a rigid body shell with 75% advanced high-tensile steel. Hyundai Motor's unique offering to European LCV drivers has also been recognised by the International Van of the Year Jury, the H350 is on the shortlist among the five finalists for the prestigious 2017 Van of the Year award.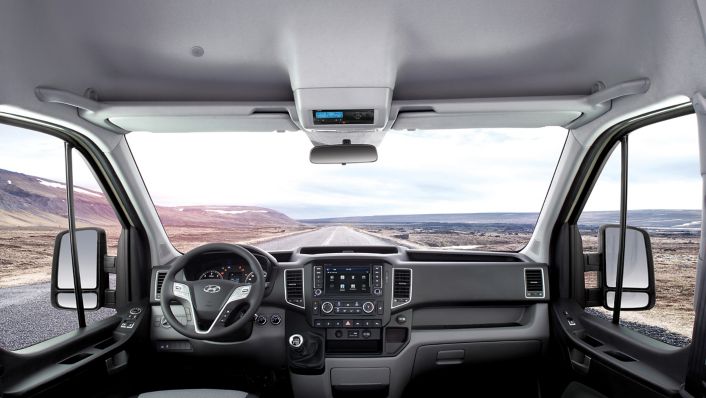 Best-in-class cargo space, passenger car-like comfort and great safety

The new Hyundai H350 offers a completely new product design. It has many key advantages to meet the needs of European customers, including a high quality, driver-focused, spacious interior with passenger car comfort and features. Completing the package, the van version has a gross payload of up to 1,320 kilogrammes and can carry up to five Euro pallets, delivering best-in-class cargo space in the six-metre van segment.
With the H350 Hyundai Motor brings smart technologies and car-like comforts to the LCV segment, including user-friendly cruise control, rear safety camera, park assist system and a rain sensor that triggers the windscreen wipers.
Great safety is another important feature of the H350. The Vehicle Dynamic Control System consists of up to nine electronic devices that assist and protect the driver, including roll-over mitigation, emergency stop signals, engine drag control and a lane departure warning system.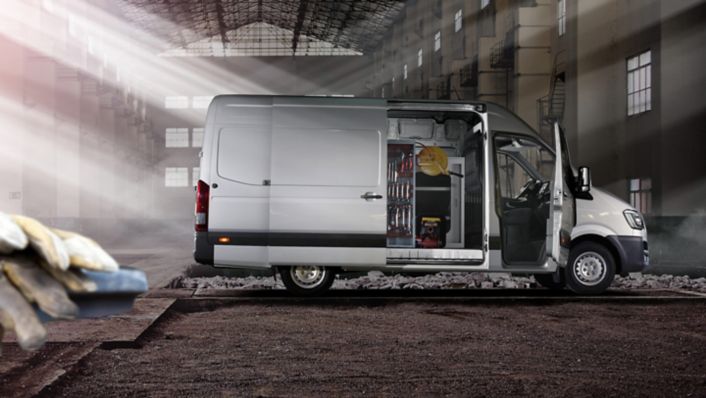 The Hyundai H350 - built in Europe for Europe

The Hyundai H350 is assembled in Europe for European customers, delivering high levels of quality, reliability and value. The new and innovative assembly line in Bursa, Turkey, features highly automated production technologies. The H350 is manufactured on a U-shaped assembly line, ensuring high production quality while offering flexibility to assemble the three different versions of the H350: van, bus and chassis cab.