As a powerful voice for Hyundai's company vision Progress for Humanity, the 2020 H2U advocacy program is raising public awareness of Hyundai's leadership in fuel cell (FC) technology and the company's goal to help advance a hydrogen ecosystem comprised of eco-mobility, low-carbon industries and sustainable lifestyles.
JP Performance episode 'Challenger – Mind-Shifting' features the NEXO driving experience and gives a petrolhead's perspective on Hyundai's zero-emission mobility.
In his Hyundai H2U "Challenger – Mind-Shifting" episode, famous car-performance expert JP Kraemer answers essential questions about hydrogen fuel cell mobility. JP's NEXO drive, featured both on his popular 'JP Performance' YouTube series and Hyundai's brand channel, allows the petrol enthusiast to look at the emerging possibilities of zero-emission mobility.
It's time to take a closer look at how a car like the Hyundai NEXO represents a new perspective on car performance and mobility.
JP joins a team of H2U ambassadors who each bring a different perspective to the topic of game-changing hydrogen fuel cell tech. Along the way, JP stops to talk to Albert Biermann, President and Head of R&D Division at Hyundai Motor Group. Together, they discuss the facts and fiction of eco-mobility.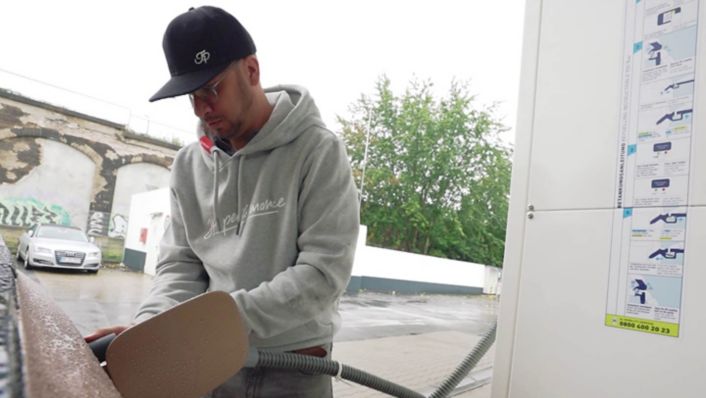 Symbolizing one of Hyundai's progressive actions toward a zero-emission society, the NEXO shows how the potential of fuel cells can reshape perceptions of the meaning of automotive performance. The traditional, adrenaline-fueled focus on speed, sound and horsepower is now rightfully considered through the lens of ecological impact and greater societal good. The fuel cell system emits only water and presents an intriguing possibility for maintaining performance while achieving decarbonized mobility.
Hydrogen consumption combined for the Hyundai NEXO in kg H2/100 km: 0.95; CO2 emissions combined in g/km: 0 (WLTP)
JP tests the Hyundai NEXO and challenges his own perceptions of the meaning of performance. What will the performance business look like in the future? Can performance be clean? Can clean performance cause the same excitement but with quiet efficiency and a positive societal impact?
Viewers of JP's Challenger broadcast discover the answer to the central question: "Can zero-emission fuel cell cars change a petrolhead's perspective?" By driving the Hyundai NEXO and exploring topics such as performance, range anxiety, fueling time, and positive change without sacrifice, JP's 'mind-shift' is revealed.
Explore the H2U program to learn more about JP Kraemer's NEXO experience and Hyundai's commitment to Progress for Humanity.