Vehicles designed, engineered, tested and built in Europe for European customers
155,000 people in Europe owe their job to the presence of Hyundai
Future mobility: Offering the world's first model with three electrified powertrains in a single body type
Hyundai Motor is committed to the European market and its customers, and aims to become the number one Asian car brand in Europe by 2020.
Today, more than 90% of all Hyundai vehicles sold in Europe are designed, engineered, produced and tested here. Since the 1990s Hyundai Motor invested in company facilities in Germany, the Czech Republic and Turkey. In the year 2006 Hyundai inaugurated the headquarter of HME at Offenbach in Germany, where Hyundai Motor manages the sales, marketing, aftersales, fleet and dealer operations activities that support the brand in the region. 470,130 registered vehicles in Europe in 2015 – an increase of 10.9 % compared to 2014 - marked the strongest sales year for Hyundai Motor Europe so far. In 2016, the company achieved a record first nine months of sales, with 386,480 registrations - an increase of 8.8 % compared to 2015.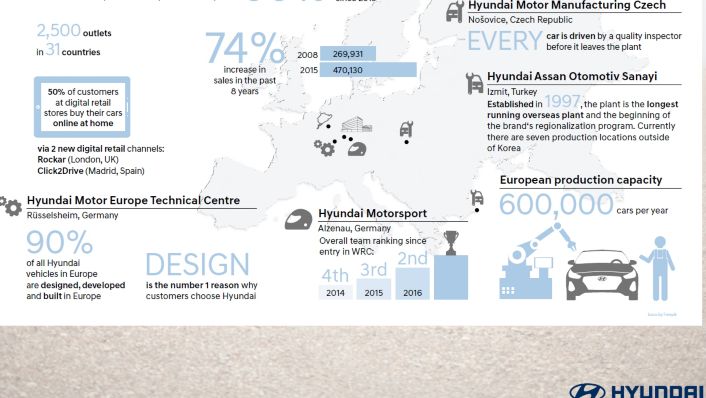 From Asia to Europe and the world

Globally, Hyundai Motor Company maintains eight manufacturing bases, seven design and technical centers and sold 4.96 million vehicles in 2015. From the first built car in 1976 and its first own powertrain in 1991, Hyundai Motor has come a long way. In 2000 the company entered the European market with affordable and practical cars attracting price sensitive customers. In just a few years Hyundai Motor has demonstrated strategic global growth and enriched its brand image with a focus on quality, design, innovation, technology and sustainability. For Hyundai's customers in Europe design is becoming purchasing reason number one. Therefore, the European R&D and Design departments, located at the Hyundai Motor Europe Technical Center (HMETC) in Rüsselsheim, ensure that every Hyundai meets the wishes and needs of European customers. Hyundai's latest models show the influence of HMETC on design and technology of models such as the New Generation i30 or the All-New Tucson. 
We have listened closely to customer needs, redefining our offer to create a car for everyone. The New Generation i30 is our DNA car in Europe: accessible, appealing in design with innovative technology and great to drive.
Made in Europe

To fully adapt its business to the European market, Hyundai Motor built up its European operations by opening production facilities in Turkey in 1997 and the Czech Republic in 2008. The two factories alone have a total production capacity of more than 500,000 cars per year. They fulfil highest quality standards to meet European customers' expectations, enabling Hyundai Motor to deliver an industry-leading peace of mind package: a 5-year unlimited mileage warranty, five years of roadside assistance and five years of vehicle health checks. At ĺzmit, Turkey, about 100 kilometers southwest of Istanbul, Hyundai Motor's longest operating manufacturing facility outside Korea is located. The Hyundai Assan Otomotive Sanayi was established in 1997. It employs by now more than 2,350 people at the 123,000 square metre Turkish plant, using at least 170 robots in their state-of-the-art lines. New investments in the factory in 2013 for the production of the i10 and the i20 increased the annual capacity to about 245,000 units.
The high demand of Hyundai's products has driven the company's Czech plant to run at full capacity ever since its first ramp-up in 2008. In June 2016 the two millionth car has already rolled off the production line - only seven years, seven months and seven days after the first car. The Czech factory has a production capacity of 350,000 cars and 600,000 transmissions a year. Since June 2011, more than 700,000 C-SUVs were produced. Besides the All-New Tucson, models made at HMMC are the i30 and i30 wagon as well as the ix20. By the end of 2016, the more than 3,400 factory workers will also be producing the New Generation i30 for Europe. Altogether, over 155,000 people in Europe owe their jobs to Hyundai.
To guarantee best quality, Hyundai Motor Europe engages in regular and rigorous testing at its Nürburgring Test Centre in Germany. Hyundai Motor's Accelerated Durability Test for instance simulates a normal vehicle's lifecycle in just four to six weeks, covering 110 arduous laps per week.
Since 2012, Hyundai Motor's global motorsport activities are led by Hyundai Motorsport GmbH in Alzenau, Germany. 200 employees are responsible for the development and support of Hyundai's World Rally Championship (WRC) commitment. After the first foundation-laying year in 2013, the Hyundai Motorsport team quickly developed a brand new WRC car from scratch for its first season of competition in 2014. A maiden win soon arrived in Germany, August 2014, with a total of over twelve more podiums and two additional victories since. Actually the team secured the second place in the WRC manufacturer's classification. At the Monza Rally Show 2016 Hyundai has presented its i20 Coupe WRC, which will make its competitive debut in next season's FIA World Rally Championship.
Step into the future

Over the past years Hyundai evolved to become a highly progressive brand with a versatile product line-up, a powerful brand story and an enthusiastic engagement in sustainable technologies.
To further enhance its product line-up to strengthen its leadership in clean technology, Hyundai Motor introduced the world's first mass-produced hydrogen-powered vehicle, ix35 Fuel Cell.
With the IONIQ family Hyundai presents the world's first model with three electrified powertrains in a single body type. It is an important step to democratise low-to zero-emission mobility by making it accessible to everyone. Among the technical highlights, the IONIQ Hybrid provides class-leading fuel efficiency and low CO2 emissions of just 79 g/km, while the IONIQ Electric can travel a class-best 280 km on a single charge, providing greater flexibility and peace of mind for customers seeking a zero-emission car with practical driving range. Currently over 2,500 Hyundai Motor dealers sell the IONIQ and other Hyundai vehicles all over Europe.
With IONIQ, we are appealing to a new customer group, with a shared mindset and attitude - we call them Generation IONIQ. Like them, we believe in the future technology. It is why we created the only car with the choice of three electrified powertrains. We believe it's the best value eco car in Europe, with the best warranty and the best driving range. Through its very competitive price it is an important step to democratize the mobility of the future. With its great design, driving pleasure and new connectivity features it is a car that is truly driven by e-motion.
The IONIQ Digital Hub

The IONIQ not only means a new and revolutionary approach in future mobility. Hyundai is also implementing a new marketing strategy around the new vehicle family. Focusing mainly on digital channels, the car company targets the Generation IONIQ. The marketing approach includes a Digital Hub, compatible with different devices such as smartphones, tablets and computers. It also includes an IONIQ 3D app, enabling customers to explore the three different electrified models from the out- as well as the inside by using augmented reality technology. The Digital Hub provides the users with all relevant contents about the vehicle and furthermore features a model selector tool to help consumers understand advantages of each powertrain. Digitalisation will allow IONIQ to be marketed in a new way, connecting customers with the car, as well as with each other via social networks.