First Mass-produced Fuel Cell Vehicle Exceeds 94 MPH while Emitting only Clean Water Vapor at Soggy Dry Lake Bed in California 
Hyundai's Tucson Fuel Cell set the land speed record for a production hydrogen-powered SUV at the Soggy Dry Lake Bed of the California desert, with a top speed of 94.6 mph.
The Tucson Fuel Cell is the first mass-produced fuel cell vehicle, with nearly 100 of these zero-emissions SUVs roaming the streets and highways of Southern California, the first of which was delivered to its owner in June 2014.
Besides setting the production fuel cell SUV land speed record, this same fuel cell vehicle was able to easily traverse the off-road terrain of the lake bed's surrounding desert environs, benefitting from the substantial ground clearance of a compact SUV. Even more, with fold-down seats and rear hatch access, it is able to better meet the various cargo-carrying needs of active individuals and families at the same time.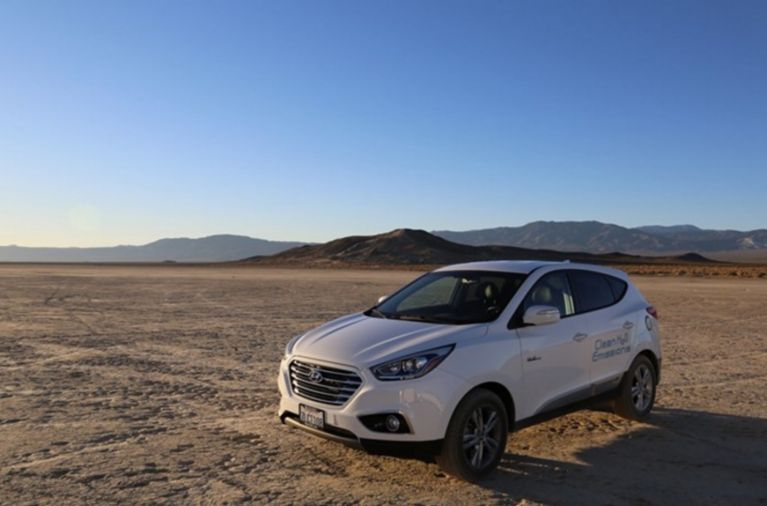 The Tucson Fuel Cell has an EPA-estimated driving range of 265 miles, allowing it to conveniently meet the transportation needs of many families in the Southern California region. When coupled with a refueling interval of only a few short minutes, the range and refueling convenience of this fuel cell rivals many gasoline vehicles emitting combustion-based emissions.
Southern California currently has the greatest concentration of hydrogen refueling stations in the U.S., and its hydrogen infrastructure in California is rapidly growing, with nearly 50 forecasted to be in operation in 2016. Hyundai's Fuel Cell stands ready to meet the increasing customer demand from this growing infrastructure, both in California and in other zero-emissions-focused states planning hydrogen availability.