Hyundai Motor released the second episode of season two of its podcast, Are We There Yet?
Lenn Kudrjawizki, actor and sustainability brand face for Hyundai Motor Deutschland, talks with host Suzi Perry about his humanitarian and sustainability projects
Listen and subscribe to the podcast here
Hyundai Motor has released episode two of the second season of its bi-weekly podcast, Are We There Yet?. In "From screen to green: pushing sustainability in showbiz", Lenn Kudrjawizki, actor and partner of Hyundai Motor Deutschland, joins host Suzi Perry and shares his experiences working as an actor, leading humanitarian and sustainability-focused initiatives, as well as his work with Hyundai.
In season two, episode two, Kudrjawizki talks about how his passions for acting in front of the camera and acting sustainably overlap. As an ambassador for the Green Actors Lounge, he advocates for sustainable lifestyles, green film production, and fair cooperation. An actor since 1996, the German artist is aware that the film and television industry has traditionally been notorious for its large carbon footprint, but in recent years he has witnessed significant changes. Today, studios are introducing more sustainable practices throughout production.
There's still a long way to go, but the awareness is growing so quickly right now. We are pushing for green production. There's a big change coming up.
Kudrjawizki also explains his humanitarian and sustainability work. He started the klimaneutral jetzt and go climate action initiatives to offer everyday tips for adopting a carbon-neutral lifestyle, promote opportunities to offset personal carbon emissions, and highlight compensation projects for the social benefit of the local community.
Since 2019, Kudrjawizki has been raising money for various charities, including UNICEF, through his Antritt mit Herz (Step Up with Heart) initiative. For the 2020 and 2021 tours of Antritt mit Herz, Hyundai Motor Deutschland provided him with a KONA Electric, so he could not only help people affected by the earthquakes in Croatia but also travel across Europe with zero local emissions.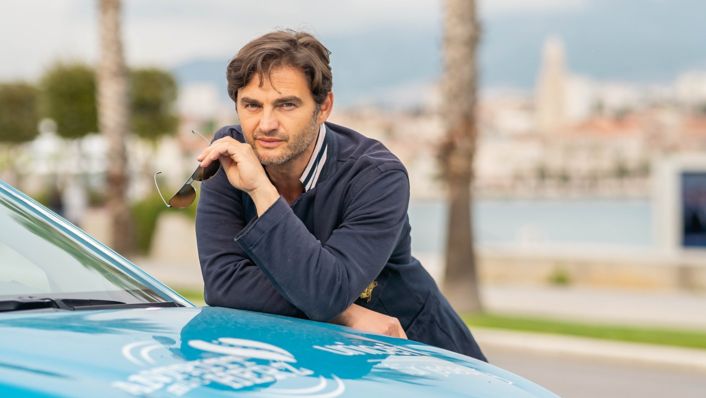 As an ambassador of UNICEF, I can help kids. This is where it comes together. Saving the environment means saving the future for our kids. With my carbon neutral tours to my film sets, I want to inspire people, and I am raising money for children in need. Together with Hyundai and UNICEF, we collected so many ideas. We showed the people a different way of travelling and of helping each other.
As the sustainability brand face of Hyundai Motor Deutschland, Kudrjawizki has experienced Hyundai's sustainable efforts first-hand. In addition to getting behind the wheels of KONA Electric and IONIQ 5, he also participated in a Healthy Seas' activation, recovering 300 kilogrammes of fishing nets from the North Sea.
Subscribe to Hyundai's podcast, Are We There Yet?, and listen to the latest episode now to learn more about how this brand face of Hyundai is urging others to do their part to reduce and offset their personal carbon emissions.
Episode two of the second season of Are We There Yet? is now live and available to listeners on Spotify, Apple, Google, Podcasts, Stitcher, Acast and other podcast streaming platforms. It is produced by Fresh Air Production.
About Lenn Kudrjawizki
Lenn is a German actor and musician. As a teenager, he made his television debut in 1996, playing Wladimir in the TV movie Katrin and Wladimir. Since then, Lenn has been part of more than 60 different television and film productions, such as Jack Ryan: Shadow Recruit (2016, Branagh), the Oscar-winning film The Counterfeiters (2007, Ruzowitzky), and Pope Joan (2009, Wortmann). Since 2016, Lenn has starred in the main role of the commissioner in the ARD television series Split Homicide. He also is part of the sixth season of the hit series Vikings.
In 2007, Lenn made his directorial debut with the short film Today is My Day. His second credit as a director and author was for Thank You, Mr. President in 2009, which earned him the prestigious Murnau Award. He also received the Amnesty International Human Rights Award for Business as Usual (2013).
Lenn founded the world's first CO2-reduced orchestra "The Berlin Show Orchestra" with his company Legrain Productions. With his Antritt mit Herz initiative, he cycled from Germany all the way to the set in Croatia. The initiative benefits children in need and is held regularly.
Disclaimer: CO2 and emissions data
Electricity consumption combined for the Hyundai KONA Electric 39.2 kWh in kWh/100 km: 14.3; CO2 emissions combined in g/km: 0 (WLTP)
Electricity consumption combined for the Hyundai KONA Electric 64 kWh in kWh/100 km: 14.7; CO2 emissions combined in g/km: 0 (WLTP)
Electricity consumption combined for the Hyundai IONIQ 5 58 kWh with 2WD in kWh/100 km: 16.7; CO2 emissions combined in g/km: 0 (WLTP)
Electricity consumption combined for the Hyundai IONIQ 5 58 kWh with 4WD in kWh/100 km: 18.1; CO2 emissions combined in g/km: 0 (WLTP)
Electricity consumption combined for the Hyundai IONIQ 5 72.6 kWh (19" alloy rims) with 2WD in kWh/100 km: 16.8; CO2 emissions combined in g/km: 0 (WLTP)
Electricity consumption combined for the Hyundai IONIQ 5 72.6 kWh (20" alloy rims) with 2WD in kWh/100 km: 17.9; CO2 emissions combined in g/km: 0 (WLTP)
Electricity consumption combined for the Hyundai IONIQ 5 72.6 kWh (19" alloy rims) with 4WD in kWh/100 km: 17.7; CO2 emissions combined in g/km: 0 (WLTP)
Electricity consumption combined for the Hyundai IONIQ 5 72.6 kWh (20" alloy rims) with 4WD in kWh/100 km: 19.0; CO2 emissions combined in g/km: 0 (WLTP)