K-pop sensation BTS arrives at 62nd Grammy Award in a NEXO SUV
BTS elevated to Global Brand Ambassadors for Hyundai Motor
BTS will promote Hyundai's vision for fuel-cell technology and clean mobility in a new global hydrogen brand campaign
BTS's NEXO promotion expected to amplify '#BecauseofYou' brand campaign encompassing the hydrogen campaign
The all-new Hyundai NEXO has taken BTS to the 62nd Grammy Awards at the Staples Center in Los Angeles, grabbing global headlines for their partnership promoting the fuel-cell electric vehicle.
The red-carpeted arrival of BTS -- who were recently elevated to Hyundai Global Brand Ambassadors from Palisade Global Brand Ambassadors -- in a NEXO marks the launch of Hyundai Motor's global hydrogen campaign.
Hyundai Motor supplies five NEXOs to BTS during the award, whose appearance in the popular five-person SUV will ricochet around the world online with the help of various BTS fandoms.
The reason why Hyundai Motor has joined hands with BTS is to raise awareness of hydrogen as an important future energy and its sustainable application in mobility, as well as to strengthen communications with the millennial generation and generation Z as environmentally conscious partners. Through diverse campaigns with BTS illustrating Hyundai Motor's fuel-cell technological prowess, we expect to reach a common understanding for eco-friendly, sustainable mobility with young people, and share diverse opinions with them.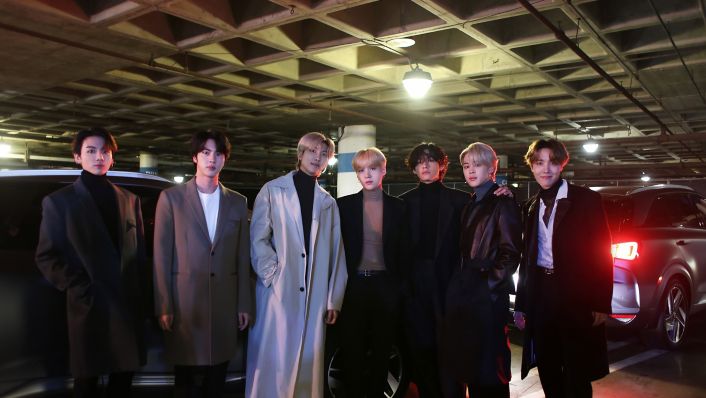 The millennial generation refers to those born between the early 1980s and early 2000s -- a period witnessing the transition from the analog to the digital era -- with a good grasp of information technology, while the generation Z refers to those born after the mid-1990s and grown up largely in a digital environment with a natural inclination for using digital tools, hence their nickname, "digital natives."
These young generations are characterized by keen environmental awareness and commitment to sustainable causes and lifestyles, encompassing production and consumption, and anticipated to be key supporters of clean energy such as hydrogen.
Starting with the celebrated arrival of BTS from NEXO, Hyundai Motor announces the launch of its global hydrogen brand campaign promoting the eco-friendliness and sustainability of fuel-cell technology and its application as a clean future energy option.
The elevation of BTS to Hyundai Global Brand Ambassadors will provide a spur to its '#BecauseofYou' brand campaign launched since last November, which features the NEXO and illuminates Hyundai Motor's commitment to clean mobility. The '#BecauseofYou' campaign champions the message that Hyundai Motor's technological progress into the future aims to benefit each and every valuable customer.
BTS has gained explosive popularity around the world for their music and other social initiatives; and their Hyundai Motor Global Brand Ambassadorship is expected to create a large social impact around the world via the company's vision for eco-friendly and sustainable mobility, particularly at a time when addressing climate change is high on the agenda of policymakers and corporate leaders alike.
From the end of February through April, each BTS member will create a short teaser film with a message about saving Mother Nature for next generations, with an additional comprehensive film wrapping up the previous seven clips. All eight films will be released in sequence on the Hyundai Motor official Instagram account and YouTube channel during this period.
Following that, Hyundai Motor, using water -- the only by-product emitted from the NEXO FCEV -- as a theme, plans to introduce a variety of programs. They include large-scale offline events, through which people can participate in the company's hydrogen campaign by sharing BTS-featuring films as well as information and their understanding of hydrogen.
Hyundai NEXO is a world-leading dedicated FCEV with its hydrogen technology that will critically help build a more sustainable world. It is now currently the most selling model in the global FCEV market.
In clean mobility, via the NEXO as well as other electrified models, Hyundai Motor is spearheading the innovation of ecofriendly technology in tandem with the world's decarbonization and energy transition trends. With a 609-kilometer range on a single charge (under Korean certification standards), NEXO emits only clean water vapor and purifies the air while driving, filtering 99.9 percent of ultra-fine particles in the process.
In addition, Hyundai Motor is fostering the growth of fuel-cell and other related industries worldwide as part of its FCEV Vision 2030. The vision aims to create a global hydrogen society which leverages fuel-cell technologies beyond the transportation sector. Hyundai Motor is part of the Hydrogen Council, a worldwide CEO-led coalition of 60 energy, transport and industry companies united by their sustainable vision to develop a global hydrogen society. 
BTS were shown with a Palisade in a special promotional video at the Los Angeles Auto Show in November 2018; at the 61st Grammy Awards in February 2019; at the 2019 Billboard Music Awards in May 2019; and in a teaser video of the band's global campaign on the London Piccadilly Circus digital billboards in May 2019.