'Do You Miss the Future?' exhibition to be held at Hyundai Motorstudio Busan from Dec. 9, 2021 – March 31, 2022
Exhibition to feature 15 artworks by 14 artists and teams curated by Somi Sim, the winner of the inaugural Hyundai Blue Prize Design award
Exhibition to focus on the motif, the 'value of time,' and invites participants to gauge the future of humanity and explore how time is valued across society
Hyundai Motorstudio Busan, launched in April 2021, to continue its mission to illuminate design innovations and how design enriches our lives
Hyundai Motorstudio Busan has launched an exhibition titled "Do You Miss the Future?" that encourages new inquiries about the "value of time," featuring creative design works curated by the grand winner of the inaugural Hyundai Blue Prize Design award.
Fifteen artworks by 14 teams are on display from Dec. 9, 2021 through March 31, 2022, at Hyundai Motorstudio Busan, an interactive space launched in April 2021 to showcase Hyundai Motor Company's increasing commitment to design and maximize customer engagement. The works cover diverse genres: architecture, graphic design, fine art, technology research, video art, 3D animation, computer gaming, virtual reality and others.
Somi Sim, a Seoul- and Paris-based independent curator and researcher specializing in architectural engineering and art theory, curated the event. Sim won the 2021 Hyundai Blue Prize Design, an award organized by Hyundai Motor Company to foster and support a new generation of design curators.
Through this exhibition and the various works of designers, I have attempted to explore how our world is created and at the same time how we as human beings are framed and transformed by the machinery of temporality. In particular, I have focused my curation on the various ways design and the world at large engage and communicate with one another under today's testing times, as the world we live in is disarrayed by the global pandemic and other challenges.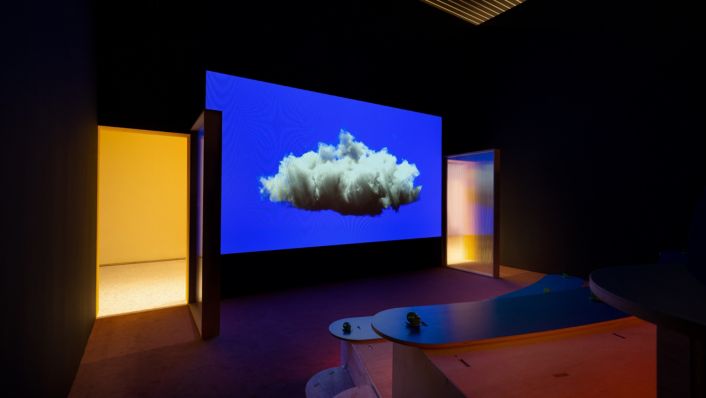 The moniker of the exhibition, "Do You Miss the Future?" comes from the title of an interview by the English cultural theorist, philosopher and academic, Mark Fisher, who was concerned with what he perceived as the uncertain future and cultural retrogression of humanity. In a similar vein, the exhibition deals with the "value of time" as its motif, highlighting how time is variously perceived and consumed across society amid the world's uncertainties, as well as how time can be restructured to offer new possibilities during and after the Covid-19 pandemic.
The exhibition provides a space for us to listen to the various dialogues that are generated at the intersections of design and daily life, and allows us to imagine our future across various fields. In particular, we at Hyundai Motor Company believe this event's theme, the 'value of time,' is an important subject matter in the world of mobility, which is undergoing rapid revolutionary changes with the compression of time and space through technology. Furthermore, the event stems from our corporate vision, facilitating 'progress for humanity' through our comprehensive engagement with diverse sections of the international community.
The exhibition is organized into four sub-themes and their associated sections at the venue: city (section "Post City"), labor (section "Ghost Work and The Human"), object (section "Hyper Object") and future (section "2050"). The "Post City" section deals with the present and future of the urban space; "Ghost Work and The Human" explores the relationships between technology, labor and mankind; "Hyper Object" searches for alternative possibilities and coexistence that would help humanity overcome the current anthropocentric thinking as people experience crises; and "2050" invites participants to an uncertain future that necessitates change in people's perceptions and practices and thus redesign of their way of life.
In particular, the work, titled "Cabinet of Curiosities" (in "Post City" section) by Beijing-based Drawing Architecture Studio, is a large-scale computer-generated image showing colorful, intricately juxtaposed patterns inspired by traditional Korean design "Chaek-ga-do." Installed before Hyundai Motorstudio Busan's glass façade, it can be seen from both inside and outside as an attractive visage in the eyes of the public.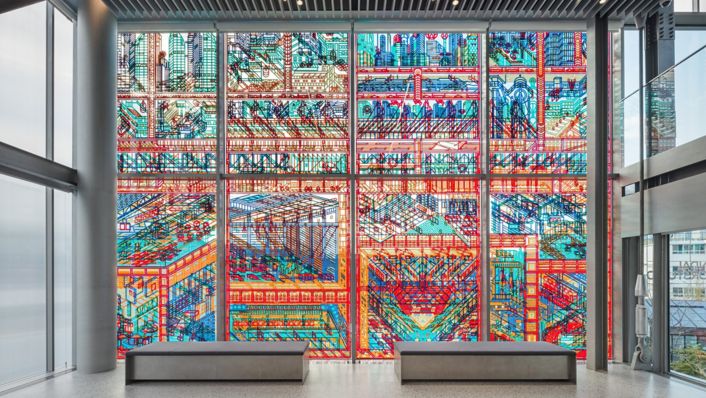 The work "Ideal Disruption" (in "Post City" section) by 3D designer Manuel Rossner, who is based in Berlin, offers a virtual-reality tour of a Hyundai Motor Studio section through a downloadable smartphone application. In the VR space, a glossy artificial sculpture resembling American artist Jeff Koons' balloon animals, which are produced in stainless steel with mirror-finish surfaces, allows the user to spatially experience the VR rendering via an avatar character.
The work "Liminal City" by People's Architecture Office is a large-scale installation piece spanning three floors, shaped like a twisted and knotted metallic pipeline. People can sit on parts of the sculpture, which act as benches as part of a communal space. And through periscopes installed at different sections of the pipeline, they can see each other from different spots through kaleidoscopic vistas and perspectives.

The work "Breath" by artist Minsoo Oh is an installation piece that fabricates the mechanical machinery of a pipe organ, sprouting musical scales and water vapor out of circular holes on the ground similar to a fountain. According to the artist, the artwork is inspired by the air pressure and moisture generated by a steam locomotive, symbolizing the breath and vitality of living organisms.
Apart from the aforementioned four artists and teams, the rest of the 10 artists (individuals and teams) whose works are displayed at Hyundai Motorstudio Busan include Re-tracing Buro, Vladan Joler, Studio Hik, Sungseok Ahn, the team of Alex Rickett and John Brumley, Ordinary People, the team of Yeseul Oh and Wooseok Jang, Everyday Practice, Julien Prévieux and Florian Goldmann.
The Hyundai Blue Prize started in 2017 with its inaugural "Art+Tech" event at Hyundai Motorstudio Beijing with the objective of fostering emerging curators by providing mentoring programs and supporting their curatorial works. The winner of the Hyundai Blue Prize Design is given the opportunity to curate an exhibition at Hyundai Motorstudio Busan and participate in the Boisbuchet design workshop in France, while the winner of the Hyundai Blue Prize Art+Tech is given the opportunity to curate an exhibition at Hyundai Motorstudio Beijing and tour Hyundai Motor Company's partnering art institutions in Europe and the US.
Located in the country's second-largest and seaside city of Busan, Hyundai Motorstudio Busan is the sixth of its kind joining others in Seoul, Goyang and Hanam in Korea as well as Beijing and Moscow. It is themed on the concept of 'Design to Live by' to explore how great design inspires and enriches people's daily lives.