As part of the European Rally Championship (ERC), the Ypres Rally is one of the biggest events of the season. Famous for its high speed and narrow roads, this event presented a new challenge to the Hyundai i20 R5, which completed over 400km across five days, half of it at the head of the ERC field. The event's unique stages allowed engineers to test the rally car's transmission and handling characteristics in a demanding environment with changeable weather conditions.

Prior to its appearance in western Belgium, the Hyundai i20 R5 had completed more than 3,000km of testing, running on both gravel and tarmac, to ensure it is competitive on a wide range of roads and surfaces. In the hands of customers the car in various championships, including the ERC and the WRC2 championship, which runs alongside the World Rally Championship at all the series' current events.
Following its successful first public appearance at June's Ypres Rally, the New Generation i20 R5 will return to the rally stages of Europe later this year with Hyundai Motorsport's first customers.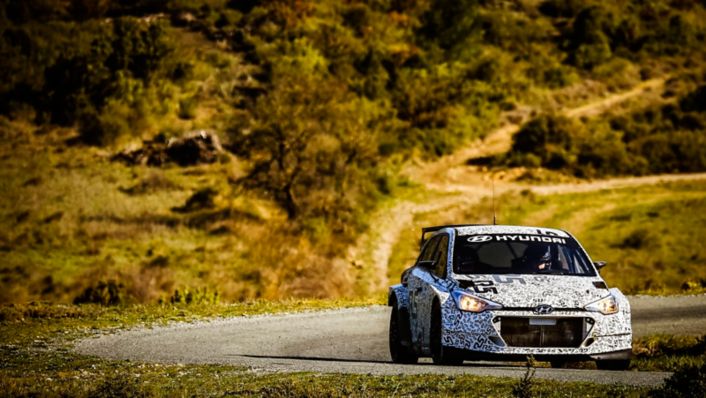 The first Hyundai Motorsport car built for customers


The New Generation Hyundai i20 R5 is based on the production model of the Hyundai i20 and is the first Hyundai Motorsport car built for customers, designed by a highly experienced international motorsport team based in Alzenau, Germany.

Whereas the Hyundai i20 is ideal for everyday use due to its high-build quality and modern design, the hand-built four-door Hyundai i20 R5 is a bespoke ultra-performance competition car that has been stripped out, strengthened and tuned extensively in all areas.

Complying with FIA R5 regulations so that it's rally championship-ready, the Hyundai i20 R5 features a 1.6 litre direct injection turbo engine connected to a four-wheel drive system. It has also been equipped with a new rear wing and front spoiler to improve cooling and downforce, and undergone bodywork improvements to the suspension kinematics and chassis stiffness to ensure drivers glide smoothly and get more bite across a variety of surfaces.