Hyundai Motorsport has taken over Circuit Zolder in Belgium for an exciting showcase of its latest electric and hybrid car technology  
The Hyundai i20 N Rally1 and Veloster N ETCR both enjoyed the limelight at the Belgian track with Thierry Neuville and Norbert Michelisz sharing seat time
The demonstration allowed Hyundai Motorsport to reaffirm its commitment to electric and hybrid technology, showing the close link between race, rally and roadgoing vehicles.
Hyundai Motorsport has showcased its latest electric and hybrid vehicle technology at Circuit Zolder in Belgium today with its FIA ETCR – eTouring Car World Cup and FIA World Rally Championship (WRC) drivers swapping cars in an exhilarating promotional event.
 
The all-electric Hyundai Veloster N ETCR - competing in the fourth round of the ETCR championship - was joined on the 4.010km Zolder track by the team's hybrid-powered Hyundai i20 N Rally1 car. Belgian WRC star Thierry Neuville and 2019 WTCR winner Norbert Michelisz took turns at the wheel and in the passenger seat.
 
Neuville and Michelisz swapped cars during the early afternoon demonstration, putting on an exciting show for the watching crowd. Michelisz was first to take to the track, swapping his Veloster N ETCR for the Hyundai i20 N Rally1 car, with Neuville on co-driver duties.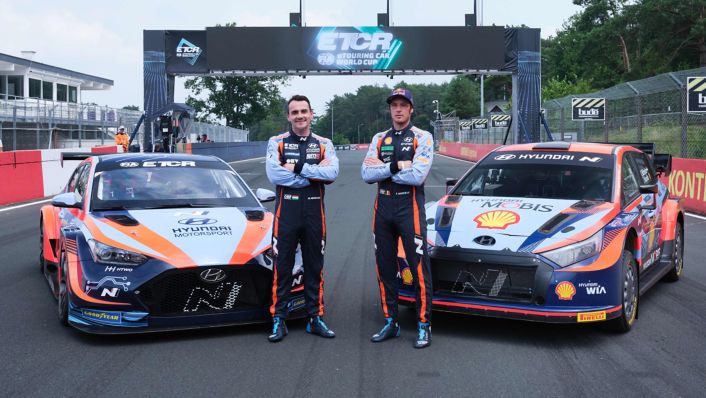 It was then Neuville's turn to drive the Veloster N ETCR, his first taste of an all-electric race car, with Michelisz on hand for expert advice. The show culminated in Neuville putting his WRC car through its paces with Michelisz in the co-driving seat. The pair trusted fully in each other's driving skills as they compared and contrasted the all-electric ETCR car with the hybrid power of the WRC vehicle, while having a lot of fun along the way.
 
Hyundai Motorsport has adopted a pioneering approach to its motorsport activities in recent years. As one of the first manufacturers to commit to the new ETCR standards in 2018, as well as to WRC's latest hybrid regulations, Hyundai recognises the role that electric racing and hybrid rallying can play in the corporation's broader automotive technology development.
What a great experience! This was my first time driving an electric race car and it was totally different to anything I have done before. The 500kW of power was instantaneous and very aggressive. It was fun to drive, but I have to admit I wasn't used to having no engine noise or gearshifts. I had to get the understanding because normally we would brake with the gearbox, and here it was only with the foot. I enjoyed it. I have done TCR races before but maybe in the future I will join an electric race as well. I think Norbi did very well for having only two laps of experience with a WRC car. He felt comfortable immediately, as did I, but he is a professional driver so I knew I would have fun. With a few little tips, we were already close to the limit in some corners. The gravel tyres made it a bit easier and more enjoyable for a first experience. It was also good to show him how the WRC hybrid system works, which is completely new for this year, and different to full electric.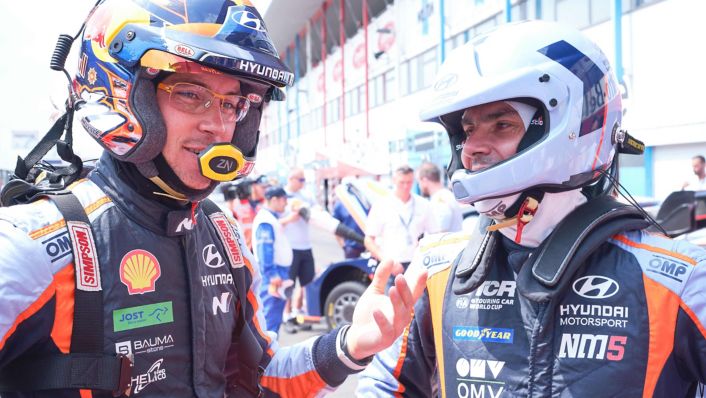 I have been looking forward to this day ever since it was announced. This was the first time for me in a rally car. Sitting next to Thierry was an amazing experience. The Hyundai i20 N Rally1 feels fantastic and with his advice you could get the feeling and build confidence. I can't remember the last time I had so much fun. There is a big difference compared to the Veloster N ETCR; you can slide a bit more. You can feel the hybrid system working; it is unique. The power and acceleration that the car delivers are great. From the first moment, Thierry knew what to do in the Veloster N ETCR; he knew the reference points and his rhythm was just right. With these cars, it's easy to underestimate the amount of speed you can carry into the corners. He was confident with the rear of the car. If he had five laps more, you would not realise it was a rally driver. I was impressed.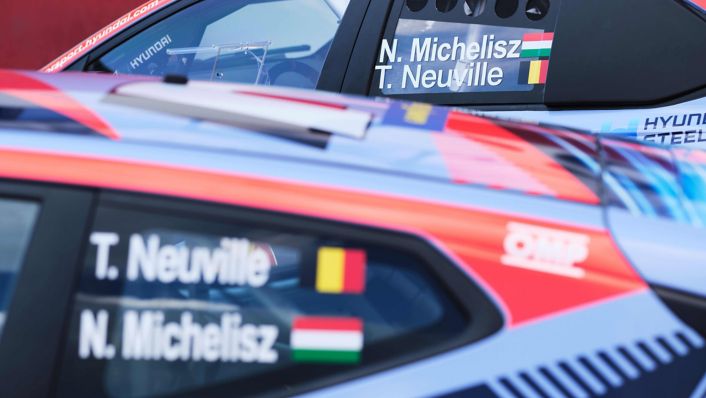 Our demonstration event in Zolder has been the perfect opportunity for us to showcase everything that Hyundai Motorsport and Hyundai's high-performance N brand stands for: innovative car technology, teamwork, fun and excitement. To see our Hyundai i20 N Rally1 hybrid car on the track along with the Veloster N ETCR was amazing. It was clear that Thierry and Norbert had a lot of enjoyment behind the wheel, sharing tips and comparing the two cars. It's always good to hear the views from drivers in other championships, as collectively it is our mission, through motorsport, to help positively influence the direction of car development as we embrace an electric future. Activation opportunities like these are a powerful way for us to show the excitement of electric and hybrid motorsport.