Hyundai i20 Coupe WRC revealed in special launch event for media at the Autodromo Nazionale Monza, Italy
Hyundai Motorsport drivers Thierry Neuville, Hayden Paddon and Dani Sordo will contest all 13 rounds of the 2017 Championship with the Hyundai i20 Coupe WRC
Hyundai Motorsport will compete in the 2017 FIA World Rally Championship (WRC) with a brand new challenger, the Hyundai i20 Coupe WRC.
The car, which has been designed to meet WRC's raft of new technical regulations, was unveiled during an exclusive media event today at the Autodromo Nazionale Monza, Italy.
For Hyundai Motorsport, the three-door i20 Coupe WRC represents the team's third new car since its debut in the Championship back in 2014 – following the Hyundai i20 WRC (2014-15) and the New Generation i20 WRC (2016). Entering its fourth WRC season, the team hopes to build on a positive period of growth in recent years as it embarks on a new era.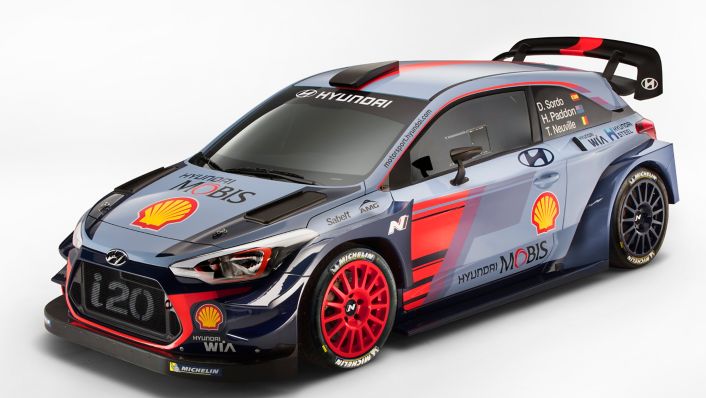 The new car regulations for 2017 have been introduced to enhance the overall spectacle of WRC even further than before, with the new car sporting an aggressive new look and evolved technologies. While changes have centered on improving aerodynamic and mechanical grip, there has been an increase in engine power from 300 to 380bhp as well as a reduction in the overall weight of the car.
With the new car, the team hopes to build on its most successful season to date, in which it secured two victories and an additional ten podium finishes. Hyundai Motorsport also second place overall in the Manufacturers Championship in the 2016 season.
We are heading into a new era for the sport with the biggest change to the regulations for some time. It's a great new technical challenge and one that we have tackled with enthusiasm. It's an opportunity to put into practice everything we have learned and experienced in the past three seasons. All teams are starting from scratch so we are on equal footing. Having finished in a fighting second in 2016, we want to demonstrate our ability to fight for the Championship next season – and we are confident the i20 Coupe WRC will help us do just that.
There will be an unchanged driver line-up for 2017, which will offer the team important stability with the introduction of a new car. Thierry Neuville, Hayden Paddon and Dani Sordo will contest all rounds of the Championship.
As manufacturers will be able to field up to three cars in each round, Hyundai Motorsport's three drivers will run under a unified banner in 2017: the Hyundai Shell Mobis World Rally Team.