Following a challenging weekend at the opening round of the season, Hyundai Motorsport is determined to bounce back at Rally Sweden next week (24-27 February)
Sweden returns to the WRC calendar for the first time since 2020 with a new home, as the only full-snow event on the calendar moves to the Umeå region for the 2022 edition
Thierry Neuville/Martijn Wydaeghe, Ott Tänak/Martin Järveoja, and Oliver Solberg/Elliott Edmondson are set to take on the Swedish snow in the Hyundai i20 N Rally1
After a difficult start to a new hybrid chapter, Hyundai Motorsport is on a mission for success at the second round of the 2022 FIA World Rally Championship (WRC) season, Rally Sweden, next weekend (24-27 February).
The return of Rally Sweden will be warmly welcomed by teams and fans alike, having been a regular feature on the calendar since 1973. The event moves to a new region for the 2022 edition, with crews tackling the fast, snowy stages of the Umeå region for the first time in the WRC.
Hyundai Motorsport's crews will be aiming to master the adverse conditions and extract the full performance of the car over the gruelling four-day event. The team's line-up remains unchanged from Rallye Monte-Carlo, with Thierry Neuville/Martijn Wydaeghe, Ott Tänak/Martin Järveoja, and Oliver Solberg/Elliott Edmondson tasked with securing the team's first podium finish of the season. As snow was largely absent at the season-opening Rallye Monte-Carlo, all three crews have completed a pre-event test to prepare and acclimatise ahead of the Hyundai i20 N Rally 1's first competitive outing on the surface.
Following shakedown and the ceremonial start on Thursday, Rally Sweden kicks off on Friday, with seven stages totalling 125.67 kilometres – the longest day of the event. Saturday's itinerary is no less demanding, consisting of six stages with a combined competitive distance of around 82 kilometres. Two attempts of two stages on Sunday bring Rally Sweden to a close, with the final run offering crews and manufacturers additional championship points as the event's Power Stage.
Since Rallye Monte-Carlo, the entire team has been working incredibly hard to make improvements to our package, and we look forward to show a better performance at Rally Sweden. We are still finding our feet with the new hybrid regulations, and our pre-event test has helped prepare for the wintry roads of Umeå. Our three crews know what it takes to be competitive in the snow, so we are focusing all our energy on bringing home all cars after a disappointing opening round. We must expect we will come up against some obstacles, but we will be striving for a competitive rally that culminates in a strong result in Sweden.
Crew Notes: Thierry Neuville/Martijn Wydaeghe (#11 Hyundai i20 N Rally1) 
Belgian duo targeting a strong weekend and improved result
Neuville claimed a previous win in Sweden in 2018
With the all-new itinerary, it's very difficult to know what is waiting for us at Rally Sweden, but it will definitely be interesting. While we don't have a lot of experience with the Hyundai i20 N Rally1 in these conditions – it is a proper full-snow rally –I think our driving style will be pretty similar to the previous cars we've competed with at Rally Sweden. Rallying is always a bit more spectacular on snow with the studded tyres. Usually, the stages are quite fast, you have to lean into the snowbanks and drive sideways a bit more. You have to be slightly more brutal to get the studs to grip into the ground. Everybody has worked so hard over the last couple of months, and we hope that we will see a good return for that effort next weekend.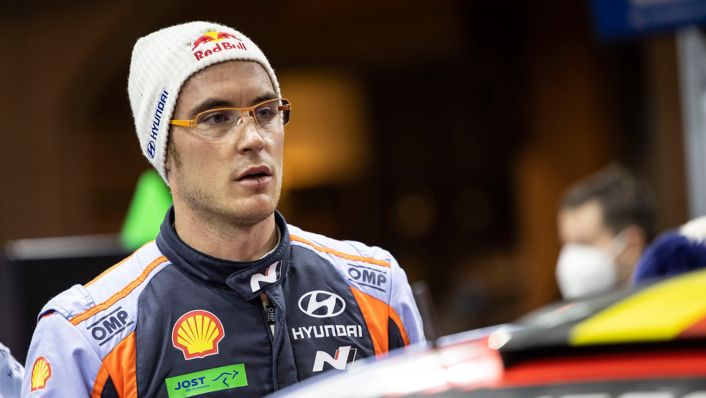 Crew Notes: Ott Tänak/Martin Järveoja (#8 Hyundai i20 N Rally1) 
Rally Sweden is the site of Estonian duo's first podium with Hyundai
Crew aiming for first podium finish of 2022
Rally Sweden will be an all-new event as we are moving more north than we have in previous years. I really don't know what to expect but snow is always something I've really enjoyed competing on. Sweden was the location of our first podium with Hyundai Motorsport, and it would mean a lot to be able to replicate that result next weekend. We have the inner drive to come back fighting from our difficult first round of the season; we want to turn that into positive momentum that will carry us throughout the year ahead. Last season we were victorious in the snow in Arctic Rally Finland, so we know we are fast and competitive on this surface. The target will be to hit the ground running and find a good rhythm with the Hyundai i20 N Rally1.
Crew Notes: Oliver Solberg/Elliott Edmondson (#2 Hyundai i20 N Rally1) 
Solberg looking to shine at first event on home snow as a full manufacturer driver
Newest Hyundai Motorsport crew forced to retire from season-opener, Rallye Monte-Carlo
First of all, it is going to be very emotional to compete in my first home event as a factory driver. It is something I have dreamed about my whole life. I think the new location is an important step, as it is what the rally needs to secure fantastic conditions, even if it is sad to move away from my hometown. Snow and ice is also my favourite surface as well so it will be a very special rally. You have to be quite aggressive with your driving style, keeping the front of the car in the lines but pushing the rear. It will be new for everybody, so preparations are more equal and give me a good opportunity to have a strong weekend. Rally Sweden will be a mix of everything: fast and twisty roads, wintry conditions, lots of snowbanks – and maybe some reindeers.
Weekend at a Glance
Rally Sweden begins with its longest day, with Friday's running consisting of two loops of Kroksjö (14.98 kilometres), Kamsjön (27.81 kilometres) and Sävar (17.28 kilometres) plus a single pass of Umeå Sprint (5.53 kilometres), totalling 125.72 kilometres
Saturday's itinerary contains six stages and sees the crews twice tackle Brattby (10.49 kilometres), Långed (19.49 kilometres) and Umeå (11.17 kilometres)
Sunday features two tests each of Vindeln (14.19 kilometres) and Sarsjöliden (14.23 kilometres). The second pass of the latter will be the rally's Power Stage.