Hyundai Motorsport is ready to return to the tarmac challenge of Rally de España, the penultimate event of the 2021 World Rally Championship (WRC) season
Three Hyundai i20 Coupe WRC crews will tackle the Spanish roads: Thierry Neuville/Martijn Wydaeghe, Ott Tänak/Martin Järveoja, and Dani Sordo/Cándido Carrera
The team heads to Spain as defending winners of the rally, having taken a 1-3 result last time the event was held in 2019
Fresh from its recent double podium finish in Finland, Hyundai Motorsport heads to the penultimate round of the 2021 FIA World Rally Championship (WRC), Rally de España, aiming for another strong performance.
At the previous edition of Rally de España, held in 2019, Thierry Neuville triumphed with his Hyundai i20 Coupe WRC on mixed terrain stages while team-mate Dani Sordo finished in third. The double podium would prove decisive in that season's championship battle, extending the team's advantage at the top of the standings ahead of the cancelled finale Rally Australia.
After its absence from the 2020 calendar, the Salou-based event returns with a change in the challenge, as it reverts to a full tarmac profile for the first time since 2009. Hyundai Motorsport showed a competitive pace at the most recent tarmac rally, Ypres Rally Belgium, where the team secured a 1-2 finish in August.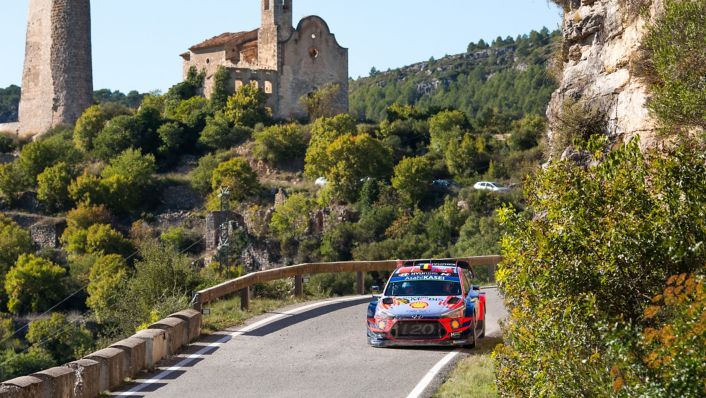 Hyundai Motorsport will field Thierry Neuville/Martijn Wydaeghe, Ott Tänak/Martin Järveoja and Dani Sordo/Cándido Carrera in the 17-stage rally, which starts with shakedown on Thursday, followed by a ceremonial start in Salou.
Friday features six stages, including the all-new La Granadella challenge, covering 112.02 kilometres of competitive distance. Crews then tackle two loops of three stages on Saturday, followed by a short street stage close to the service park. Four stages on Sunday close out the 280.46-kilometre rally.
Following our best result at a rally that has historically been one of our weakest, the entire team is re-energised and ready to tackle Rally de España. We have shown we can be competitive on the tarmac with our 1-2 finish in Belgium, so we have set ourselves the highest benchmark. The 2019 podium in Spain featured Thierry, Ott, and Dani, so they all know what it takes to be fast on these roads. With only two rounds of the season remaining, we want to finish the year with our strongest performances as we bid farewell to this era of WRC.
Crew Notes: Thierry Neuville/Martijn Wydaeghe (#11 Hyundai i20 Coupe WRC)
Belgians looking to bounce back from difficult Finland outing
Claimed victory at previous tarmac event, Ypres Rally Belgium
When I first participated in Rally de España it was a full tarmac event and now we are back to that profile after a few years of mixed terrain. I'm looking forward to tackling some of the famous stages we have seen in the past. It is a rally I like; the nice flowing roads are really good fun to drive with these WRC cars. It is more of a circuit-style of driving, so you need to be clean and efficient, taking care not to slide too much. You also need good pace notes to rely on to be fast, as it is difficult to make a big difference in the gaps on these types of roads.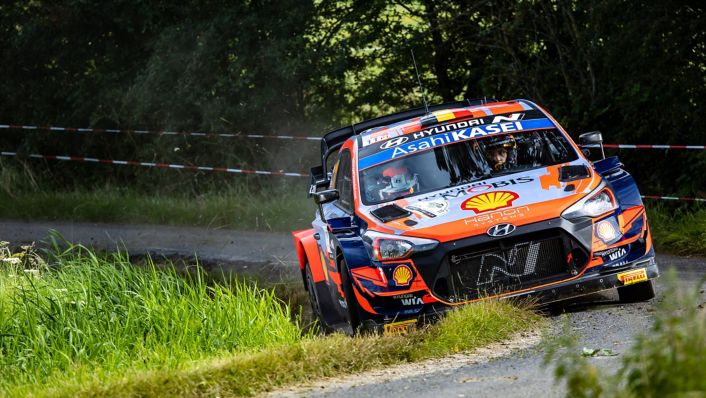 Crew Notes: Ott Tänak/Martin Järveoja (#8 Hyundai i20 Coupe WRC)
Estonians secured fourth podium of the year at Rally Finland
Crew on a mission for third top-three Rally de España finish
It has been a while since we've had three days of tarmac competition at Rally de España. It is a very fast event and one that I really enjoy. The roads require pure, clean driving – the routes in the forest are quite smooth with not many cuts and the weather is consistent there, which makes it an enjoyable event for me. After two consecutive podium finishes, it would be nice to secure a hat-trick in Spain as we aim for a strong finish to this season.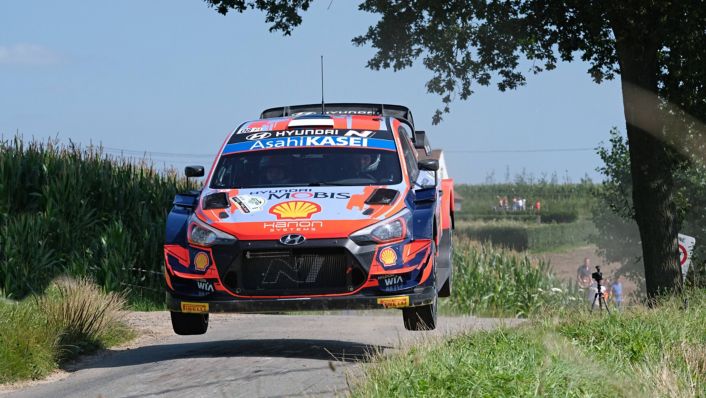 Crew Notes: Dani Sordo/Cándido Carrera (#6 Hyundai i20 Coupe WRC)
Claimed fourth place in first-ever event as a crew at Acropolis Rally
Spanish crew looking to utilise home advantage in first tarmac outing
I am really happy to be back driving in Spain after two years without a rally in my home country. I'm looking forward to the challenge of a full tarmac event; I'm hoping the weather will be nice and that we will have a lot of fans there as well. You need to have a really good car set-up and be confident – then, you enjoy the rally a lot. If you have a car that is understeering and not working very well, you won't be happy. I can't wait to be back at Rally de España.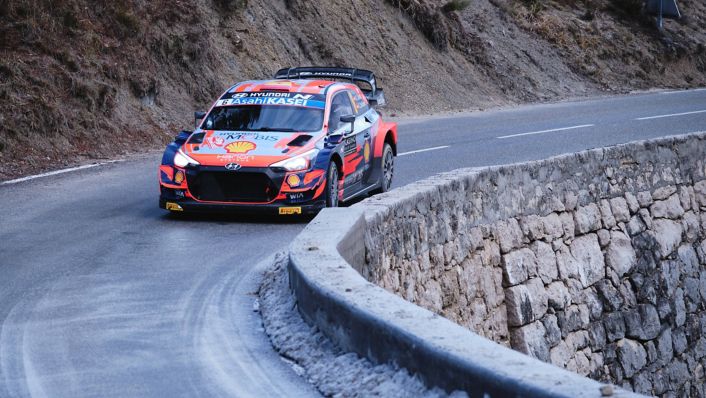 WRC2 Overview
Hyundai Motorsport Customer Racing Junior Driver Jari Huttunen and his co-driver Mikko Lukka secured a class podium with the Hyundai i20 N Rally2 at their home event – marking Huttunen's third top-three result at Rally Finland. The Finnish crew will be looking to replicate its winning performance from Ypres Rally Belgium as WRC2 returns to the tarmac.
Joining them will be compatriots Teemu Suninen and Mikko Markkula in their first outing with the Hyundai Motorsport N team. The crew will be looking to leverage its previous experience of Rally de España, which includes a WRC2 victory in 2017, as it embarks on its first outing with the Hyundai i20 N Rally2.
I'm looking forward to the return of tarmac next weekend after our victory in Ypres Rally Belgium. We were able to find a good confidence and rhythm with the Hyundai i20 N Rally2 on those roads which we hope will put us on the front foot in Spain. Finland didn't quite go our way from the start of the rally, so the target is to perform well from the very first stage.
I'm looking forward to Rally de España with the Hyundai i20 N Rally2. Spain has been one of my all-time favourite rallies. At the same time, it's the best event to feel the balance of the new car on the tarmac because of the long curves. There are a lot of new stages in the rally this year, and therefore the pace notes will play an important role next weekend.
Jari and Mikko have already demonstrated the pace of the Hyundai i20 N Rally2 on the tarmac with their impressive victory at Ypres Rally Belgium. We have learned a great deal about the car in its first events, which should put them in a great position for a successful weekend in Salou. We are also pleased to welcome Teemu and Mikko to our team in Spain; they are proven rally talents, and their experience will be invaluable as they get up to speed with our car. We wish both crews the best of luck.
Hyundai Motorsport has confirmed its crew line-up for the new era of the FIA World Rally Championship (WRC) with Dani Sordo and Oliver Solberg sharing the team's third Rally1 car.
The team had already confirmed Thierry Neuville and Ott Tänak as full-time drivers for the start of WRC's hybrid regulations, but the addition of Sordo and Solberg will bring an ideal mix of experience and youth in its ninth season.
Sordo has been part of the Hyundai Motorsport squad since its debut in 2014 and has played an integral role in some of its most memorable moments. The Spaniard contributed to a famous 1-2 result in Rallye Deutschland in the first year of competition and has gone on to be a consistent performer in each season since. He has claimed two victories in Hyundai Motorsport colours, both at Rally Italia Sardegna in 2019 and 2020, and a total of 13 podium finishes to date.
Weekend at a Glance
Rally de España opens with shakedown on the morning of Thursday 14 October, followed by the ceremonial start near the Salou-based service park.
Friday's six-stage itinerary features two runs of Vilaplana (20.00 kilometres), La Granadella (21.80 kilometres) and Riba – Roja (14.21 kilometres).
Saturday is the longest day of the rally, with two loops of Savallà (14.08 kilometres), Querol – Les Pobles (19.17 kilometres) and El Montmell (24.40 kilometres) followed by a short street stage in the heart of Salou (2.24 kilometres).
Santa Marina (9.10 kilometres) and Riudecanyes (16.35 kilometres) close the event on Sunday, with the second pass of the latter stage forming the event's Power Stage.