The final round of the 2020 FIA World Rally Championship (WRC), Rally Monza, will prove decisive in the close fight for this year's manufacturers' championship
Hyundai Motorsport holds a seven-point advantage after securing its third victory of  the season in Sardinia with a total of 43 points available in Monza
All three of the team's 2020 rally-winning crews - Thierry Neuville/Nicolas Gilsoul, Ott Tänak/Martin Jarveoja and Dani Sordo/Carlos del Barrio - will contest the event.
Hyundai Motorsport has set its sights on securing a second consecutive FIA World Rally Championship (WRC) manufacturers' title as the 2020 season reaches its conclusion at the seventh and final round.
A 1-2 result in Sardinia last month saw Hyundai Motorsport move into a seven-point lead at the top of the classification with 43 points still up for grabs in Monza. The historic Italian venue is hosting a round of the WRC for the first time, although teams and drivers are well acquainted with the location from the annual Monza Rally Show.
Not only has Hyundai Motorsport participated in the celebrated Monza Rally Show on four previous occasions, the Hyundai i20 Coupe WRC was officially launched at the event in 2016. Four years on, three crews will be aiming to extract maximum performance from the car as they tackle a new-look Monza itinerary.
The team's rally-winning line-up of Thierry Neuville/Nicolas Gilsoul, Ott Tänak/Martin Jarveoja and Dani Sordo/Carlos del Barrio will be looking to add to the team's three victories this season, each crew having taken one apiece in Monte-Carlo, Estonia and Sardinia respectively. All three crews have tested the Hyundai i20 Coupe WRC in northern Italy a head of Monza.
The event will cover 16 timed stages starting on Thursday afternoon with a short super special, entitled 'The Monza Legacy'. The following three days will combine track and mountain roads in the foothills of the Italian AIps, culminating in championship-deciding action on Sunday.
We arrive at the final round of a demanding and tricky season with a very important task in front of us: to defend our manufacturers' title. On paper, we have an advantage of seven points but at the pinnacle of rallying this is nothing. We can't take anything for granted as we prepare for the first-ever WRC event in Monza, a truly historic and special venue for any motorsport fan. We have three crews who have all shown this year that they can win, but even that doesn't guarantee results. We will have to work hard for that and keep pushing right up to the final Power Stage. It's entirely in our hands.
Crew Notes: Thierry Neuville/Nicolas Gilsoul (#11 Hyundai i20 Coupe WRC)
Rallye Monte-Carlo winners returned to the podium in Turkey and Sardinia
Belgians hold third place in the drivers' table
Rally Monza is definitely a special event for this year and it's good to add it to the WRC calendar in such a difficult situation. I have done Monza a couple of times as a rally show, which was certainly different to the format in which we are going to run it this year in WRC. I've always had an enjoyable experience there; this season finale is going to be an exciting event, very intense and almost like a sprint with small gaps between the crews. We will give it everything we've got.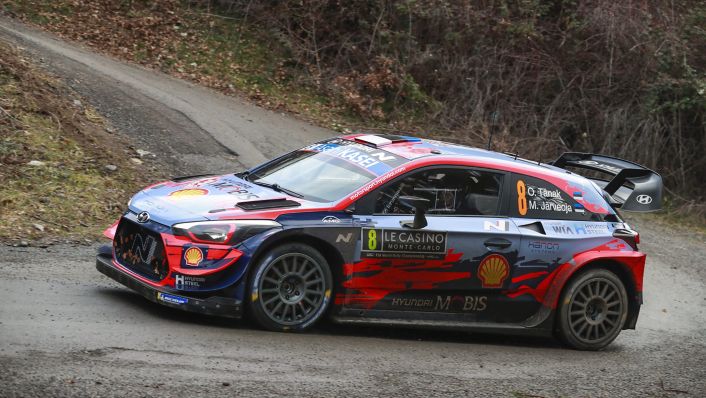 Crew Notes: Ott Tänak/Martin Jarveoja (#8 Hyundai i20 Coupe WRC)
Estonian crew aiming to bounce back after a run of tough events
Aiming to return to winning ways in a brand-new event
Monza is obviously a new event, somewhere that I've never been before. I've seen some footage and mostly it looks to be very different in terms of concept. We'll have a full day of circuit-based stages, followed by a day in the forest, so a big challenge. From the team's perspective, we need to do all we can to defend the manufacturers' title. There are also some things still open in the drivers' championship too. As it's the last event, it will be all or nothing.
Crew Notes: Dani Sordo/Carlos del Barrio (#6 Hyundai i20 Coupe WRC)
Win in Sardinia helped move the team back into the manufacturers' lead
Sordo has previously participated in Monza Rally Show with Hyundai Motorsport
The objective is very clear: to try and fight for the overall victory and to target the manufacturers title. It is a very important mission for our team. We are leading by just seven points so it will be a close fight. I have been to Monza Rally Show in the past, but this event will be unique. We have the first day enclosed in the circuit, using new and old parts, including famous sections like Parabolica, as well as gravel and mud sections. The next day will be completely outside. It promises to be a nice rally!
Weekend at a glance
16 special stages run over a four-day itinerary and a total distance of 241.14km
Shake down and opening super special take place on Thursday
Circuit based itinerary on Friday covers three separate stages, Junior (13.43km) and Roggia (16.22km), each run twice, and the shorter 10.31km aptly titled Grand Prix
Saturday moves onto mountain roads for a repeat loop of Selvino (25.06km), Gerosa (11.09km) and Costa Valle Imagna (22.17km), followed by the second Grand Prix stage
Sunday starts with the third and final Grand Prix, before the 14.97km Serraglio is run twice, the second time as the season-concluding Power Stage.