Hyundai Motorsport will target another competitive performance as the 2020 FIA World Rally Championship (WRC) moves onto Rally Italia Sardegna next weekend
Last year's Sardinia winners Dani Sordo and Carlos del Barrio will return to defend their crown, alongside past victors Thierry Neuville/Nicolas Gilsoul and Ott Tänak/Martin Järveoja
Hyundai Motorsport has taken three wins at Rally Italia Sardegna, including two double podiums, making it one of the team's most successful events.
Hyundai Motorsport is targeting another competitive performance at next weekend's Rally Italia Sardegna, the sixth round of the modified 2020 FIA World Rally Championship (WRC).
A 1-2 result in Rally Estonia and a double podium in Rally Turkey has reduced the gap in the title chase to just nine points, heading to a venue where Hyundai Motorsport has previously won three times.
 
The team will field a three-car entry into the event with Thierry Neuville/Nicolas Gilsoul, Ott Tänak/Martin Järveoja and Dani Sordo/Carlos del Barrio. All three crews have scored wins in Sardinia during the past four seasons.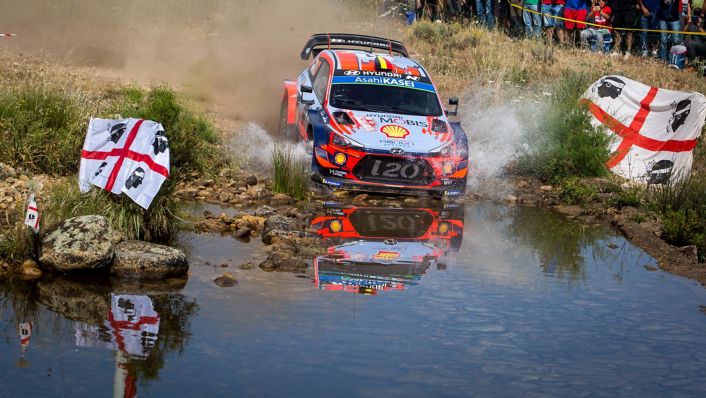 Neuville triumphed for Hyundai Motorsport in 2016 and 2018, while Sordo memorably secured his maiden win with the team in a dramatic conclusion to last year's event. Tänak, who was the recipient of Power Stage misfortune 16 months ago, was victorious three years ago and will be looking to recapture that winning form.
 
Taking place later than its usual summer date, weather conditions are likely to be cooler and more unpredictable, adding a new variable to the popular gravel event, which will cover three full days of competitive running. All three Hyundai Motorsport crews have tested in Sardinia in preparation for the rally, and head into the Alghero based event expecting to be competitive.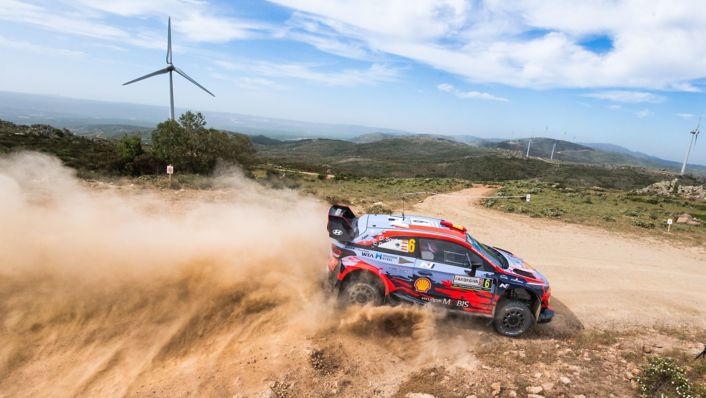 We know the championship fight is incredibly close during this pandemic-affected season, so we have to approach Sardinia with the target of another competitive performance. Thankfully, we have three crews who have all demonstrated their ability to be fast there. We welcome back Dani and Carlos for this event, which holds wonderful memories for us all from last year. All of my people have been working hard in an effort to give our crews the best tools possible to repeat the level of performance we have shown in the past two events.
Crew Notes: Thierry Neuville/Nicolas Gilsoul (#11 Hyundai i20 Coupe WRC)
Previously won in Sardinia in 2016 and 2018
Crew looking for another strong event after finishing second in Turkey
There are nice beautiful roads at Rally Italia Sardegna, with flowing, narrow stages. The natural characteristic of the stages suits my pace notes system and my driving style. It's a rally where we have always demonstrated good speed, and we've also won there twice in the past. The weather could be different to what we're used to during the usual summer slot, so that could be challenging on that side, particularly if it rains. Most of the stages are well known to us from previous years, so we are looking forward to the event.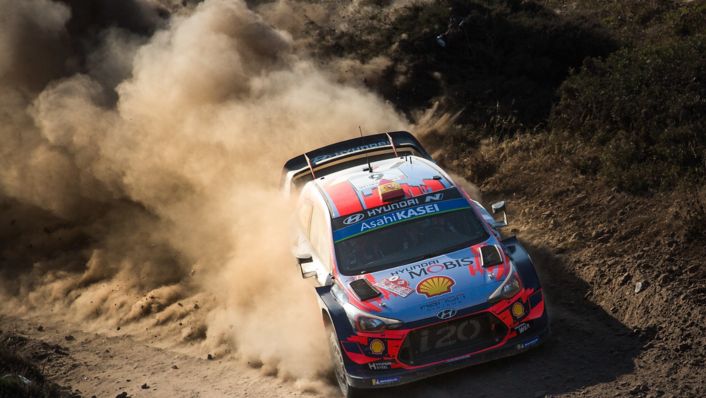 Crew Notes: Ott Tänak/Martin Järveoja (#8 Hyundai i20 Coupe WRC)
Estonians aiming to get title ambitions back on track in Sardinia
Crew won Rally Italia Sardegna in 2017
Rally Italia Sardegna is normally a hot and tough event; this year the rally is taking place a bit later in the season so we might face some difficult weather conditions. Wet weather can change the full concept of the rally, so we have to expect a range of situations. The stages are made up of high grip roads typically, which can be tough on the tyres, so tyre management is generally important. We hope to show the performance of the Hyundai i20 Coupe WRC on this different type of gravel roads and be in the fight for victory.
Crew Notes: Dani Sordo / Carlos del Barrio (#6 Hyundai i20 Coupe WRC)
Spanish crew returns for first WRC event since Rally Mexico
Memorably secured their maiden Hyundai Motorsport win in Sardinia last year
This is a very special rally for me, with some incredible memories from last year's event. I will never forget the feeling of taking that victory with Hyundai Motorsport and I hope we can repeat it this year! The stages are normally quite slippery on the first pass because there is a lot of loose gravel on the surface; this can benefit those crews starting further back on the order. The second pass is much more aggressive on the tyres, offering greater grip levels. I tested the car recently and had a good feeling, so the objective is victory.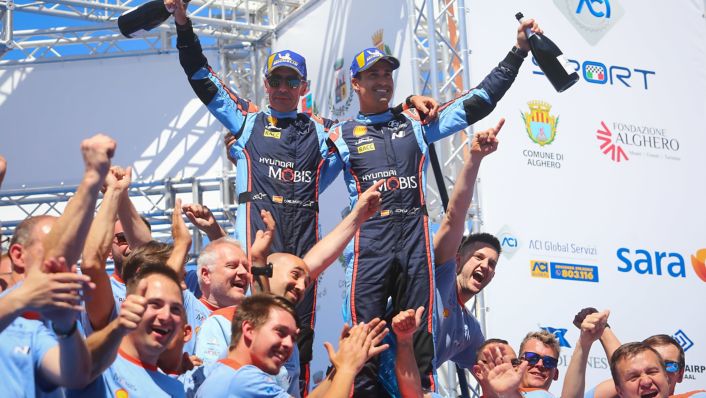 WRC 2 overview
Hyundai Motorsport's WRC 2 crews will return to action at Rally Italia Sardegna for their fifth event of the 2020 season at the wheel of the Hyundai i20 R5.
Ole Christian Veiby and Nikolay Gryazin will both be targeting improved pace in the 16-stage gravel event alongside their respective co-drivers Jonas Andersson and Konstantin Aleksandrov.
Both drivers have season-best results of second place in the WRC 2 category, Veiby in Sweden and Gryazin in Mexico, but neither has picked up results truly representative of their potential or the performance of the Hyundai i20 R5. Hyundai Motorsport N currently holds third in the championship on 84 points, 23 from the leaders.
Rally Italia Sardegna is an event I know well, and where we have scored some good results in the past. I like the rally and its stages. It will be interesting to see how the later October date changes things, especially the weather. I believe our Hyundai i20 R5 will perform well there. It will be important to avoid the big stones and rocks that can feature on the roads, to keep us away from punctures and car damage. We have a test on Sunday to learn more about the car on these stages. We want to help the team to win the manufacturers' championship, but to do that we need to aim for victory and get a good result for both cars.
Rally Italia Sardegna is narrow and challenging but definitely enjoyable. We will face a slightly different autumn setting this year and we don't know what the weather conditions could be compared to the intense heat we're used to in Sardinia. Last year, we had some bad luck on the second day, so our initial target is to improve on that performance. I certainly think our Hyundai i20 R5 has all the performance and competitive pace to help us to achieve that. We know what we can achieve when we keep focused and avoid misfortune. We will give it our best shot.
Weekend at a glance
The 16-stage Rally Italia Sardegna itinerary covers three full days of action starting early on Friday morning with a loop of two stages Tempio Pausania (12.08km) and Erula-Tula (21.78km)
The loop will be repeated prior to lunchtime service before a third loop - Sedini-Castelsardo (14.72km) and Tergu-Osilo (12.81km) - in the afternoon.
That loop will be run again as the conclusion to Saturday's schedule, following two passes through the familiar Monte Lerno (22.08km) and Coiluna-Loelle (15km) stages in the morning
Sunday's final four stages, also well known to crews, will cover Cala Flumini (14.06km) and Sassari-Argentiera (6.89km) - bringing the total stage distance for the weekend to 238.84km
Hyundai Motorsport WRC Crews' Info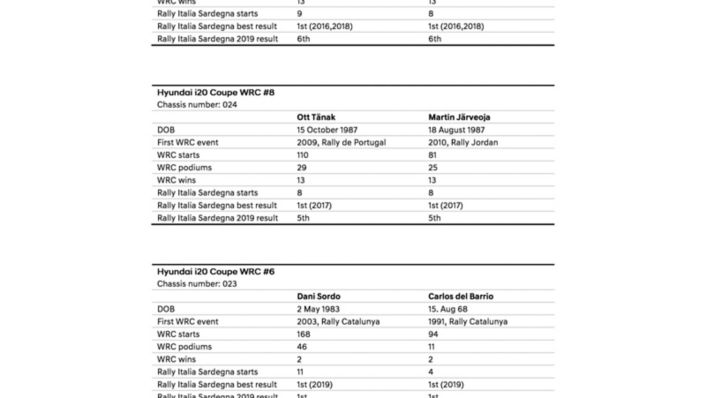 Hyundai Motorsport WRC 2 Crews' Info