The FIA World Rally Championship (WRC) continues on the gravel roads of Rally Italia Sardegna next week, the fifth round of the 2021 season
The team's crew line-up remains unchanged from Rally de Portugal, with Thierry Neuville/Martijn Wydaeghe, Ott Tänak/Martin Järveoja, and Dani Sordo/Borja Rozada
Hyundai Motorsport has taken four victories at Rally Italia Sardegna in the past five seasons with Dani Sordo (2019, 2020) and Thierry Neuville (2016, 2018)
Hyundai Motorsport is targeting a winning performance at Rally Italia Sardegna, the fifth round of the 2021 World Rally Championship (WRC), an event at which the manufacturer has taken victory four times over the past five seasons.
Three crews will take on the gravel roads of the Italian island in the Hyundai i20 Coupe WRC: Thierry Neuville/Martijn Wydaeghe, Ott Tänak/Martin Järveoja, and Dani Sordo/Borja Rozada. All three pairs showed impressive pace at the last gravel outing, Rally de Portugal, and have each stood on the top step at Rally Italia Sardegna in the past.
Neuville/Wydaeghe and Tänak/Järveoja endured frustrating weekends in Portugal but will be looking to bounce back at what is usually a strong event for Hyundai Motorsport. Spaniards Sordo and Rozada enjoyed better fortunes at Rally de Portugal, securing a podium finish at their first event as a crew. Sordo will arrive at Rally Italia Sardegna full of confidence, having won the event in each of the last two seasons with the team.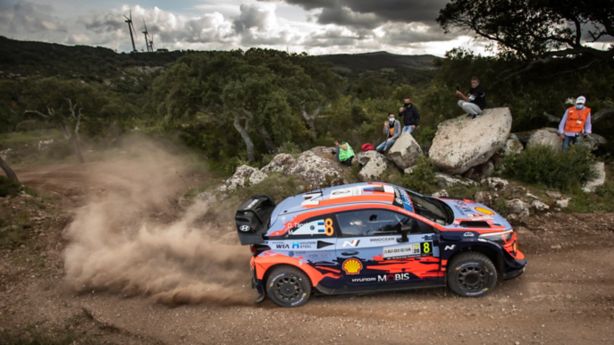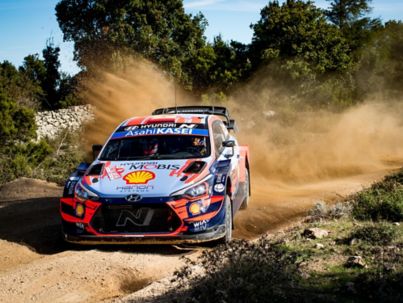 Rally Italia Sardegna returns to Olbia for 2021, with the service park situated at Molo Brin. A ceremonial start will take place in Alghero before the crews embark on 20 stages covering a total distance of 303.10 kilometres. The rough surface of the gravel roads, which only becomes more treacherous on the second pass, is sure to present a number of challenges for the competing crews - and promises to produce some spectacular rally action.
All three crews tested in Sardinia for one day each earlier this month, and they will be keen to hit the ground running when the opening special stage gets underway on Friday morning.
We have a clear target for victory in Sardinia in an effort to make up the missed opportunities from Portugal. My people have worked hard in these past months to prepare for these rallies, and to make sure our Hyundai i20 Coupe WRC can compete at the front. We showed in Portugal that we have the pace, now we need a trouble-free weekend to confirm the results we know we can achieve. The championship is far from over, so we have to dig deep and come back fighting.
Crew Notes: Thierry Neuville/Martijn Wydaeghe (#11 Hyundai i20 Coupe WRC)
Belgians looking to bounce back after difficult Rally de Portugal weekend
Neuville aiming for third victory at Rally Italia Sardegna
Rally Italia Sardegna is a brilliant event at which the whole team has always been very strong. A few of us have won there before, and we'll be hoping to get back on the top step again. This year will be a bit of a change as we are going back to Olbia, where we have been in the past, but the stages will be more or less the same. It will certainly be a challenging event, but hopefully, we can bounce back and deliver a strong team result in some beautiful weather.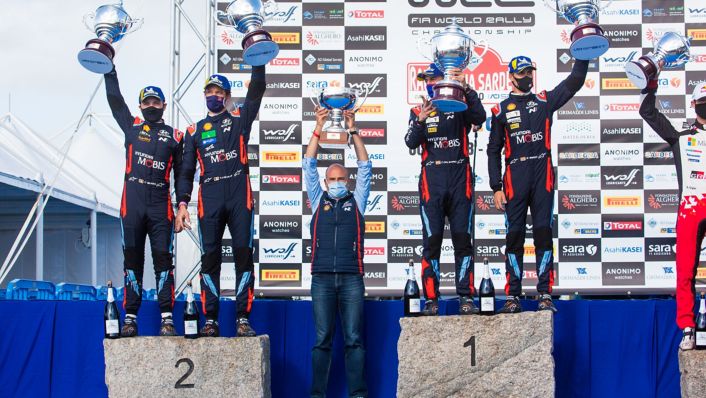 Crew Notes: Ott Tänak/Martin Järveoja (#8 Hyundai i20 Coupe WRC)
Estonians put in impressive display in Portugal with eight stage wins
Crew have eyes set on second win of the season
Rally Italia Sardegna is definitely one of the toughest events of the season. The stages can get very rough there with lots of bedrock coming through, so it certainly presents a lot of challenges. Especially with the new tyres this year there will be quite a lot to discover. However, we showed a lot of pace on the gravel in Portugal, so I hope we can take that across to Italy and battle for the win once again.
Crew Notes: Dani Sordo/Borja Rozada (#6 Hyundai i20 Coupe WRC)
Spaniards secured podium finish at first rally as a crew
Sordo on a mission to achieve third consecutive Rally Italia Sardegna victory
The last two years competing at Rally Italia Sardegna have delivered really good results for me. On both occasions, I have managed to win the rally, so it is an event that I really like. I feel very comfortable there, plus I will have an advantage with road position on the first day, so I am definitely looking forward to it. It was great to get on the podium at Rally de Portugal, but we will be going to Sardinia to fight for the win.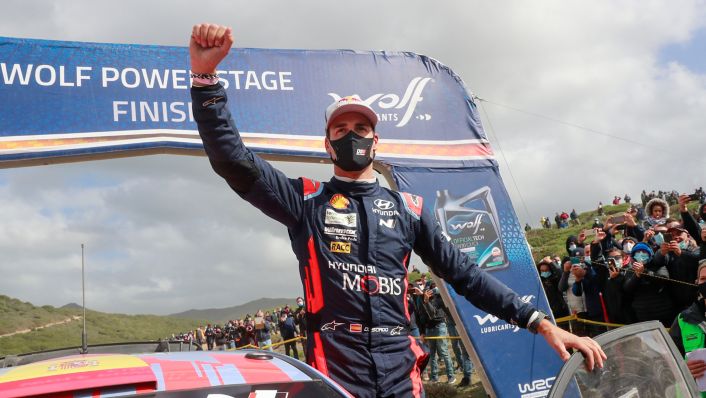 WRC 2 Overview
Hyundai Motorsport has been forced to make late changes to its WRC 2 line-up for Rally Italia Sardegna following the enforced quarantine of the RedGrey team in line with pandemic protocols. A member of the team tested positive for COVID-19 following Rally de Portugal.
Portuguese Health Authorities issued an isolation notice to all members of RedGrey team attending the event, effective until 4 June. RedGrey had been scheduled to run two Hyundai i20 R5 cars in Sardinia, which will now not be possible.
Hyundai Motorsport will instead have a sole participant in WRC 2 with Jari Huttunen/Mikko Lukka, run by Polish Kowax 2Brally Team. It will be the crew's second outing in the category this season after competing at Arctic Rally Finland back in February.
I am very excited to return to the cockpit of the Hyundai i20 R5 at Rally Italia Sardegna. It has been a long break for me, and we only have limited opportunities to prepare for the rally with a one-day test on Monday. I have only competed in this event once before - last year - and I won in WRC 3, so I have very nice memories and high expectations of this year's entry into WRC 2.
We understand and accept the situation with RedGrey team following their confirmed case of COVID-19 in Portugal. We respect the decisions taken by the authorities. The safety and wellbeing of our staff - and team members running our cars - is top priority. Sadly, of course, that means a late change to our planned entry into WRC 2 for Rally Italia Sardegna. Jari will be the only Hyundai i20 R5 competing in WRC 2 next weekend, so it is important for him to make a positive impression. He has the opportunity to use the event to demonstrate another step ahead in a car he knows well.
Weekend at a Glance
After a shakedown on Thursday morning in Loiri, the 2021 Rally Italia Sardegna will begin with a ceremonial start in Alghero.
The schedule on Friday consists of two loops of Sa Conchedda (22.29 kilometres) and Terranova (14.36 kilometres) in the morning, followed by a service point, and then two loops of Tempio Pausania (12.08 kilometres) and Tula (14.97 kilometres) in the afternoon.
On Saturday, the crews will first complete two passes of Loelle (15.00 kilometres) and Monti di Ala' (22.08 kilometres), before twice tackling Viddalba (14.70 kilometres) and Castelsardo (13.03 kilometres), again with a service point between the morning and afternoon sections.
The final day comprises of two stages, both of which will be run twice: Braniatogghiu (15.25 kilometres) and Santa Teresa (7.79 kilometres). The second pass of Santa Teresa will be the rally's Power Stage, offering bonus points to the drivers and manufacturers.