Hyundai Motorsport has taken victory and third place in a competitive Rally Italia Sardegna, registering the team's first win with the Hyundai i20 N Rally1 car
Ott Tänak and Martin Järveoja secured a winning margin of over one minute after dominating since re-taking the rally lead on Saturday morning
Dani Sordo and Cándido Carrera confirmed a second consecutive podium of the season with third, while Thierry Neuville and Martijn Wydaeghe ended the rally with the Power Stage win.
Hyundai Motorsport has taken a dominant victory and double podium finish in Rally Italia Sardegna, round five of the 2022 FIA World Rally Championship (WRC), with Ott Tänak and Martin Järveoja securing the team's first win with the Hyundai i20 N Rally1 car. 
 
Demonstrating the resilience of the entire team and its never-give-up attitude, today's victory provides a timely motivational boost for the Alzenau-based squad, as well as revitalising its championship ambitions.
 
Tänak put in a masterful performance to win his first WRC event since Arctic Rally Finland 16 months ago by a margin of over one minute. The Estonian crew amassed nine stage wins over the course of the weekend, including the 300th in Tänak's WRC career, scored on Sunday morning's opening test.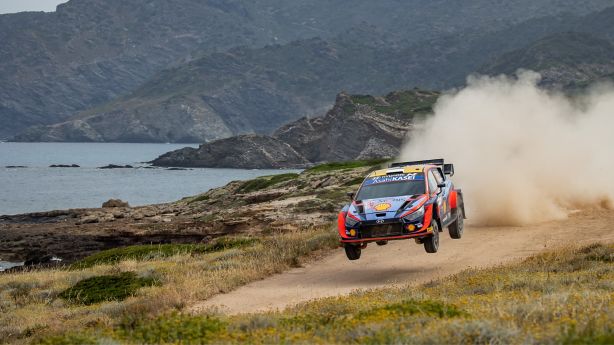 Dani Sordo and Cándido Carrera picked up in Sardinia where they left off in Rally de Portugal, by scoring a podium finish in only their second event with the new car. The Spaniards enjoyed a trouble-free run through Sunday's four stages, which included two passes of Cala Flumini (SS18/SS20, 12.55km) and Sassari-Argentiera (SS19/SS21, 7.10km), to finish the rally in third place. It is their fourth podium in a row, when counting their third places in Spain and Monza late last season.
 
Thierry Neuville and Martijn Wydaeghe returned on the final day after a frustrating weekend which was hampered by a transmission issue on Friday. The Belgians went out fighting with their second fastest time of the weekend in SS19, and a big push in SS21 to take maximum Power Stage points. It was a fitting way for Neuville to claim his 300th career stage win.

All three crews scored fastest times in Rally Italia Sardegna: three for Neuville, two for Sordo and nine for Tänak, notwithstanding the notional fastest time for Sordo and Tänak, alongside two other drivers in Saturday's red-flag affected run through Monte Lerno. Only four of the contested stages were not won by a Hyundai Motorsport crew this weekend, representing the team's most emphatic performance to date in this event, which has delivered so much success over the years.
The 1-3 result marks Hyundai Motorsport's fifth victory in Sardinia in the past seven years and its third double podium over the past four seasons. It is the team's 21st WRC victory in total, and Tänak's third since joining the squad at a venue where he claimed his debut WRC win in 2017.
 
A competitive weekend on the Mediterranean island, which culminated in the traditional dive into the Alghero harbour, has seen Hyundai Motorsport close the gap in the manufacturers' championship to 39 points, while in the drivers' classification Tänak has moved up to third behind Neuville.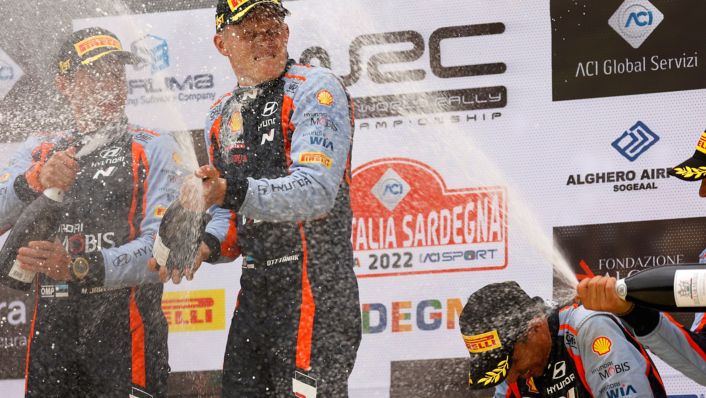 Crew Notes: Ott Tänak/Martin Järveoja (#8 Hyundai i20 N Rally1)
Third Hyundai Motorsport victory for the Estonians, their tenth podium with the team
Crew dominated the event since re-taking the lead on Saturday morning
I am very happy to take this victory, especially for all the mechanics and people in the team who have put in an incredible effort to prepare for this new generation. It's been a challenging time, but we have shown that hard work pays off. This has not been an easy rally, so the team has done a good job to keep the car going. We have made some steps since Portugal; we've improved the car performance and our feeling with it. There's no doubt that when we have the confidence, we can do a good job. We need to keep working in this direction.
Crew Notes: Dani Sordo/Cándido Carrera (#6 Hyundai i20 N Rally1)
Second consecutive podium of 2022 for the Spanish crew
Third top-three finish for Sordo in Sardinia in the past four years
This is a very motivating result for the whole team, and I am pleased to score another podium for them. I am here with the target of competing for points, and to support our team's fightback in the championship. Ott's win and my third place has helped us to close the gap, which was the objective this weekend. Honestly, it would have been nice to fight more closely with Craig, but he had amazing speed and I didn't want to take any risks. We lost some time in some stages, especially in the dust on Friday morning, but we achieved what we came for and we have to be happy with that.
Crew Notes: Thierry Neuville/Martijn Wydaeghe (#11 Hyundai i20 N Rally1)
Belgians took two additional stage wins on Sunday morning
Maximum points in the Power Stage maintains Neuville's second in the drivers' classification
Looking at the positives, we have seen a strong team result this weekend. The victory is an important reward for the team after all the effort they have put in. On our side, unfortunately it's another rally where we're left thinking what might have been. It's disappointing, of course, but we've continued to push hard, and we've been often on the limit. To be competitive, we really need to get everything working together across the whole event. The car performance is there, it's not 100%, but somehow despite the struggles we have shown that we can set some fastest times. We gave it everything, and we could at least take maximum points from the Power Stage.
What a fantastic result for Hyundai Motorsport, for Ott and our entire team here in Sardinia and back at Alzenau. It's been a difficult start to this new era of the World Rally Championship, but we have never given up and we have dug deep. This is a wonderful reward for the efforts of everyone involved. We know that we still have work to do if we are to sustain this level of performance but, for now, we will enjoy this moment and the celebrations. One thing is for certain, this victory and double podium is the motivational push that the whole team has been waiting for and working so hard to achieve.
Next rally
The FIA World Rally Championship (WRC) moves onto the rough and rugged terrain of Safari Rally Kenya, taking place from 23-26 June.
Final Overall Classification – Rally Italia Sardegna
| | | | | |
| --- | --- | --- | --- | --- |
| 1    | O. Tänak | M. Järveoja | Hyundai i20 N Rally1 | 3:10:59.1 |
| 2 | C. Breen | P. Nagle | Ford Puma Rally1 | +1:03.2 |
| 3 | D. Sordo | C. Carrera | Hyundai i20 N Rally1     | +1:33.0 |
| 4 | P. L. Loubet | V. Landais | Ford Puma Rally1 | +2:09.4 |
| 5 | K. Rovanperä | J. Halttunen | Toyota GR Yaris Rally1      | +3:02.8 |
| 6 | T. Katsuta | A. Johnston | Toyota GR Yaris Rally1 | +4:02.6 |
| 7 | G. Greensmith    | J. Andersson | Ford Puma Rally1 | +5:23.6 |
| 8 | N. Gryazin | K. Aleksandrov    | Škoda Fabia Evo | +7:37.7 |
| 9 | J. Solans | R. Sanjuan | Citroën C3 Rally2 | +8:05.7 |
| 10  | J. Huttunen | M. Lukka | Ford Fiesta MkII | +8:10.8 |
2022 FIA World Rally Championship for Manufacturers' Standings
After round 5
| | | |
| --- | --- | --- |
| 1 | Toyota Gazoo Racing World Rally Team | 200  |
| 2 | Hyundai Shell Mobis World Rally Team | 161 |
| 3 | M-Sport Ford World Rally Team | 120 |
| 4  | Toyota Gazoo Racing World Rally Team NG    | 53 |
2022 FIA World Rally Championship for Drivers' Standings
After round 5
| | | |
| --- | --- | --- |
| 1 | K. Rovanperä | 120 |
| 2 | T. Neuville | 65 |
| 3 | O. Tänak | 62 |
| 4 | C. Breen | 52 |
| 5 | T. Katsuta | 47 |
| 6 | E. Evans | 39 |
| 7 | D. Sordo | 34 |
| 8 | S. Loeb | 27 |
| 9 | G. Greensmith   | 26   |
| 10 | S. Ogier | 19 |
| 11 | P. Loubet | 18 |
| 12 | E. Lappi | 17 |
| 13 | A. Mikkelsen | 12 |
| 14   | O. Solberg | 8 |
 
 
All results remain subject to official FIA confirmation