Hyundai Motorsport has taken its first victory of the 2021 FIA World Rally Championship (WRC) with a confident win for Ott Tänak in Arctic Rally Finland
The Estonian, alongside Martin Järveoja, won by a margin of 17.5 seconds, having led the rally from the opening stage
Thierry Neuville and Martijn Wydaeghe scored their second consecutive podium result in third, with Craig Breen and Paul Nagle in fourth.
Hyundai Motorsport has claimed its first victory of the 2021 FIA World Rally Championship with an assured performance from start to finish in Arctic Rally Finland, the second round of the season.
Estonian crew Ott Tänak and Martin Järveoja concluded the ten-stage event confidently to win by 17.5-seconds from Kalle Rovanperä with team-mates Thierry Neuville and Martijn Wydaeghe in third.
 
The double podium finish for Hyundai Motorsport marks its first-ever top-three result in a Finland-based WRC event and sees the team hold second in the manufacturers' championship on 77 points, 11 behind the leaders after two rounds.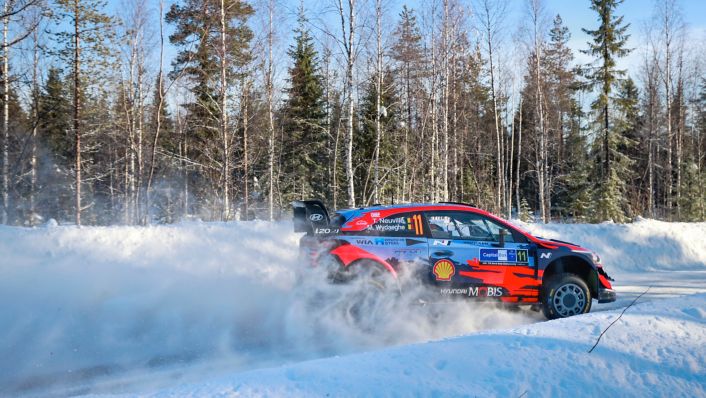 Tänak took the rally lead on the opening stage on Friday afternoon and never relinquished his authority of the event. With five stage wins out of ten and a measured approach to the final morning, he secured his second-ever win in the Hyundai i20 Coupe WRC (his first was at his home rally in Estonia last season).
 
Crews had just one stage to negotiate on the final day, the 22.47km Aittajärvi test, which was run twice. The second pass was held as the rally-concluding Power Stage with extra points available for the drivers' and manufacturers' championships.
Neuville and Wydaeghe, in just their second WRC event as a crew, picked up their second consecutive podium result after another solid weekend performance. They continued to work on their communication and collaboration, using the high-speed rally to make another important step forward in their partnership. A dominant stage win on Saturday evening was a sign of their progress.
 
Craig Breen and Paul Nagle, in their first WRC event of 2021, ensured all three Hyundai i20 Coupe WRC cars made it safely to the finish, taking fourth. The Irish crew started Sunday with a new gearbox after impressively fast work by the team's mechanics in the 15-minute morning service and rewarded them for their efforts with the second fastest time in the Power Stage.
 
For Hyundai Motorsport, the result cemented the team's 18th victory, and also its 18th double podium in WRC. Neuville, meanwhile, has moved up to second in the drivers' classification, just four points behind leader Rovanperä, while Tänak opened his 2021 points account in style to jump up to fifth.
Crew Notes: Ott Tänak/Martin Järveoja (#8 Hyundai i20 Coupe WRC)
Second victory for Hyundai Motorsport after a dominant weekend
Secured the win by 17.5 seconds and added valuable Power Stage points
This victory is very important and allows us to take away good points for the championship. We came to Finland - the home country of one of our closest rivals - so the pressure was on for sure. We knew it would be complicated to take on the fight but, in the end, we did a very good weekend. The pre-event test was held in very different conditions, so we didn't really know what to expect. I was pushing the engineers quite a lot, but their hard work really paid off. We tried some new things in shakedown, and it all worked out nicely. This has been an amazing place to come for a rally, definitely one of the best for a winter event; there's no place where you can have more snow and the characteristics of the road have been very special. Big praise to the organisers - it's more than a worthy addition to the world championship.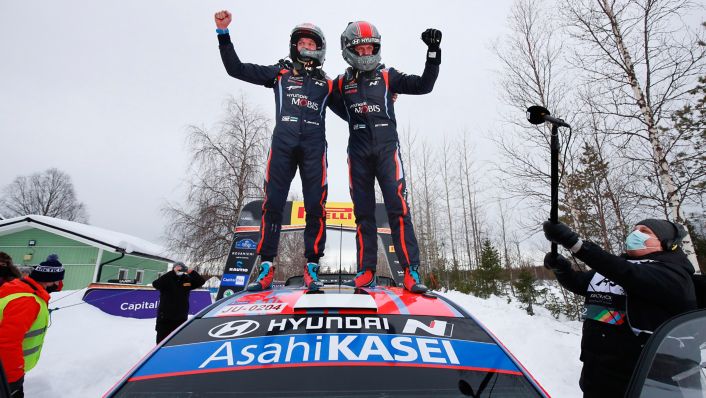 Crew Notes: Thierry Neuville/Martijn Wydaeghe (#11 Hyundai i20 Coupe WRC)
Second consecutive podium result for new partnership
Closely contested fight to the rally end, narrowly missing out on second place
I am very satisfied with our weekend and third position, even if second was so close. We kept believing right up to the end, but everyone was pushing hard on the Power Stage, so it wasn't possible to grab P2. Still, we have taken some good points for both championships, which were really needed after Monte-Carlo. The partnership with Martijn, too, was better. We still have some communication issues to resolve, to get the wording clearer and for me to understand better, but I'm sure we'll be more competitive with that. I felt that the car was really great in these conditions, I didn't really have any complaints; I felt comfortable, we could find a good rhythm and I was able to push immediately. A great all-round team result.
Crew Notes: Craig Breen/Paul Nagle (#42 Hyundai i20 Coupe WRC)
Fourth for the Irish crew ensured all Hyundai i20 Coupe WRC cars finished in the top-four
Strong Power Stage result for the pair to take four extra points
I am happy to finish this rally with fourth place. In all honesty, it's been a tough weekend. I've felt mentally - after delivering so much in Estonia last season - that the goalposts had moved, so I wanted to win but I also have to remember my experience is still a bit on the low side. It definitely gives me motivation to have made progress today. We spent some time in the regroup to analyse where I was losing time compared to the others. Thanks to the engineers, we were able to identify a few things that, maybe due to my driving style, were upsetting the car - erasing some traits that I've carried for a few years. I knew the speed was there, so it was nice to score some points for the team in the Power Stage and to end the weekend on a positive note.
After Monte-Carlo, I said only a win would have been enough to allow us to come back to the level we need to be. We needed to be more focused and better prepared. The team did an amazing job, and this result reflects that. We understood our faults, me first of all, and we responded in the way we needed. Winning and finishing first are very different concepts. Today, we won. Ott and Martin did an incredible job from start to finish, and the victory was truly well deserved. Thierry and Martijn, starting third on the road we mustn't forget, fought like hell until the very end to support our manufacturers' championship efforts. I would have loved to have seen Craig and Paul fast all weekend, like they were in the Power Stage, but they finished fourth, which was what we asked of them today. Thank you to the Arctic Rally Finland organisers for allowing us to come here and enjoy an exciting rally; we have shown again that motorsport can react quickly in very difficult circumstances to put on a show - safely - and to ensure that everybody can share some entertainment in difficult times.
Next Rally
The third round of the 2021 FIA World Rally Championship, Croatia Rally, will take place April 22-25
Based in the capital city, Zagreb, the event will be the first pure tarmac round of the season
Final Overall Classification – Arctic Rally Finland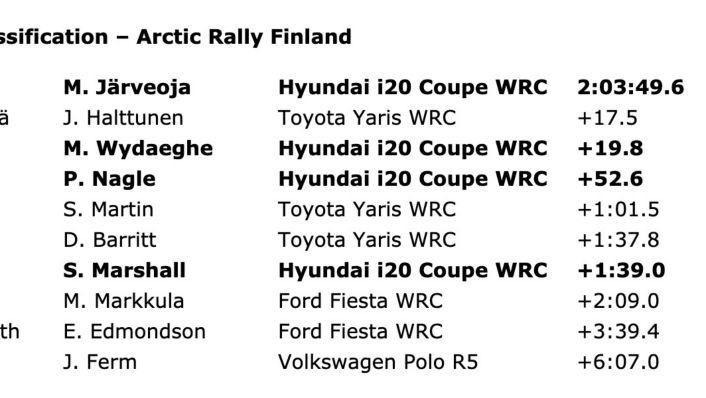 2021 FIA World Rally Championship for Manufacturers' Standings
After round 2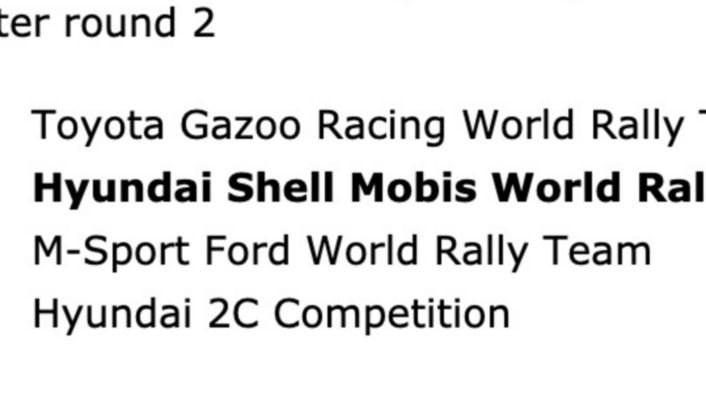 2021 FIA World Rally Championship for Drivers' Standings
After round 2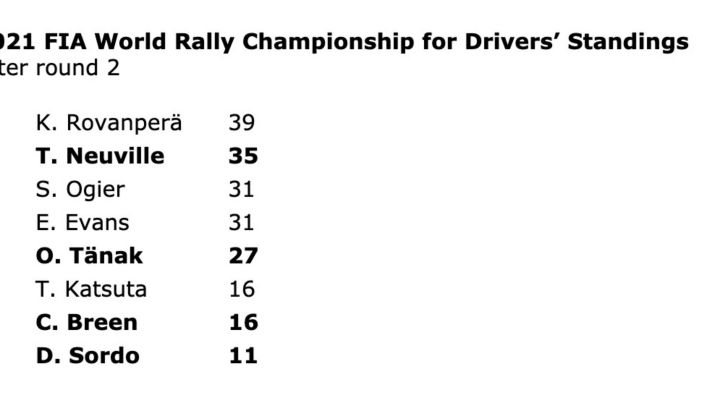 All results remain subject to official FIA confirmation.