Hyundai Motorsport and current FIA World Rally Championship (WRC) leader Thierry Neuville have signed three-year contract extension up to and including the 2021 season
The Belgian will continue to work alongside co-driver Nicolas Gilsoul, with whom he joined Hyundai Motorsport at the end of 2013
Neuville scored his and Hyundai's first WRC victory at Rallye Deutschland in 2014 and has amassed a total of nine wins, 26 podiums and 129 stage wins for the team.
Hyundai Motorsport GmbH and current FIA World Rally Championship leader Thierry Neuville have signed a new three-year contract, which will see the Belgian remain until the end of the 2021.
The announcement reaffirms Hyundai Motorsport's commitment to the WRC and to Neuville, who has scored many memorable victories with the team since 2014. It also extends the partnership between Neuville and co-driver Nicolas Gilsoul, who have proven to be a formidable force in WRC in recent seasons.
Among the crew's highlights were Hyundai's first-ever WRC podium in Rally Mexico 2014 and leading an historic 1-2 victory on home soil in Germany, having spectacularly rolled their car into the vineyards in shakedown.
The pair has provided more tense moments over the years including two of the closest winning margins of all time. They triumphed by just 0.7-seconds in Rally Argentina 2017 and by exactly the same gap in Rally Italia Sardegna earlier this season. Since 2014, Neuville and Gilsoul have scored nine wins, 26 podiums and 129 stage wins, building up a reputation as one of WRC's most potent partnerships.
Ahead of this weekend's Rally Turkey, Neuville holds a 23-point advantage in the drivers' championship, and is ready to help Hyundai Motorsport to its most competitive season to date in WRC with the team also leading the manufacturers' table by 13 points.
We are delighted to extend our relationship with Thierry and Nicolas for a further three seasons. They have both played a crucial role in building up the Hyundai Motorsport WRC programme over the past five years, helping us to many important milestones along the way from our maiden victory in Germany 2014 right up to our current championship battle. As we build towards an exciting conclusion to this year's WRC, with drivers' and manufacturers' championships still delicately poised, it is important for us that we can already look towards 2019 and beyond. Thierry and Nicolas have proven to be outstanding ambassadors for Hyundai on the global motorsport stage, and they are very well respected – in and outside of our team. We are pleased to continue working with them over the coming years.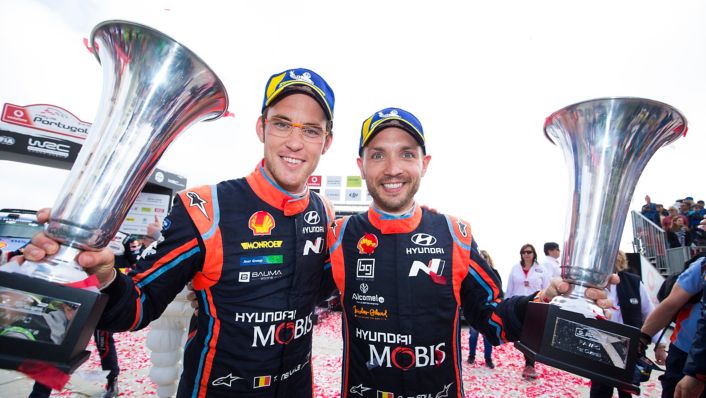 I am really happy to sign a new three-year contract with Hyundai Motorsport. We have improved a lot in recent seasons, and it has always been my target to build continuity for my career by remaining with this team. Since 2014, we have shared many special moments together, as well as working through some more difficult times. Our debut victory together in 2014 remains a highlight, and we have since taken more wins together. There is a fantastic family atmosphere and I get on very well with my team-mates. This is very important to me. Alongside Nicolas, who has played a key role in our successes, our focus is on completing this current season in the strongest way possible, aiming to secure the titles. From there, we will continue to build, hopefully, to an even brighter future with Hyundai Motorsport.
Stats and Highlights since 2014
61 WRC events for Hyundai Motorsport up to and including Rallye Deutschland '18
9 WRC wins (Germany '14, Sardinia '16, Corsica '17, Argentina '17, Poland '17, Australia '17, Sweden '18, Portugal '18, Sardinia '18)
29 WRC podiums (including team's first-ever WRC top-three in Mexico '14)
129 stage wins (most in one event: nine in Sardinia '16 and Poland '17)
735 championship points