Hyundai Motor's i10, i20 and i30 drive to victory in several comparison tests organised by renowned European automotive magazines
Vehicles outperform their competitors in various categories: connectivity, interior design, driving convenience and driving dynamics, resulting in several first places
Hyundai Motor's 5-year manufacturer's warranty also impresses testers
Hyundai Motor's i10, i20 and i30 achieved first place in the latest comparison tests organized by several European automotive magazines.
The vehicles beat their competitors in categories such as connectivity, driving convenience and driving dynamics, as well as interior design and comfort, to take the overall victories. Hyundai's five-year unlimited mileage warranty is also rated positively by the magazines. The i10, i20 and i30 are a core pillar of the company's success in Europe, accounting for about 50 percent of sales in the region.
The i10, i20 and i30 are among Hyundai Motor's best-selling models in Europe. The latest comparison tests confirm the confidence we have in our i-family. All these models have been designed, developed, tested and manufactured in Europe to meet the needs and expectations of European customers. They feature an excellent overall package and represent the great quality, accessible technology and an appealing design which continue to attract new customers to Hyundai.
The i10 was tested alongside its competitors by the French automotive magazine Auto Plus (issue 1494,April 21st, 2017), by the UK magazine What Car? (online, March 17th, 2017), and by Germany's best-selling motoring magazine Auto Bild (issue 5/2017). According to the testers, the i10 impresses with its superior roominess especially when it comes to head and leg space on the rear seat and with an exceptional driving performance, particularly in urban areas. As "the most rounded city car ever seen" (What Car?), the i10 also impressed the testers with its user-friendly infotainment system and connectivity features. What Car? comments: "Its more settled ride, roomier interior, slower depreciation and more generous list of standard equipment make it a more compelling choice. Throw the brilliant new infotainment system into the mix and we don't see the i10 relinquishing its crown any time soon."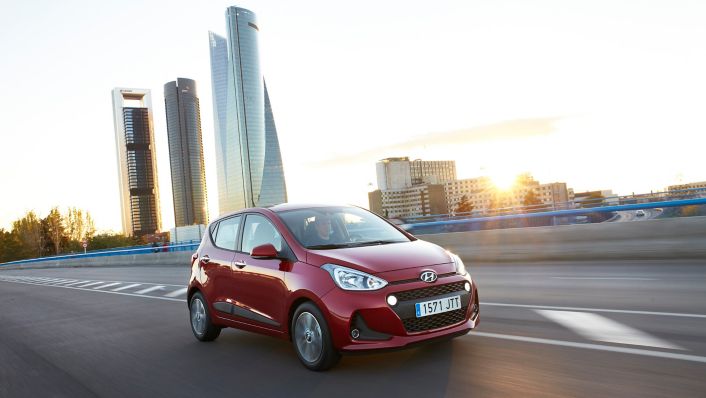 The renowned German motoring magazine Auto Zeitung carried out two comparison tests of the i20 (issue 7/2017 and 11/2017). Beating its French, German and Japanese competitors, the Hyundai i20 came out on top in both test situations. Similar to the test of the i10, the i20 scored high marks for offering a spacious interior with sufficient room for luggage in its 326-litre boot. The car is also praised for its comfortable seats, making long journeys pleasant by allowing a relaxed seating position thanks to multiple adjustment options for the seats and the steering wheel. The testers also highlighted the car's outstanding braking system, which can bring it to a halt in 35.6 metres at 100 km/h, and its impressive quality, functionality and craftsmanship. As an "outstanding all-round product" (Auto Zeitung), the i20 earned its pole position in both comparison tests.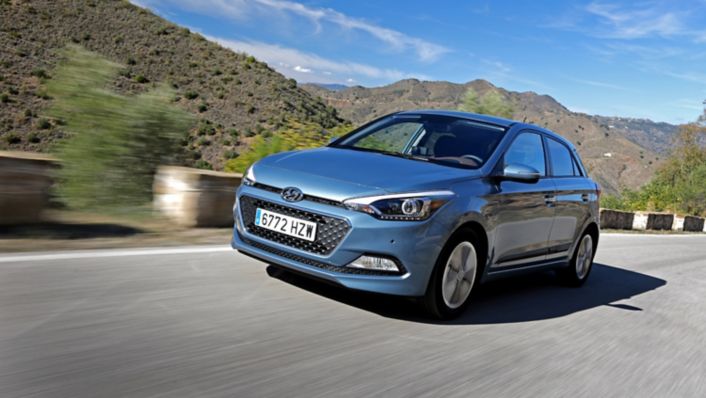 In wide-ranging comparison tests undertaken by the German automotive magazines Auto Zeitung (issue 5/2017), Auto Bild (issue 6/2017), Auto Strassenverkehr (issue 11/2017), Spanish Auto Bild (issue 531) as well as Autopista (issue April 11, 2017) the Hyundai i30 ranked first ahead of its competitors from Germany, France or Spain, The car wowed testers with its agile driving performance, diverse assistance systems, generous active safety package and state-of-the-art connectivity features. The i30 also earned points for its modern, high-quality interior design and its ergonomic cockpit, as well as its excellent value-for-money attributes. Auto Bild concluded that the i30 is "an all-around honest, neat and practical car."
The i-family is an important foundation for Hyundai Motor on its way to becoming the number one Asian automotive brand in Europe by 2021. The family will grow further this year with two new exciting additions to the i30 model range.
Consumption Data*
Hyundai i10

Gasoline Engines
1.0 MPI (66 PS): Fuel consumption combined: 5.8 - 4.0 l/100 km; urban: 7.3 – 4.9 l/100 km; extra-urban: 4.8 – 3.5 l/100 km; CO2 emissions combined: 134 - 93 g/km
1.25 MPI (87 PS): Fuel consumption combined: 5.9 – 4.9 l/100 km; urban: 7.4 – 6.5 l/100 km; extra-urban: 5.0 – 4.1 l/100 km; CO2 emissions combined: 139 - 114 g/km
1.0 LPG (67 PS): Fuel consumption combined: 6.5 – 5.1 l/100 km; urban: 8.3 – 6.5 l/100 km; extra-urban: 5.4 – 4.2 l/100 km; CO2 emissions combined: 116 - 104 g/km

Hyundai i20

Gasoline Engines
1.25 MPI (75 PS): Fuel consumption combined: 5.1 - 4.7 l/100 km; urban: 6.6 - 5.8 l/100 km; extra-urban: 4.2 - 4.0 l/100 km; CO2 emissions combined: 119 - 109 g/km
1.25 MPI (84 PS): Fuel consumption combined: 5.1 - 4.7 l/100 km; urban: 6.6 - 5.8 l/100 km; extra-urban: 4.2 - 4.0 l/100 km; CO2 emissions combined: 119 - 109 g/km
1.4 MPI (100 PS): Fuel consumption combined: 6.4 - 6.2 l/100 km; urban: 8.5 - 8.2 l/100 km; extra-urban: 5.1 - 4.8 l/100 km; CO2 emissions combined: 148 - 143 g/km
1.0 T-GDi (100 PS): Fuel consumption combined: 4.6 - 4.0 l/100 km; urban: 5.8 - 5.0 l/100 km; extra-urban: 3.9 - 3.4 l/100 km; CO2 emissions combined: 107 - 94 g/km
1.0 T-GDi (120 PS): Fuel consumption combined: 5.0 - 4.6 l/100 km; urban: 6.3 - 5.8 l/100 km; extra-urban: 4.2 - 3.9 l/100 km; CO2 emissions combined: 115 - 107 g/km
Diesel Engines
1.1 CRDi (75 PS): Fuel consumption combined: 4.0 - 3.2 l/100 km; urban: 4.9 - 3.4 l/100 km; extra-urban: 3.4 - 3.0 l/100 km; CO2 emissions combined: 103 - 83 g/km
1.4 CRDi (90 PS): Fuel consumption combined: 4.1 - 3.7 l/100 km; urban: 4.9 - 4.5 l/100 km; extra-urban: 3.5 - 3.3 l/100 km; CO2 emissions combined: 106 - 97 g/km

Hyundai i30

Gasoline Engines
1.4 MPI (100 PS): Fuel consumption combined: 5.6 - 5.4 l/100 km; urban: 6.8 - 6.6 l/100 km; extra-urban: 4.9 - 4.8 l/100 km; CO2 emissions combined: 130 - 126 g/km
1.0 T-GDi (120 PS): Fuel consumption combined: 5.0 - 4.5 l/100 km; urban: 5.8 - 5.4 l/100 km; extra-urban: 4.6 - 4.0 l/100 km; CO2 emissions combined: 115 - 103 g/km
1.4 T-GDi (140 PS): Fuel consumption combined: 5.5 - 4.8 l/100 km; urban: 6.6 - 5.9 l/100 km; extra-urban: 5.0 - 4.1 l/100 km; CO2 emissions combined: 125 - 109 g/km
Diesel Engines
1.6 CRDi (95 PS): Fuel consumption combined: 3.8 - 3.6 l/100 km; urban: 4.1 – 4.0 l/100 km; extra-urban: 3.6 - 3.5 l/100 km; CO2 emissions combined: 98 - 95 g/km
1.6 CRDi (110 PS): Fuel consumption combined: 4.1 - 3.4 l/100 km; urban: 4.4 – 3.8 l/100 km; extra-urban: 3.9 - 3.2 l/100 km; CO2 emissions combined: 109 - 89 g/km
1.6 CRDi (136 PS): Fuel consumption combined: 4.1 - 3.8 l/100 km; urban: 4.4 - 4.2 l/100 km; extra-urban: 3.9 - 3.6 l/100 km; CO2 emissions combined: 109 - 99 g/km
*Depending on trim and tire specifications