As more and more regions are becoming concerned about inner-city noise and air pollution, several European police forces are turning to e-mobility to meet their mobility needs
Hyundai EVs are used by police all over Europe like in Switzerland, the Netherlands, Spain, the U.K., Germany, and Italy
Hyundai's fully-electric SUV Kona Electric and its second-generation fuel cell electric vehicle NEXO are particularly popular among police forces
A growing number of police forces around Europe are turning to Hyundai EVs to use in their fleets.
Amid growing concerns about inner-city air pollution, zero-emission vehicles such as battery electric (BEV) and fuel cell electric (FCEV) vehicles present an attractive solution for police officers' mobility needs. Long driving ranges, cost savings on fuel and – in the case of fuel cell vehicles – short refuelling times all contribute to the vehicles' popularity among law enforcement bodies.
The popularity of Hyundai's zero emission vehicles among police fleets in Europe is a testament to the vehicles' quality and versatility. The fact that our eco-friendly vehicles are able to meet the needs of civilians and civil servants alike shows that our products can help making streets safer as well as cleaner.
The following cases are examples of the use of Hyundai zero emission vehicles as police cars around the continent.
Kona Electric: popular among police officers and civilians alike
Hyundai's best-selling all-electric SUV Kona Electric is a popular choice for police forces in countries like Switzerland, the Netherlands, Spain and the United Kingdom.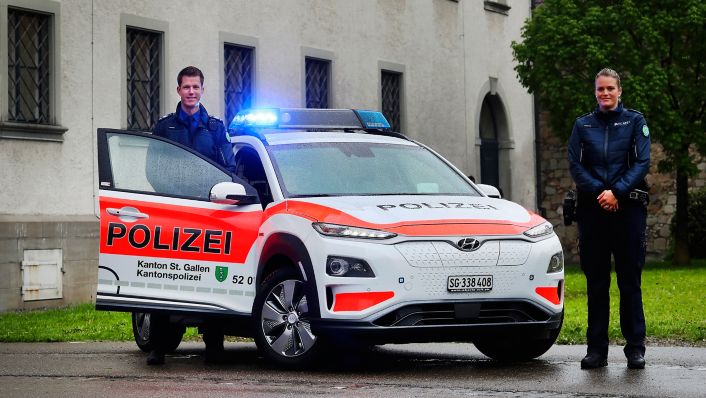 Hydrogen consumption combined for the Hyundai NEXO in kg H2/100 km: 0.95; CO2 emissions combined in g/km: 0 (WLTP)
A year ago, the police force of the canton of St. Gallen in Switzerland added 13 Kona Electric models to their fleet – five as police cars and eight as civilian vehicles. The St. Gallen police force wanted to switch to e-mobility to reduce both noise and emissions in the canton. Kona Electric was the only EV to fulfill their stringent requirements: over 100 kW power, over 400 km range, acquisition costs below CHF 50,000 and availability.
In the Netherlands, police forces in Amsterdam, East Netherlands and Central Netherlands are also testing Kona Electric's suitability as a police cruiser. Its long driving range and fast charging make it an attractive choice for police use: when connected to a 100 kW DC fast charger, the battery can be charged up to 80 percent in approximately 54 minutes. This is true for both the 38 kWh and 64 kWh battery variations.
The Dutch police forces wanted to switch to electro-mobility to make their police work more sustainable. As an added bonus, it also functions great as a surveillance car, as criminals can't hear the car approaching.
Kona Electrics can be found in the police fleets in Valencia, Spain, in both the 39 kWh and 64 kWh editions. And in the U.K., Sussex Police and North Wales Police already have one Kona Electric each in their fleets. Additionally, Hampshire Police have ordered nine Kona Electric models for their fleet, which will be delivered early next month.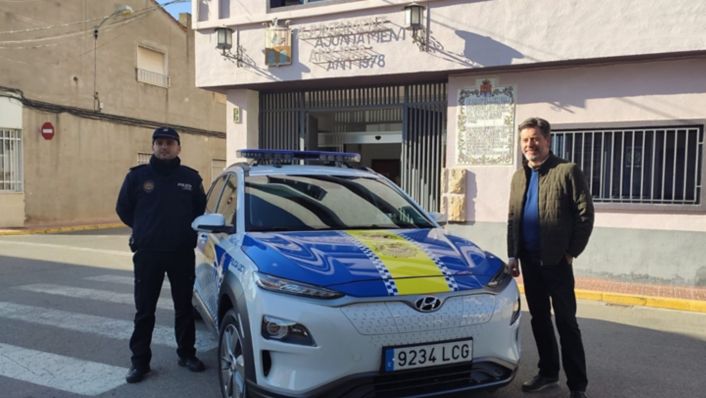 Hydrogen consumption combined for the Hyundai NEXO in kg H2/100 km: 0.95; CO2 emissions combined in g/km: 0 (WLTP)
Hydrogen mobility with Hyundai's NEXO
Hyundai's second-generation fuel cell electric vehicle (FCEV), NEXO is being used in police forces in England and, more recently, Germany. Surrey Police in south-east England have one NEXO in their fleet. Meanwhile, the police force in Osnabrück, Germany, also recently brought a NEXO police car into service, making their mobility even greener.
The police in Bolzano, Italy are already using the NEXO predecessor ix35 Fuel Cell as a patrol car. Recently they added a fleet of NEXO to patrol emissions-free on the polluted Brenner Autostrada.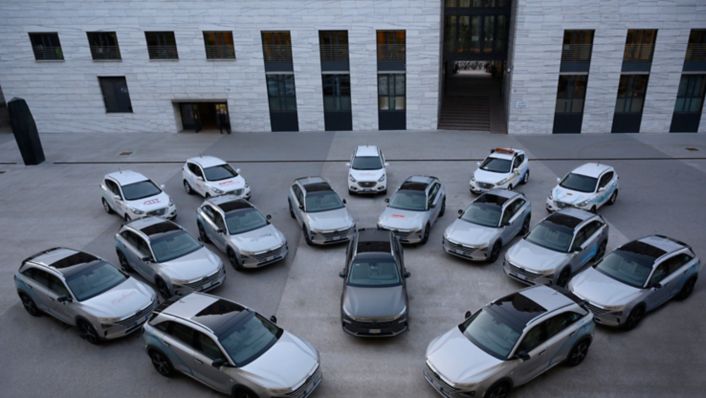 Hydrogen consumption combined for the Hyundai NEXO in kg H2/100 km: 0.95; CO2 emissions combined in g/km: 0 (WLTP)
NEXO's fuel cell stacks are powered entirely by hydrogen and it emits water vapour as its only emission. With a short refuelling time and a range of up to 666 km, it is perfectly capable of meeting the needs of police forces while at the same time protecting the environment. NEXO is powered by a 95 kW hydrogen stack and has a maximum speed of 179 km/h.
On the road emissions-free with IONIQ
IONIQ was Hyundai's first vehicle to be offered with three environmentally-friendly powertrain options: hybrid, plug-in hybrid, and battery electric. Now, the popular EV has made its way to the police forces in Guadalete and Bilbao, Spain. The current generation IONIQ has a 36 per cent increased energy capacity than the previous version and a real-world range of 311 km, thanks to an upgraded 38.3 kWh battery.
Eco-mobility at Hyundai
With the development of electrified models such as Kona Electric, NEXO, IONIQ, and ix35 Fuel Cell, Hyundai Motor has established itself as a frontrunner in the field of eco-mobility. Hyundai aims to be among the top three EV manufacturers globally by 2025, and the company today offers the most diversified range of electrified powertrains on the market. Eco-mobility reflects Hyundai's commitment to progress, and to making the world a better place. By 2025, the company aims to sell 670,000 electric vehicles annually.